Tsukiji Fish Market is one of the must go in Tokyo, first in the list for things to do in Tokyo in time.com and it also ranked no. 1 in lonelyplanet.com.
I guess it's either the
angmo
are thrilled by the size of tuna fish or simply Tokyo does not have a more exciting spot. In my opinion, it is overrated. *smirk*
Having said that, it is worth the pain to visit this place because it tells you how important seafood is for the Japanese. Besides, I guess it's the only place that has daily auction for Tuna before the dawn breaks, no? (provided that you are willing to wake up at 4am in the morning and catch the 430am train to get there, which I didn't)
The map
As a Malaysian, the concept of wet market was not foreign to me at all. Thus it might be the reason why I was not particular fascinated by the fish market.
At the entrance of the fish market.
The motorised trolleys used by the fish vendors in the market
Rows and rows of narrow alley. The fish vendor would maneuver their trolleys in those alleys and they would yell in Japanese for you to give way.
Amazingly, the market did not stink despite the amount of seafood in there.
Ikura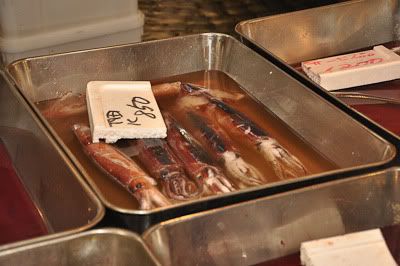 Squid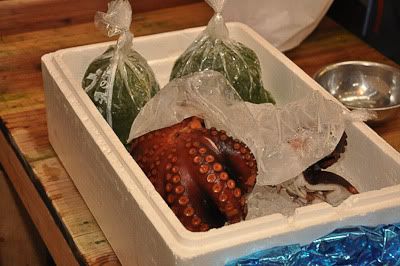 Beheaded Paul the octopus. lol
Extravaganza huge Tuna head! I guess this was way bigger than all the tuna that I have ever consumed in my entire life. lol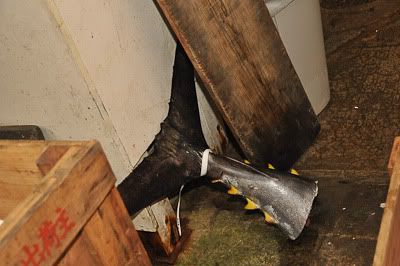 Tuna tail I guess?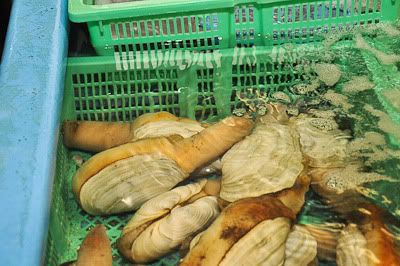 Geoduck aka Elephant-trunk Clam
Japanese Eel!
When I was taking the picture of this super large tuna, the vendors were trying to tell me that I was not supposed to go inside and take picture of that but I was not aware that they were talking to me. After they realised that I didn't understand a single word they said, they just laughed it off and let me. Only after a while my friend who understood told me that. I guess sometimes that's the benefit of being a foreigner tourist. :)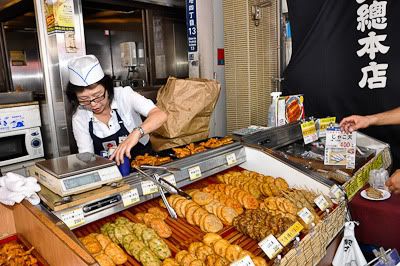 The food stalls outside of the fish market.
A tip for you if you are planning for a visit to Tsukiji fish market - Go on a Saturday morning. Why you may ask. Well, simply because all the food stalls would be giving away free samples on Saturday morning and the portion is generous!
lol here's my Malaysian frugality at its best! :D