It has been exactly a month since I boarded the Kuala Lumpur - Tokyo plane. It was a fun 10 day vacation in Tokyo and a breakaway from my routines. Well, I have been holding on to a principle that I should always do updates on my blog with happenings that are fresh out from oven but apparently this round I was a little bit of slacking off.
Pardon my procrastination if you know how come-back-from-vacation-happily-until-you-see-tons-of-email-piling-up-in-your-work-inbox feels. :)
Anyways, here is the first post to kick-start the rusty fingers on the blog!
Basically, to post in details about the trip to Tokyo would be very time-consuming and this blog is never a travelogue (Well if you are interested in the itinerary and the budget, which is considered the boring part of traveling you can always leave a comment and I can send it to you in email). Therefore, here I present to you, all my
successful
jumping shots that I have taken in Japan!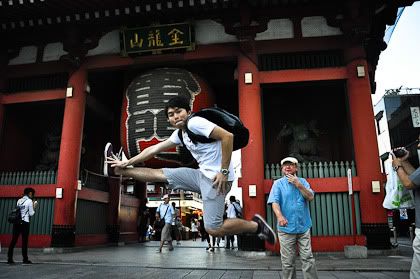 Jump @ Sensoji Temple, Asakusa!
Sensoji Temple is one of the oldest and most famous temple that still stands in Tokyo. Well you can google for more information but basically this is just another touristy destination.
By the way, look at the face of that old man. Was he contemplating to try the jump as well? XD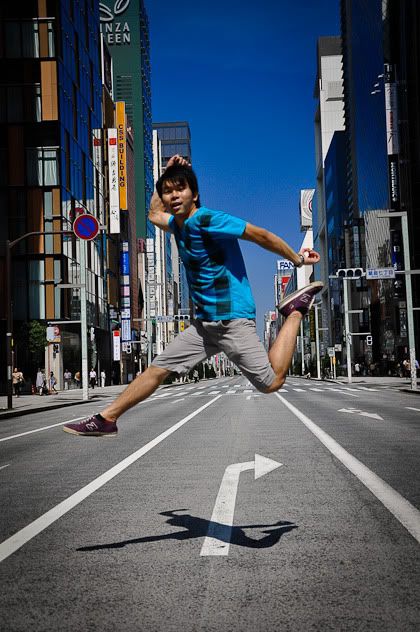 Jump @ Ginza!
Ginza in Tokyo is the equivalent of Rodeo Drive in Los Angeles. It is one of the most prestigious shopping district in Tokyo. Branded stuffs can be found here and all I did there was jumping instead of shopping. lol Anyway, there were shops with affordable price for example H&M and Uniqlo but when I was there they had already cleared summer clothing and started selling clothes for falls it would be crazy to wear those in Malaysia.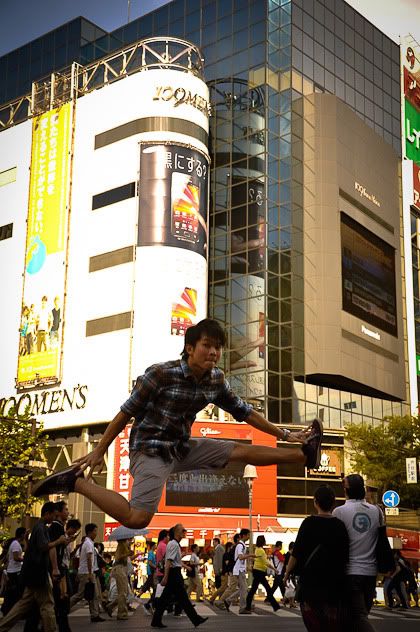 Jump @ Shibuya Crossing!
Shibuya Crossing was said to be the busiest scramble crossing in the world. According to my friend, there would be only 4 minutes idle time (meaning nobody crosses) in a day. Nothing spectacular except that it could be fun sitting there watching so many people come and go. I would say, Time Square equivalent of New York City? :\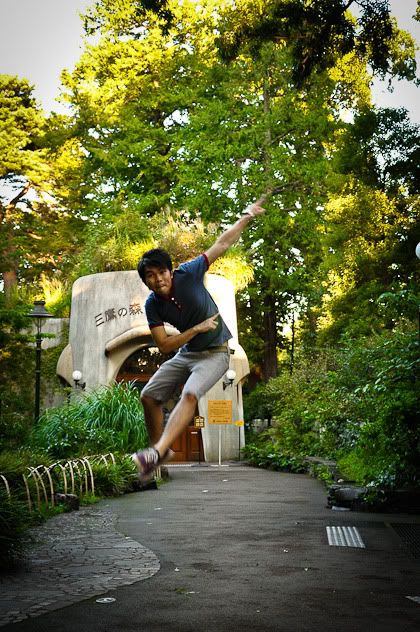 Jump @ Gibhli Museum!
Gibhli Musuem was established by Hayao Miyazaki. No idea who he is? Have you ever watched Totoro? No? I am so sorry for your childhood. XD Hayao Miyazaki is one of the most prominent animation director in Japan. One of his recent hit was the movie Spirited Away. In the museum it featured a lot of the animations that he has ever made and also how his great ideas came about. There were strictly no photography allowed inside the museum therefore sorry for the downer.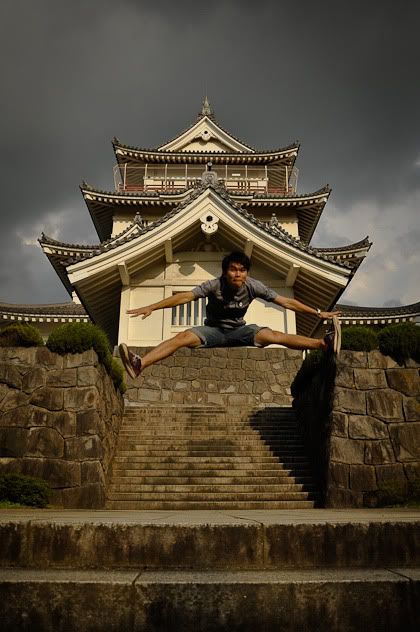 Jump @ Chiba!
Well Chiba is a prefecture next to Tokyo and why was I there? Mainly because my friend was staying in Chiba and I slept over at his tiny little studio for 10 days. :)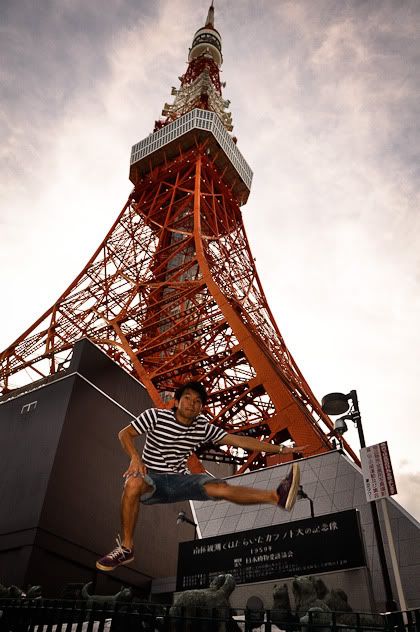 Jump @ Tokyo Tower!
Tokyo Tower? Do I even need to say anything about it? Basically it is the landmark of Tokyo for decades but now Tokyo has another new landmark which is the Tokyo Skytree. Mehh.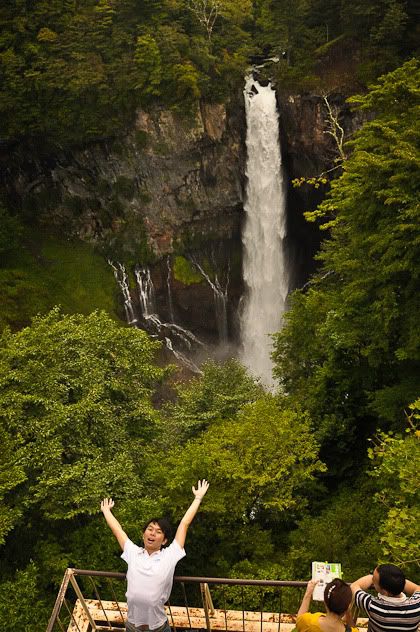 Jump
Stretched out arms @ Nikko!
Nikko is one of the towns in Japan with World Heritage Status. The historical building includes shrines, temples and a bridge. Besides, there were some very spectacular waterfalls around the town. This is Kegon Falls, one of the tallest waterfalls in Japan.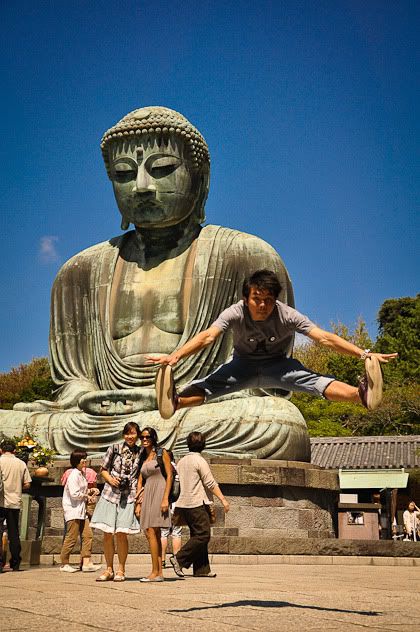 Jump @ Kamakura Daibutsu!
What else can you do while visiting a Buddha statue? Jumping I guess. lol Anyway this is the second tallest Buddha statue in Japan. You can go inside the statue for 10 yen (Honestly, nothing cost 10 yen anymore in Japan except for this). Summer is definitely not a good time to go inside because you will be suffocated by the intense heat inside the statue. @_@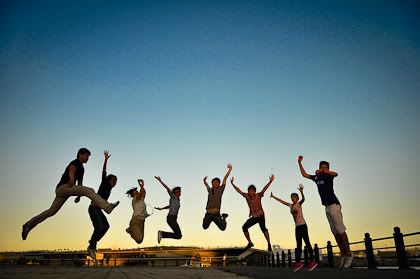 Jump @ Yokohama!
I went to Yokohama before catching my plane back to Malaysia. It was a metropolitan side by side with Tokyo. Basically it was a seaport with a nice city skyline view (Minato Mirai). I would be writing more about Yokohama in a separate post. :)
That's it folks for the sneak peek of my 10 days in Tokyo. There were certainly a lot more that I didn't include here so please visit for more! :)