Sometimes, the best moments in life take me by surprise. A road trip cum camping trip that came to happen in the eleventh hour essentially hit the chord.
Often Kelantan is not a popular destination for vacation but I decided that I wanted to at least drive the Gerik highway for once in my life. Therefore the inspiration for this trip was actually the driving. In addition, I remember reading somewhere that there was this mountain with waterfall somewhere in Kelantan so I looked it up and it became part of the itinerary. A three day holiday for Merdeka Raya was just perfect so we hit the road on Independence Day.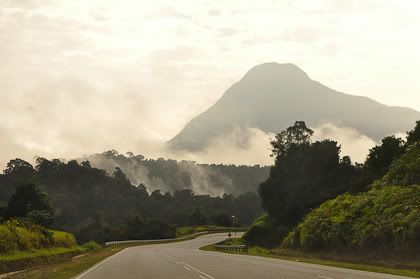 The very pleasant-to-drive Gerik highway. As it was elevated, the air was cool in the morning.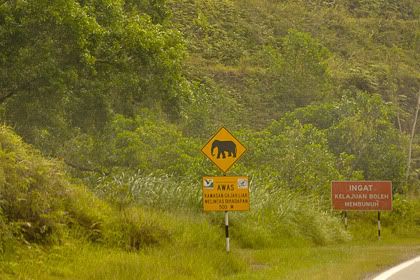 Elephant Crossing Sign. Not a sign you would see on North South Highway. :)
In Kelantan, the only way of moving from one place to another, is to drive. The first day we hit Tanah Merah, we rested and it was raining. The next day morning, we started our driving mania with the Kelantanese heat.
As Kelantan bordered with Thailand, there were a lot of Thai influence in Kelantan. A most obvious example would be the biggest reclining Buddha statue in Southeast Asia.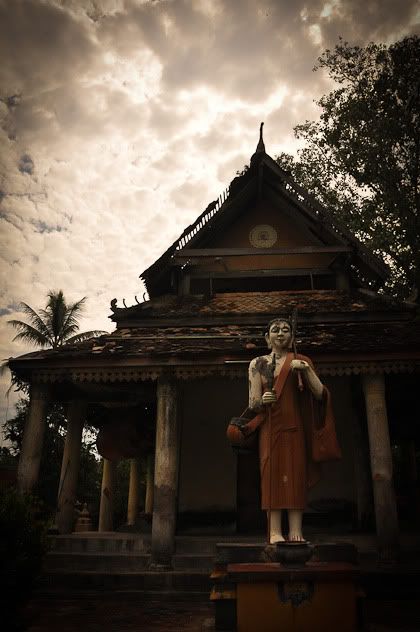 I love this shot :)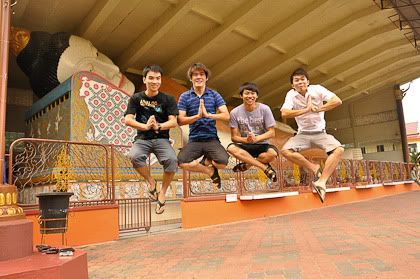 The largest reclining Buddha was found in Wat Photivihan in Tumpat and yes we were almost enlightened. :)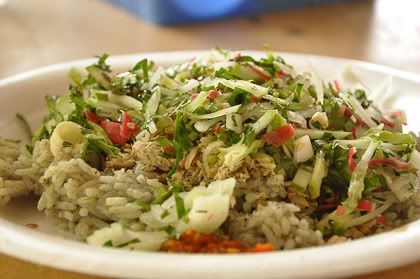 Nasi Kerabu, a Thai influenced dish which rice is mixed together with
santan
, fish, slices of cucumber and vegetables. According to our local guy, a Thai Nasi Kerabu was green in colour (as shown here) while a Malay Nasi Kerabu would be blue in colour. Interesting huh. The taste was rather bland but very refreshing as there was some minty herbs in it.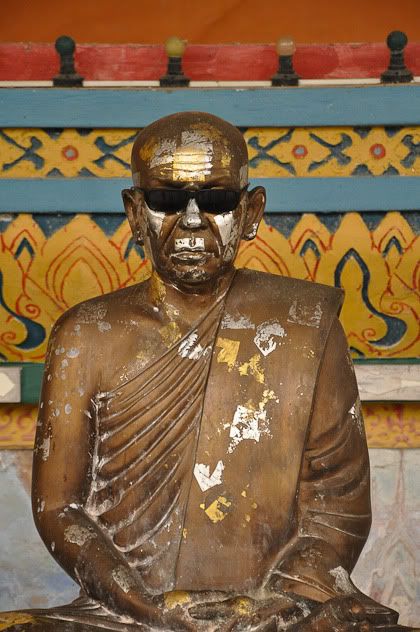 The weather was so hot that the golden monk needed some shades too!
We then drove around to explore some other temples with Standing Buddha, Sitting Buddha and
Squattiing Buddha
Dragon Boat under the cloudless skies.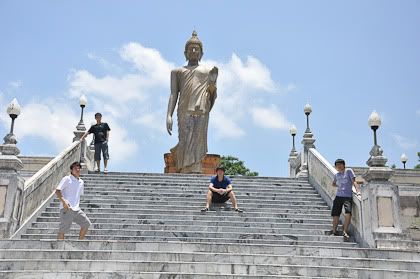 Standing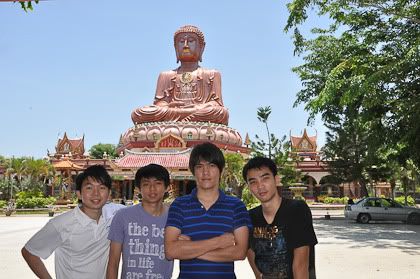 Sitting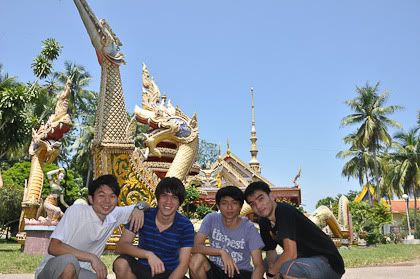 Dragon Boat
After that we drove to Kota Bharu. As it was still a public holiday, a lot of places were close and we didn't get to see much.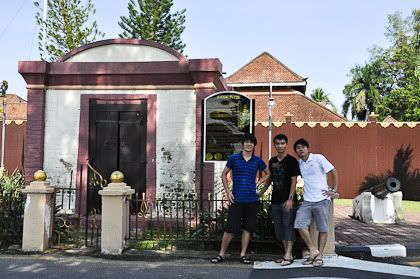 So we took picture with the first bank in town! It was known as Bank Pitis and said to be built in 1890.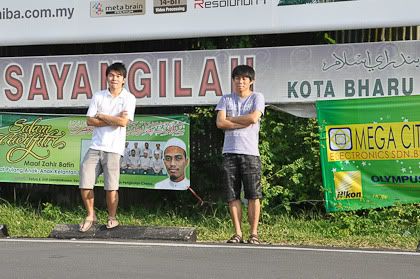 As the heat was driving us crazy, we found this interesting sign board that reflected perfectly to our state of mind. :)
We also had one of the best Nasi Kukus in town (according to the local guy) ;) I know it doesn't look appealing at all but you have to trust me when I say it is really nice! The rice that they use were larger than usual and it was simply delicious!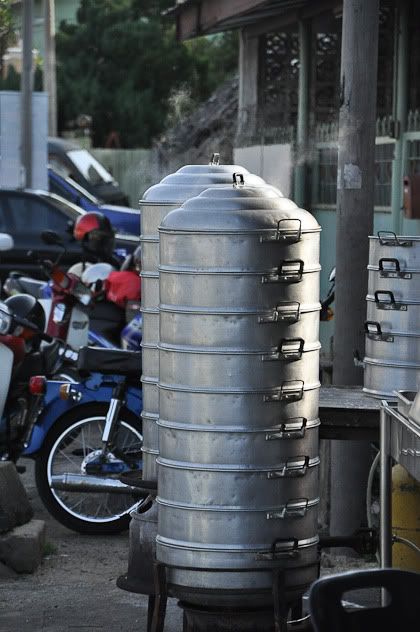 By the way, Nasi Kukus stands for 'Steamed Rice' and imagine how many bowl of steamedrice were inside those steaming pots?
We then drove to the moon light beach (Pantai Cahaya Bulan aka PCB) and decided to call it a day because on the very next day, things would get extreme!
Click here to read
Part 2