Another fortnight passes since I last blogged. When I was in college, weekly updates were never a problem and the reason for me not doing it was usually procrastination. lol. Now it is a completely different story. I no longer have the luxury to do weekly update. Sad but true. Anyway, this post is a sequel of
Mindstorms
and is related to
First Lego League
. So read them before you start asking questions! XD
On 26th of July, 25 energetic high school kids, 2 enthusiast teachers and 6 sleep-deprived engineers woke up at 5am to board on the bus at 6am to set off for a state-level contest known as NRC (
National Robotics Competition
).
NRC is basically divided into 2 category - Regular Category and Open Category. For regular category, the students have to come out with a robot design to fulfill a certain task whereas for open category, a theme is given and the robot design has to be coherent to the title and it can be very creative. The theme for this year is "Robot Improves Life"
SMK Georgetown, the school that another engineer and I mentored, participated in three categories and they had spent months designing and perfecting their robots.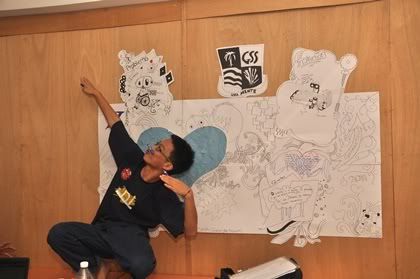 To take part in the open category, the students have to design a poster to explain how their robots are fulfilling the theme.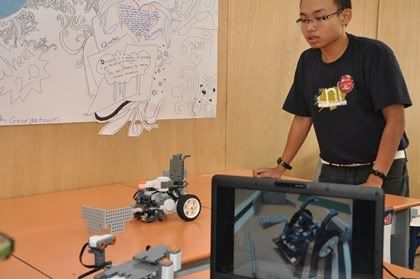 For the students from SMK Georgetown, they came out with the idea of an automated and obstacle-avoiding wheelchair. The wheelchair has ultrasonic sensor and will sweep across the horizon to detect obstacles and it will turn to the direction with no obstacle. The second design was a intuitive controller that the user can use to control the movement of the wheelchair. It was said to be intuitive because the user didn't need to press to control the direction, he simply needed to move this hand left or right in front of the ultra sonic sensor.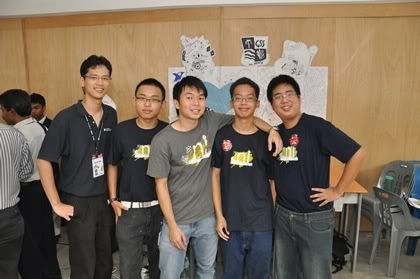 Two mentors and three participants for the Open Category.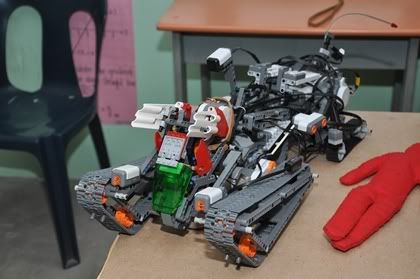 This was the design - a blind man guidance dog from my Alma Mater, SMJK Jit Sin. It is IMPRESSIVE, isn't it? :)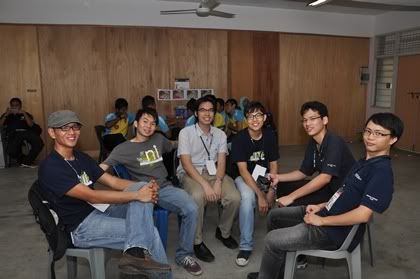 Six engineers from National Instruments who volunteered as a Lego Mindstorms Trainers
The other two teams took part in the Regular Category. They had two tasks to be completed. First it would be the Stair-climbing robot and the second one was a Robot Recycler. As the two categories were held simultaneously in two different location, I was only able to take pictures at the Open category venue.
Anyway, it was a pleasant surprise when SMK Georgetown was announced to be winning the Best Poster Design and also the First Runner-up for the Open Category during the prize giving ceremony. Initially we didn't aim high as SMK Georgetown was only involved in this Lego Mindstorms thing for less than a year. The first encounter was the time when we went to the school for introduction into this program. Besides, they were competing side by side with top schools like Chung Ling and Penang Free School. Therefore, it was really a shocking but glorious moment for them!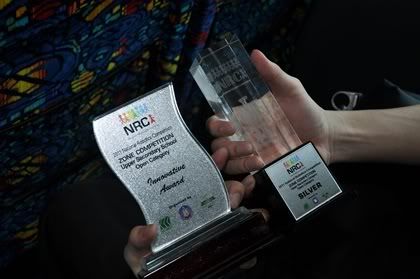 Innovative Design and First Runner Up!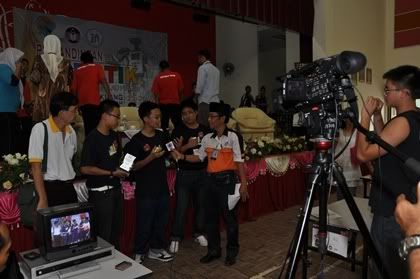 SMK Georgetown being interviewed by eduwebtv.com :)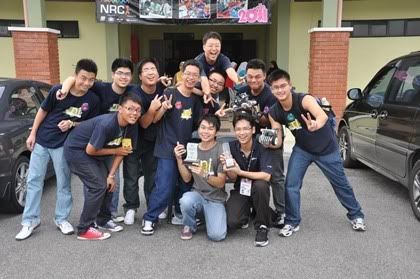 This was indeed a moment of glory for the robotics kids!
I guess, hard work paid off at the end of the days :)
Congratulations to SMK Georgetown and no slacking off! Keep the good work up and bring back more trophies in the future! XD
Also, special thanks to FOS who has been a very good leader :)