Trivia: What does paragliding and beggar's chicken have in common?
Answer: They are both located at Bukit Jugra, Banting! :P
So the story started when I first saw a paragliding voucher online and I thought, hey, the last time I did
skydiving
, it was almost a year ago. I then recruited a few friends on facebook and bought the voucher.
We reached Banting at 930am, had some breakfast and then we waited for the instructors to come. The appointed time was 11am but we were darn too excited and got there at 10am.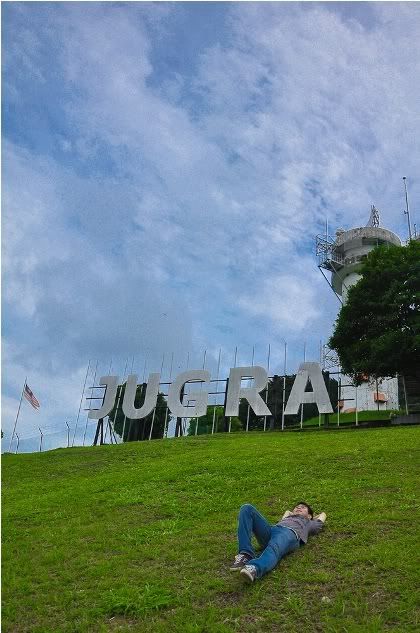 It was cloudy and windy. A perfect weather to just lie down and chill. *with birds chirping and tree leaves rustling in the background*
Never did we know that, to be able to paraglide, a really strong wind was needed. We waited from 10am to 2pm only to experience a short moment of airborne paraglide and they called this 'Para-waiting'
My tandem instructor, Zain who assisted me to buckle up!
See the video below for the entire process!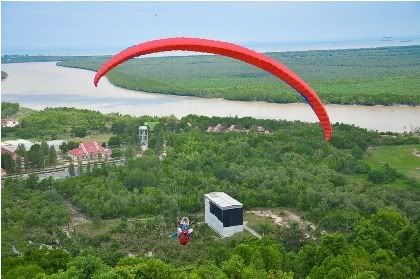 Flew like a wind!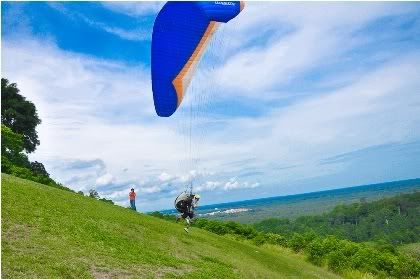 My favourite shot of the day. :)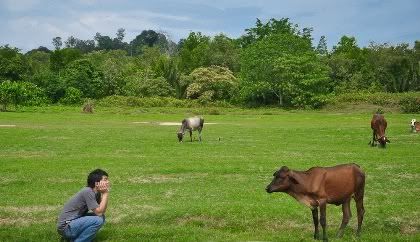 What a picture! :)
A group photo at last.
Legend has it that Bukit Jugra is famous for Beggar's Chicken (叫化鸡 jiaohua ji), a legendary dish that was so good that even in the ancient China, the emperor was willing to eat it with the beggars. Click
here
for the source of this legend and more information about the preparation.
There were a lot of folklore about the how Beggar's Chicken originated. One popular belief was that the beggars in ancient China had no fridge and salt to preserve the chicken/meat and no cooking utensils as well. Therefore they wrap the chicken with mud and baked it in the fire and amazingly, the chicken tasted much better and thus people improved the recipe and made it a dish. A more detailed version of the origin of Beggar's Chicken is
here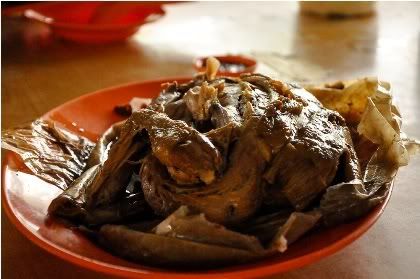 This was the legendary Beggar's Chicken! As the chicken was baked with mud and soil wrapped around it for one whole day, the meat was tender and soft and the aroma of the herbs were all absorbed into it. As the dish needed to be prepared a day earlier, you had to call in for reservation and walk-ins will not be entertained.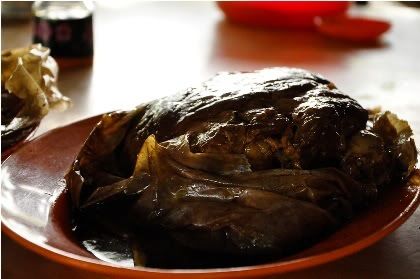 Using the same method, but instead of chicken, this was pork's feet. :)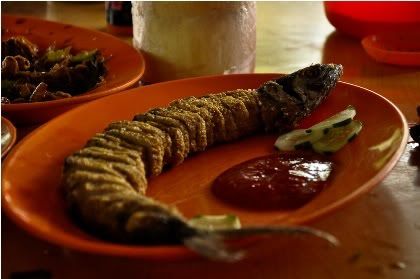 Another signature dish in this restaurant was the Fish Cake. Pretty decent as well.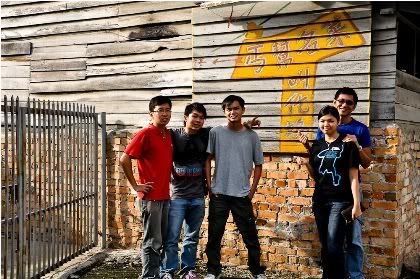 A group photo with the sign which said "Signature Dish of the
Beggars Clan
- Beggar's Chicken"
In a nutshell, it was a fruitful day even though it took us the whole day. After this paragliding experience, I learnt new things and I really thought that paragliding was a cool hobby. (Well, pricey at the same time :\)
Alas, one more item in my wish list. :)