My friend, R and I were attending a dinner gathering in a restaurant in Tanjung Tokong. We wanted to park our car in the restaurant only to find out that the carpark was full. Naturally, we continued driving and parked our car in a food court nearby.
我和R到tanjung tokong的一间餐厅赴约。因为餐厅的停车位爆满,我们就很自然地开车到附近的一个小贩中心的停车场,把车泊好然后走路到餐厅去吃。
After the gathering, we walked back to get our car and when I was about to drive away, there was this old man knocking my side window. Thinking that he wanted to collect parking fee, I winded the window down but he signaled me to come out of the car. I thought something was wrong with my car so I went down from the back of the wheels.
吃了一顿晚餐,我们就开开心心的回到车内然后开车就走。就在我打入退牙的那一刻,有个阿伯敲敲我的镜子。我以为他要收parking钱,所以就把车窗搅了下来。但是他打手势叫我下车。看他这副样子,我还以为我的车有什么问题所以就下了车。
"You didn't patronise our food court did you?" he said with hostility. "You have to pay me 50 bucks or I'll chain your car." he said in Hokkien.
"你没有在这里吃东西hor?" 语气中充满累积了他一世人的怨气与敌意。"给我五十块不然我就锁你的车" 他用典型的槟城福建话。
My very first response was apologetic.
我有点知错,所以我低声下气地跟他说。
"Uncle, I am sorry. I didn't know that. Let me go to the food court to eat now." I said.
"Uncle,对不起。我不知道这边不可以park。我现在就进去吃东西"我说
"No way. You cannot do that. Once you park here and walk out to eat, you HAVE TO PAY 50 BUCKS! The banners already stated this and they were everywhere!" the tone raised.
"北赛!!你北赛啊呢!你只要把车停在这里然后出去吃,你就要给我50块!那边的布条写的清清楚楚!到处都有!"他的声量不去唱大戏真的浪费。
The banners were hung at a dark corner and come on, who the heck would pay attention to banners? My blood started to boil but I held it down.
我抬头一看,躲在阴暗角落的布条根本就不显眼,而且谁人会酱有空去看布条?我热血开始沸腾起来但是我告诉自己,忍!
"Let's do this nicely. I didn't intend to do that because I didn't see the banner. It was dark and it was my first time here. I'll go inside and eat." I tried to calm my voice.
"我们好好谈。我根本不是故意要park这边的。我没有看到哪个布条。天色昏暗而且我又头一拜来这边。好我现在就进去吃。"
"Ya uncle. We will eat inside. Uncle please don't lock our car..." Without me realising R stepped out from the car. She pleaded with a voice that could melt all men's hearts.
"是咯uncle,我们进去吃。Uncle你不要锁我的车啦....." 不懂什么时候R跑下车。她用一种全世界男人都会溶掉的声音对uncle说。
But it seemed like the uncle wasn't buying that at all because he yelled.
事与愿违,看起来uncle根本就不吃她那一套因为他狮子吼。
"No freaking way!!!!!!!! If you were against the law and you said that to a policeman you think he would let you go without giving you a summon?" he spoke as if he were the Chief Minister of Penang.
"北赛!!!!!!!!如果你犯法料你对警察这样说你觉得他会让你走嚒??" 眉宇之中竟然有林冠英的架势
"But you are NOT policeman and I didn't do anything against the law!" I protested, knowing that he would not buy it.
"但是你又不是警察,而且我什么都没有做错?" 虽然我知道他幻想自己是警察可能有一段时间了,我依然抗议。
"Chain the car up!" He shouted.
"锁车!!!" 他中气十足。
A few foreign men with chains and locks started to chain my car in a very skilled mannner. Within seconds, my car were chained up and the adrenaline was rushing in my guts. As someone who just stepped out from college, life wasn't easy at all. In a country with an insane skyrocketing inflation, paying RM50 for parking wasn't something that I could wave off just like that. No I wasn't born with silver spoon in my mouth. I fixed my mind to not pay him and at the same time figuring what I could do.
几个外劳开始很熟练地用铁链和锁头把我的车锁起来。我的车就酱被秒杀了而我的火气就更滚了。刚刚毕业的我,生活过到连买面包都要算。在这个通货疯狂膨胀的国度,给五十的parking根本就是要命。我又不是含着银汤匙出生。所以我倔强地不要给他钱同时脑袋急转弯想办法。
At this very moment, the chaining action freaked R out and she quickly forked out RM50 to the old man and asked him to unlock the car. I was not in time to stop her and seeing the contented face of the old man tipped the limit of my boiling point.
就在这个时刻,看到车被锁,R吓了一跳然后在惊恐之中掏出50块叫阿伯不要锁车。我来不及阻止她。看到阿伯收钱满足的样子,我的愤怒已经超越了我的觉醒极限!


If I were a gangster or whatnot, I would have taken out my phone and started calling people but unfortunately I was not one. Then something crossed my mind - I had a CAMERA in the car and Facebook and the computer were my best weapon. So I splinted into the car and took my camera and ran in front of the old man and snapped a close-up of him!

如果我是歹仔,我第一时间就会打电话叫人。只可惜我不是。电光闪石间,我想起我在车上的相机。Facebook与电脑就是我最好的武器!我凌波微步冲入车内,抓了相机就跑到阿伯面前拍了一张表情写真。

Then I ran, with the speed of light, back to my car and ignited the engine only to find out that R was still not in the car. In the meantime, the old man and his gang started calling for backup and there were more people flocked and surrounded my car. They blocked the door when I was trying to close the door of my car and opened it from both sides and tried to grab my car key and camera.

拍了拔腿就跑到车里,启动引擎然后才发现到原来R还在车外。同一时间,阿伯和他的马仔召唤更多马仔来围攻我的车。他们挡我不给我关门然后两旁夹攻,抢我的相机与车匙。

Just imagine this, at the back of the wheels, I was holding my camera with my left hand and grabbing my car key in the keyholder with my right hand. A man in red tried to snatch my camera from the left side door and another tried to grab my car key from my right. R ran inside the car and started to help me to push the man away from me and the guy from the right succeed in grabbing my car key because the key chain broke. A few of them pulled me halfway out from the car and I yelled on the top of my lung for help, hoping to get some attention.

想象一下,我坐在司机位,左手拿相机,右手紧握插在钥匙洞的车匙。穿红衣的马仔从左边企图掠夺我的相机,另外一个从右边抢我车匙。(我突然有点后悔没有练过左右互搏术)这时,R也跑进车内,帮我把红衣男的手扯开。而右边的马仔也成功把我的车匙抢到手因为钥匙链扯断了。几个人用力把我半身拉出车然后我就大声喊救命希望引起别人的注意。

I saw some bystanders started to flock towards my car but I could also see more of their gang were surrounding my car and R were shouting.

我看到有过路人开始涌过来我的车但我也看到更多的马仔来势汹汹围攻我的车。R很惊慌的喊说:

"Stop messing with them! They outnumbered us! They outnumbered us!"

"表跟他们来硬的。他们人很多!他们人很多!"

I looked around and I knew I was in a very bad situation. The bandits were surrounding my car and I had a girl with me. In this flight or fight situation, I didn't want to risk our safety so I had no choice but to choose flight.

我看看周围,自己根本就处下风。一大堆喽啰围着我的车而我车上又有一个女孩。在这种战斗或投降的情况下,我不想吃眼前亏所以无可奈何只有投降。

"I will delete the photo! I will delete the photo!" I shouted.

"我把照片洗掉!我把照片洗掉" 我喊到。

So I took out the camera and delete the photo I took earlier on. But they demanded me to delete all the pictures. So I formated my camera's memory card in front of them. They gave me back my car key and I quickly drove away. To make sure that nobody was following me, I made a few detours before I went home.

我把相机拿出来然后当着他们的面把刚拍的照片删了。但是他们变本加厉要我把所有照片都洗了。在他们的淫威之下我只好format相机的存档。他们就把车匙还我然后我就快快驾走了。为了确保没人跟踪我,我绕道而行了几圈才回家。

You think the story ends here? No freaking way. A tech savvy would know that nothing is not recoverable digitally or else Edison Chen wouldn't be involved in a sex scandal like this. The first thing I got home was to recover the picture I took.

以为故事就酱完料?笑话。只要是电脑达人都知道,数码世界里,没有什么是不能找回的。不然陈冠希就不会酱红鸟(pun unintended haha)啦!回家第一时就是帮我相机急救。

See this guy for your own (ok I know it was mosaic-ed)! See the accomplice behind? He was holding the chain like some sadist. Don't fall into a scam like this again because I believe there are a lot more other victims. I urge all Penangites to unite and boycott this food court because they were acting as if they were above the law! As a Malaysian, we have the guts to say no to injustice and mistreatment. Our country can only move on if we are civic-minded enough.

你们要记住这个人的脸(虽然打了马赛克)。看到后面帮凶的样子吗?根本就象拿铁链的変態。请大家小心不要再掉入这种陷阱了。我也吁请所有Penang郎杯葛这间自以为自己在法律之上的餐厅。身为马来西亚人,我们要拒绝不公正与不正义的事!要国家进步,我们的公民意识必须先进步!

'All that is necessary for the triumph of evil is that good men do nothing' -Martin Porter

"好人不出声,邪恶满天下" - 马丁伯克 (不好意思我自己的烂翻译)

We want a better Penang and we don't want people who abuse and destroy the future and reputation that we are trying to build for our homeland!

槟城的明天会更好!我们不要槟城建立起来的未来与名誉,被那些废人毁掉!

Say no to Tanjung Tokong food court!

ps-> photo was mosaic-ed as not to infringe on the portraiture right.
照片打马赛克因为不要侵犯肖像权。

By the way, if I were to be assasinated, you'll know who to look for. XD
还有,如果我被人暗杀了,你们知道找谁咯。

Links to location: https://foursquare.com/venue/3473761
http://maps.google.com.my/maps?hl=en&q=5.452255,100.306176&ie=UTF8&t=h&z=16

Similar stories:
http://thestar.com.my/news/story.asp?sec=north&file=%2F2011%2F5%2F7%2FNorth%2F8636011&sms_ss=facebook&at_xt=4dc74f87bf3701bf%2C0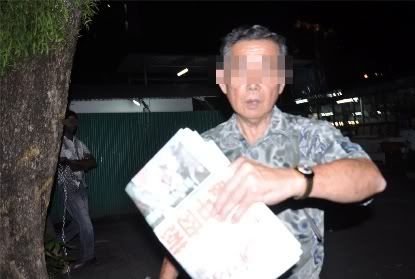 The barbaric old man