I'm sitting at the corridor outside of my dorm in Banana Bungalow, Hollywood Boulevard, Los Angeles, California right now. As I'm typing away, there's a band practising some songs and some dudes playing basketball downstairs. The breeze was awesome and the weather was perfect to stimulate my blogging mode.
First off, my apology for hibernating my blog for almost a month. I have been extremely busy prior to this trip to the States. For who doesn't know, I was in Austin for the past week for an internal technology conference of my company. I was trying to wrap up some stuffs before I went to Austin thus all the hustle and bustle.
When I was in Austin, while coping for jet-lag, I had to, at the same time, prepare for my presentation in the conference and play catch-ups with some of the friends from Austin. I was pleasantly surprise that a lot of my Austinite friends remembered me quite well. (We were playing card games and there was one card that asked them to say the first and last name of each participant and they could spell my last name!) In conclusion, I had a great time in Austin. Simply put, apart from Penang and Kuala Lumpur, Austin seems to be the one place that I somewhat feel belonged when I go there.
First thing to eat in Austin, a Taco!
Nerve-ticking presentation. Anyway it went well :)
A group photo with the VP and the CEO, also the founder of my company, Dr T!
Party with the 2010 Summer Interns~
Meeting up for the third time in a year's time! XD
The Yum Seng kaki-es. They like to do the yum seng thing, loud and blatant, in the bar. This is what we call cultural exchange lol.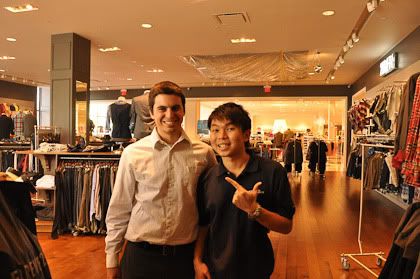 I was so busy that I didn't have to meet up for lunch/dinner so we decided to meet up in a boutique while I was shopping some clothes. lol!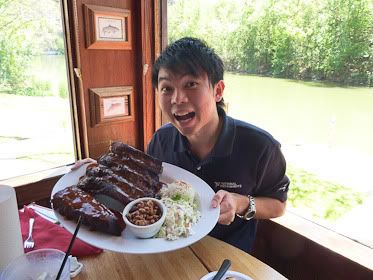 and I left Austin with a stomachful of Texas oversize bigger-than-thou-face barbecued Rib King!
Ok enough of Texas right now. Let's switch the channel and talk about my thoughts.
Somehow, I feel like I am now totally falling in love with traveling. I like how it feels walking on a street that is so different and seeing all the people around you, not knowing that I am from another part of the world. I like how it feels meeting new faces and understanding people's lifestyles and cultures from all over the world. I think through traveling, I understand myself more and I have a bigger picture of what is important to me and the role that I should be playing. It sort of gives me peace of mind when I am taking the subway or the bus on a completely foreign street.

By the way, this particular hostel that I was staying were full of Europeans. In my dorm there's one French, three Brits and two Spanish. No sign of Asian except for my friend and I. haha.

I will be making my way back to Malaysia on Sunday. Keep reading for posts on the City of Angels!