Disclaimer: All characters appearing in this work are fictitious. Any resemblance to real persons, living or dead, is purely coincidental.
---
I hopped off the plane at LAX with a dream and my cardigan. Welcome to the land of fame excess, am I gonna fit in?

Jumped in the cab, here I am for the first time. Look to my right and I see the Hollywood sign.
My heart was humming this song when I got to Los Angeles.
A couple of months before my trip to LA, I received a wedding invitation from a long lost friend, Will. Well, it isn't that politically correct to call him Will because he is officially known as Prince William of Wales. I looked at my wardrobe and I figured that I needed to have a makeover.
I heard Rodeo Drive in Beverly Hills was a good place to shop thus I decided to shop there for the suit that I would be wearing for the Royal Wedding.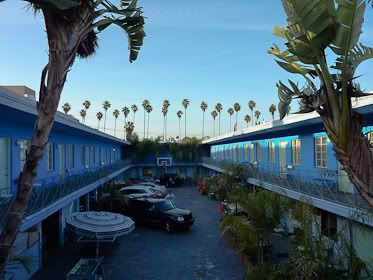 Waking up in Banana Bungalow on Hollywood Boulevard and got myself ready to hit the town.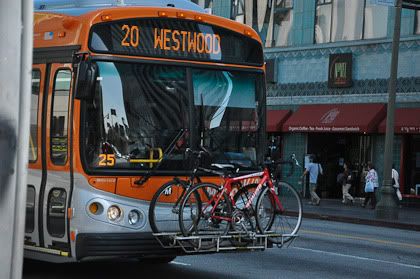 We hopped on the bus and started the journey. Apparently, LA was quite well connected with bus and subway. A day pass of 6 dollars and we had unlimited rides!
We decided to rent a car and tour the city in the morning as the shops were not open yet. By the way, I found it amazing that the buses in the city take have a hook for bikes!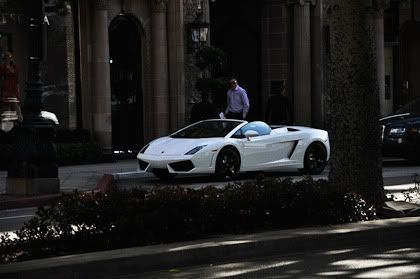 This was the cheapest rental available. :\ So I had no choice but to rent this car.
My friend and I decided to visit Walt Disney Concert Hall to listen to Los Angeles Philharmonic's performance.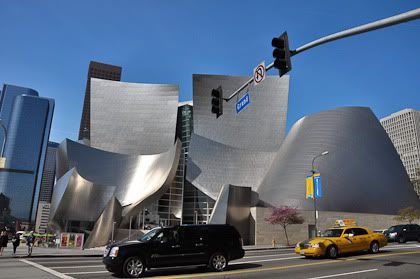 The architecture of the concert hall was unique and interesting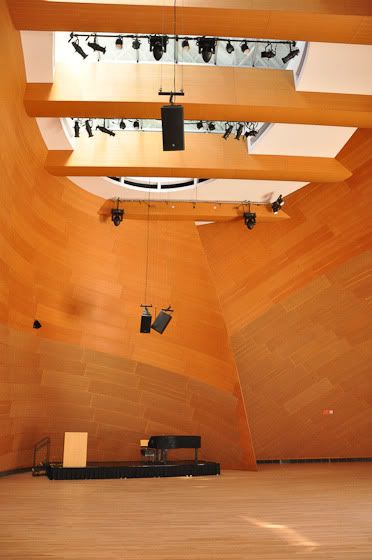 This was one of the side hall. Photography was restricted in the main orchestra hall therefore we did not take any photo inside. To look at the interior design of Walt Disney Concert Hall, you can visit
the wiki page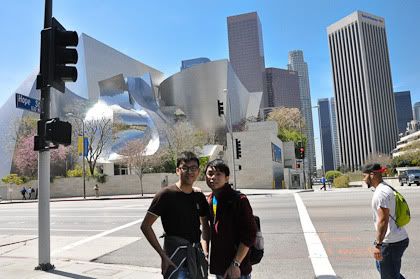 A picture outside of the concert hall.
We then drove around LA and I found this to be very interesting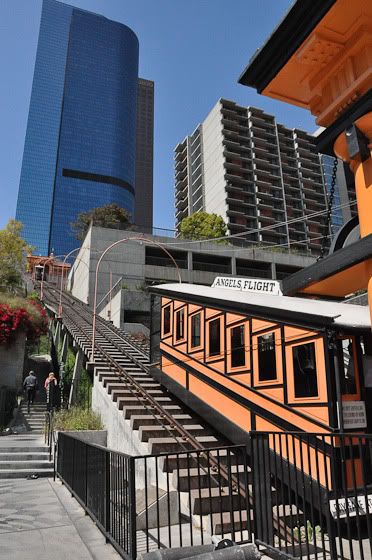 The Angel's Flight! With a quarter you can take the tram up. It is said that Angel's Flight is the shortest railway in the world!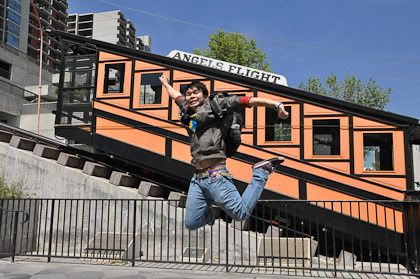 Literally 'Angel's Flight' :P
When Kobe heard that I was making a trip to LA, he told me that we should meet up in Staple Center so that he could show me around in the stadium. Thus, after lunch, I drove the Staple Center.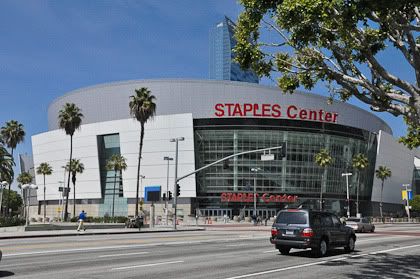 It had been a while since I played 1-on-1 with Kobe. Anyway we weren't able to play for too long as he had to be prepared for his play-offs. So we caught up a little bit and he had to catch the plane.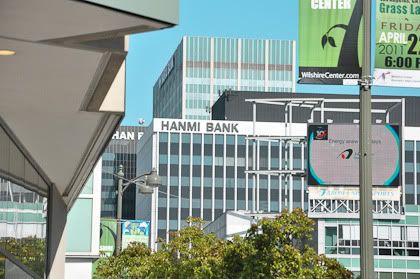 We then decided that it was time to go for shopping. We thought it would be cooler if we could pay in cash so we decided to get some cash from the bank.
What bank you asked? It was Hanmi bank! Hanmi bank? Hanmi bank!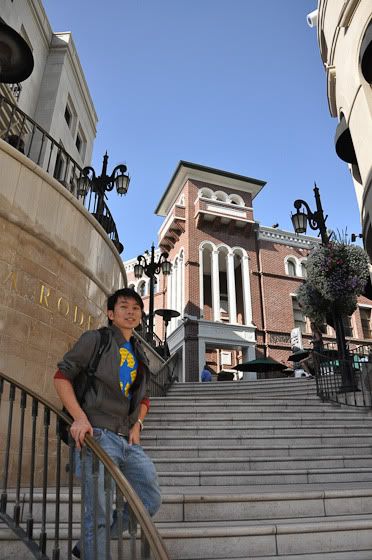 It was a smooth drive to Rodeo Drive and this was the entrance to the shops!
After shopping in a few usual brands like Giorgio Armani, Louis Vuitton, Gucci and Prada, I stumbled upon this very interesting shop known as Porsche Design.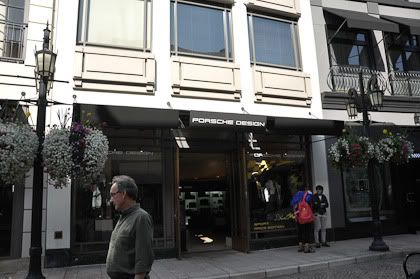 I only knew Porsche cars. Have you ever heard about Porsche attire? I was given a few free gifts when the shopkeepers realised that I was a Porsche car owner.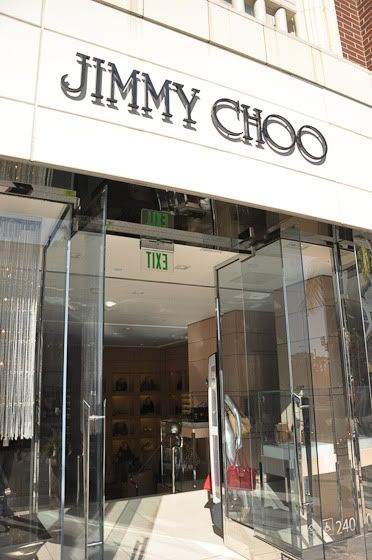 Of course after supporting so many European brands, as a Malaysian, we had to support our very own home-grown brand. In addition,
Jimmy Choo
the founder is a Penangite. So I bought a few stuffs in Jimmy Choo as wedding gift for Will and Kate. I heard that Will's granma, Queen Elizabeth II is a big fan of Jimmy Choo therefore I bought something for her as well.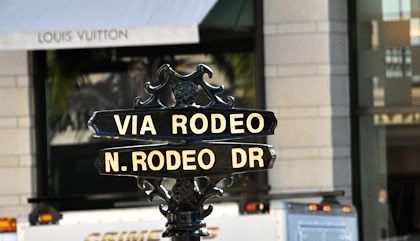 I left Rodeo Drive with a bagful of clothes and apparels. Woohoo! By the way, don't ask me how much I spent because there was no price-tag on the stuffs that I bought!
We tried to catch the sunset in Venice Beach. It was only 20 minutes drive away.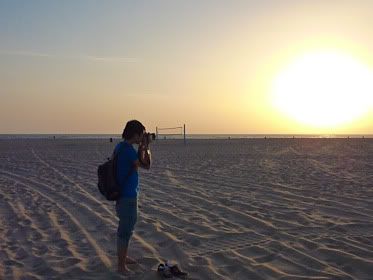 The beach was indeed very appealing!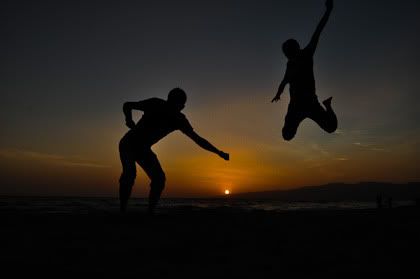 and we decided to call it a day!
---
Thank you for putting up with my lunatic ravings XD