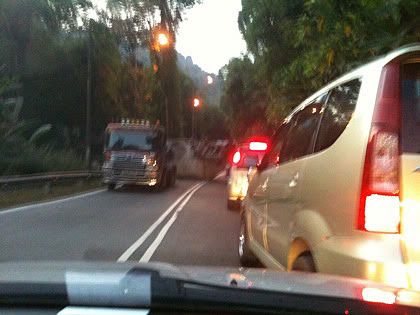 A truck that turn-turtled on the road caused a massive traffic jam in Penang...for two days consecutive because they couldn't remove it until the next day. I was the immediate victim inthis unfortunate incident :|
Traffic congestion in Penang is of course, incomparable to the no-reason, anywhere, anytime, craze-driving, bumper-to-bumper jams in KL. But, sometimes it can be very annoying too.
When I was in KL, I could still make a decision to take public transport instead of driving. Undeniably, the human traffic in LRT can be nastily heavy in KL but I would still have a choice. In addition, it does help to reduce traffic on the road, even by that tiny little bit. In Penang, I don't really have a choice. Taking the bus you say - do you know how pathetic the coverage of RapidPenang is if you simply compare the bus routes to any city in China. :\
Let's take it further and look at Hong Kong and Singapore. They both are dense island city and they both have very comprehensive rail linkage. With the increasing numbers of vehicles in Penang, I guess it's time to look at building a comprehensive public transportation in Penang. At the same time, to be a cleaner and greener international city, public transport is definitely playing a significant role.
Of course I am no expert of the whole public transportation thing and I don't know how feasible is it to actually build subway or LRT or monorail or whatever in Penang but I am saying that this is something that the Penang government and the Federal Government should look into. :\
Anyhows, Penangites, these are a few pictures to make you guys feel better. :P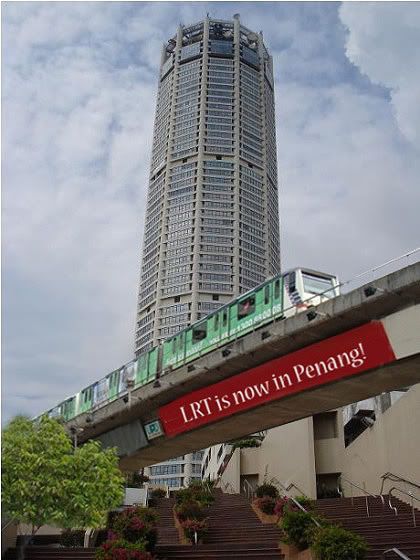 Wow, LRT is now in Penang?!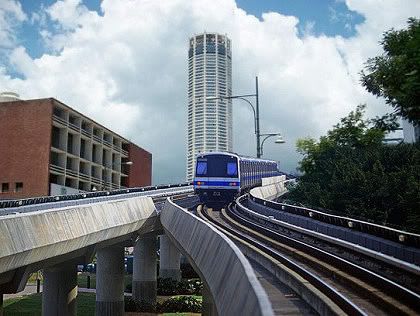 No more hustle-bustle in George Town!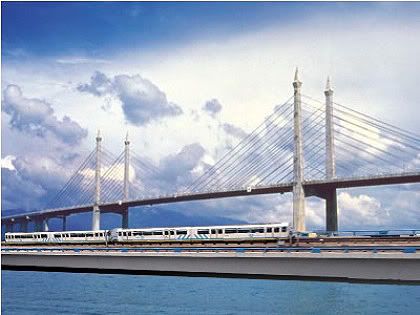 Now you can cross the bridge with train!
I guess my photoshop skill is getting better huh? XD
I genuinely hope that the government is not taking
a rain check indefinitely
on building a comprehensive public transportation system in Penang already. :|