I'm now at Penanng International Airport, waiting for the flight to Kuala Lumpur. Today I am breaking away from my usual working routine and will be having a recruitment drive in my alma mater, UTAR. :)
Anyway, just want to keep my blog updated.
Just the past weekend, I went to Taylor's University in Subang Jaya for First Lego League together with 2 of my colleagues.
Of course I was not participating in the competition but I was one of the coaches of SMK Georgetown students. If you missed out on my previous post about how I became a mentor at Georgetown, click
here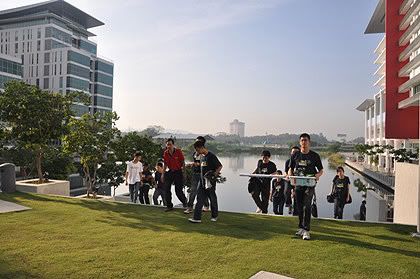 The Taylor's University Campus was very scenic!
First Lego League is actually an annual event held in the United States to promote and celebrate science and technology with elementary and secondary school students. It is also held in countries across the world. Basically students have to prepare for a few tasks, namely the robotic challenge and tasks, the project research presentation and the teamwork challenge.
Overall, the whole event was more like a festival than a competition. There was upbeat music blasting non-stop throughout the competition and students were all cheering and shouting and yelling and dancing like nobody business. Even I was dragged up stage for an Indian dance! lol. You can see the video to feel the party heat!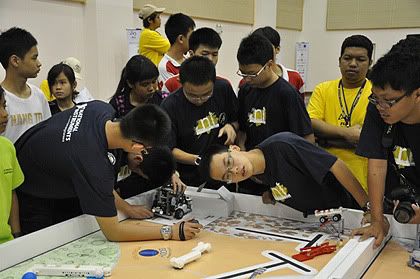 Testing out their robots
As you might have be aware, when another engineer and I first approached the students to mentor them, it was only merely a month ago. I was not at all expecting to see them successfully participating in FLL because they had only less than one month to prepare for the competition. Anyway when I saw how dedicated and determined they were during the past few weeks for the competition, I told myself that no matter by hook or by crook, I would get their asses into FLL. (eh students from SMK Georgetown don't be too
perasan
if you read this alright. We still have more competitions to go to :P)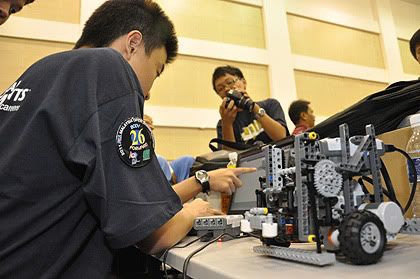 Doing some last minute programming
Despite the tight schedule, the students came out with a very impressive results as they were able to complete almost half of the tasks out of the whole challenge.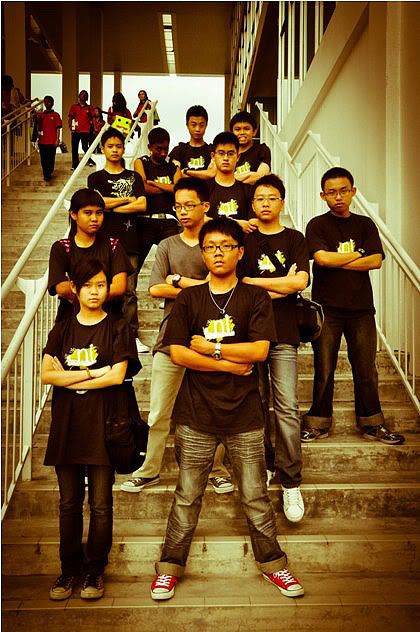 They were know as Robogeorge!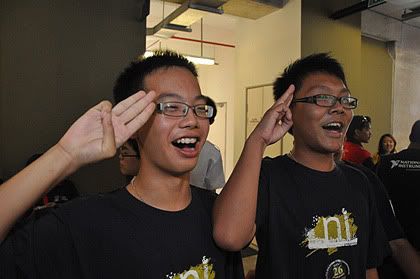 Affirmative sir!
Apart from their technical skill, team Robogeorge was very dynamic and synergistic and even though they were not well prepared for the presentation, they came out with very creative ways to present their facts.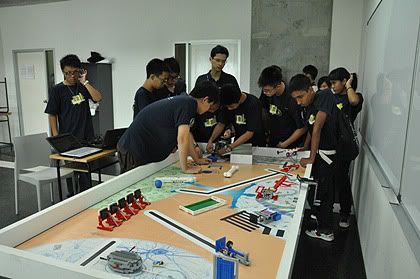 Technical Presentation where they have to explain how they built and programmed the robot to solve the task.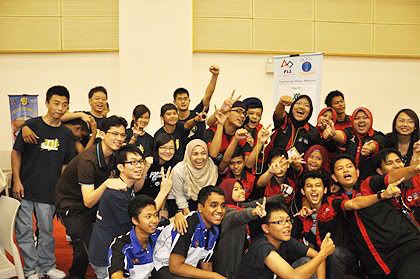 They also made friend with another team sponsored by NI Sales office and as you could see they were so excited.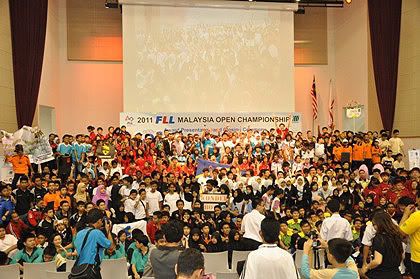 All the participants from all over the country.
Even though we did not bring back any trophy, we did not go home empty handed - we brought back a priceless experience of a lifetime and a great loads of fun!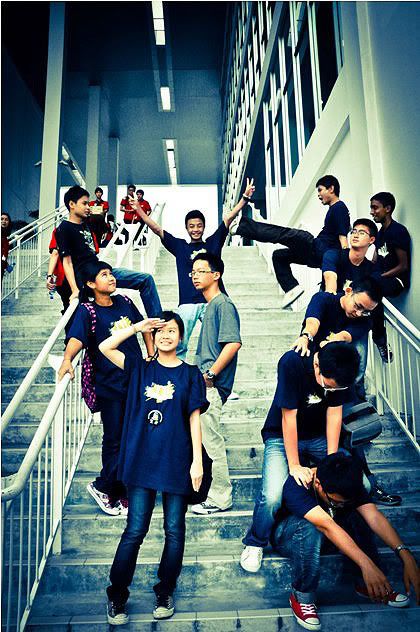 Having all said, team Robogeorge was really mischievous beyond my control but guess what, they were only 15 and 16 so what more could I expect? XD
Let's work hard for the upcoming competition and stay cool! Let's win something back next year alright!
ps-> While you are reading this, I am now at KLIA Express, on my way back to Penang. :P