If you were an avid reader of my blog (shamelessly speaking :P), you would have remembered last few months I wrote something about
Lego Mindstorms mentoring program
.
So the program finally kicked off last week and the school that I adopted was SMK Georgetown and I just had a first Lego session with the high school kids there.
Basically, this is a joint effort and volunteer program between multiple MNCs (Multi-National Companies), local companies and Penang Science Council to bring in fun learning in science and technology to schools in Penang. Each participating company will sponsor Lego Sets and also offer manpower by encouraging their employees to volunteer and I am one of the volunteers ;)
A colleague and I were in charge of SMK Georgetown and we started the whole thing with some presentation slides.
There were a total of 38 enthusiastic students voluntarily joined us for the first session even though we only requested for 10! My colleague was giving the students a head start on what's coming!
Initially we planned to have it in the lab but we had to use the hall because the amount of students was overwhelming!
"Listen up guys, I will gouge out your eyeballs out if you don't listen to me wuahahahhaha!", said me. and I just realized that those guys were taking video of me zomg. XD
Students were having fun on the hands on Lego building session!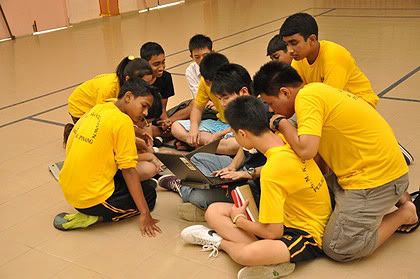 I was showing them some programming tricks. I was impressed by how fast those kids could learn!
At the end of the day, I was surrounded by a bunch of eager learners that wanted to grab everything I could offer to pick up this Lego Mindstorms thingy. It was totally a pleasant surprise to see the overwhelming reception of this program on the very first day. Prior to the first session, I was trying to tell myself to not to be dampened if the students were not zealous enough.
Anyway, I definitely feel contented to be involved in such a meaningful program even though it means that I might have to sacrifice my sweet Saturday morning. This inner reward is something that motivates me to move forward. Just have to keep my fingers crossed that I will not be burning out with my commitment in work, this lego mentor program, also my church's youth ministry and my own personal development. :)
Therefore, stop taunting me about not writing long enough post already! XD