It has been a while since I last blogged. I have to admit that it's relatively harder to maintain a blog as someone with a job. :\ Sometimes I might be free but I was not in the right mood to write.
Anyway, I realise that I have not posted any outing/fun activities post for the past 2 months.
So this entry will be my impulsive and impromptu trip to Sungai Lembing (which translates to the River of Javelin), Pahang. For your information, it was a 7 hour drive from Penang to Sungai Lembing. XD
There are basically a few attractions in Sungai Lembing (despite being a small and rural
kampung
), namely the Rainbow Waterfall, Panorama Hill and also the one of the world's biggest underground tin mine.
On Friday night, I drove down to KL to meet up with friends and then we took off from KL to Sungai Lembing at 1am (pure madness!). We arrived at Sungai Lembing at around 5am. Took an hour nap and the four-wheeled drive guys came.
After about an hour of bumpy road ride, we arrived at this 'car park' where we had to park the car and started to hike.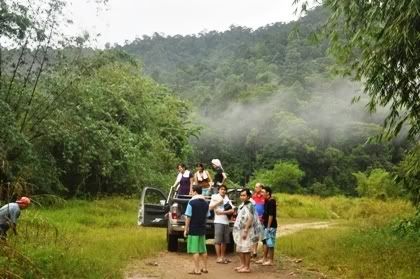 Free car park and open air toilet.
We then crossed this knee level stream and kick-started the hike! Saw the 4wd? It was hidden behind the bush. :D
Hiking in rain forest terrain and water trotting upstream in search of Rainbow Waterfall sounded so darn adventurous! :D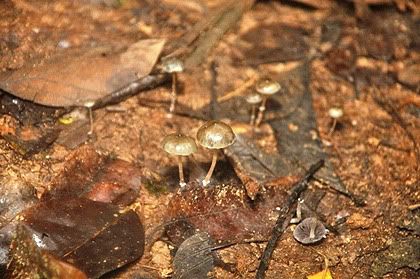 and sometimes we came across weird creatures like the leech!! Anyway these were mushroom. lol!
Unfortunately, it was drizzling when we were hiking. The guide asked us to keep our finger crossed because the rainbow would only appear when there was sunlight. (told you to pay attention in physics classes! XD)
After about an hour of journey, I was greeted by this magnificent scenery!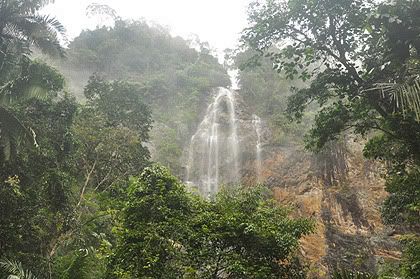 Re-energizing and made me feel like running up with full speed!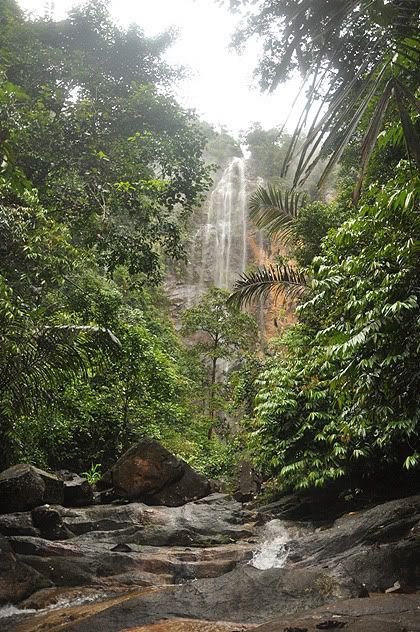 Now I proclaimed that Planet Earth has better scenery than Planet Pandora! lol!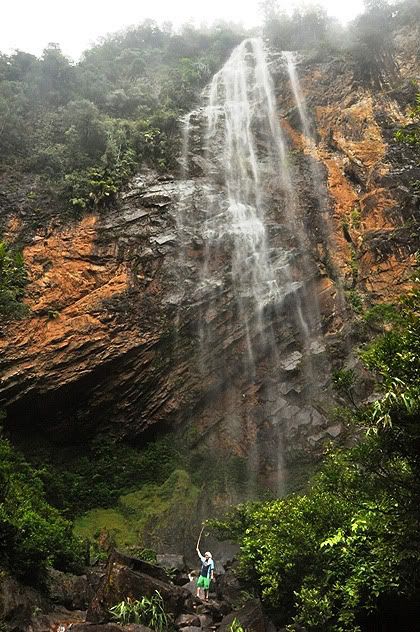 As I went closer to the waterfall, I couldn't help but took a deep breathe, and started snapping my camera like nobody's business (at the same time protecting it from being soaked wet as the rain was getting heavier!)!
Of course I have to make sure that I was at least in one of the photos! :D
This was directly under the waterfall. Sorry for the blur-ish photo as the lens was drenched.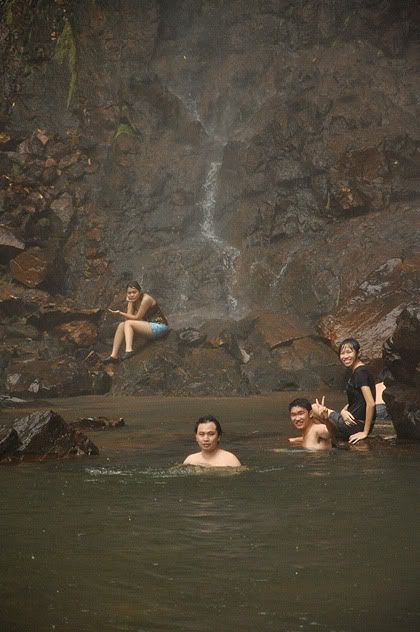 Though it was cold and windy and rainy, we couldn't help but dived in the refreshing and freezing water!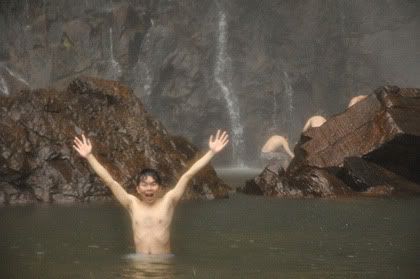 Arghhhhhhh~
Though the view was rewarding enough, I was still a little bit unsatisfied as I didn't get to see the rainbow. :\
The photo below shows how the rainbow would look like if there were any.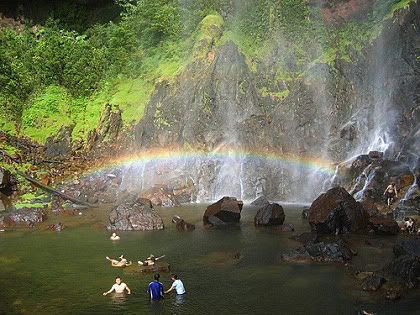 Isn't it magnificent? :) Taken from
Singaporebikes.com
Anyway, after the waterfall, the guide took us to this natural hot spring. After being in the rain and waterfall for a few hours, a hot spring could really make me sing "Hot and Cold"
You could really tell that it was a natural hot spring just from the colour itself! haha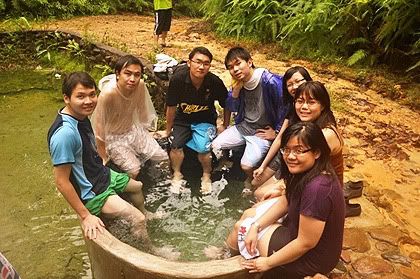 The temperature was just nice!
Right after that, lunch at a famous Malay stall.
Mee Bandung. The Mee Jawa was more famous but it was sold out. :\
Initially we planned to check into the resort, rest for a while, then go to the famous Teluk Cempedak beach at Kuantan in the evening but we collapsed on the bed and blacked out for 2 hours as we were totally worn out!
Anyway, hunger was always the best alarm and we woke at 7pm and drove to Kuantan for some seafood!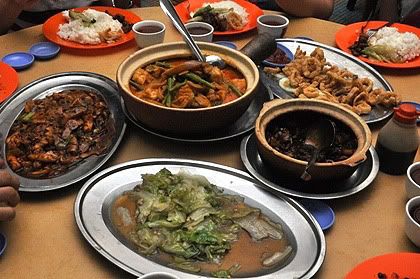 A scrumptious dinner indeed!
and I loved this shark meat!
We drove back to Sungai Lembing and had some charcoal-barbecued pork for supper and decided to call it a day!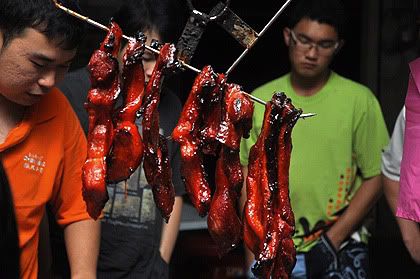 Look at the fat! Definitely enough to compensate all the energy loss! lol
That's it for this entry and I'll leave the Panorama Hill for the next entry! ;) Before ending this post, enjoy the video of the journey to the rainbow waterfall! :D