An old man was sitting all alone in the grocery shop in a petrol station, reading an English book. He was indifferent to anybody that walked pass him or threw him weird stares.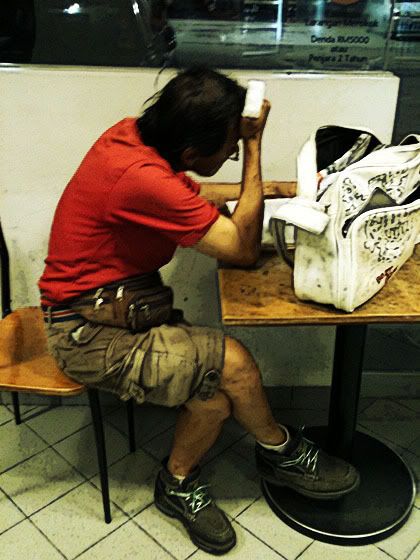 He was well dressed with a red shirt, a pouch on his waist, a pair of khakis shorts and a pair of hiking shoes, tied with raffia shoe laces. I couldn't make out what book he was reading but it was a thick and worn out book. His face was aged with wrinkles and the glasses didn't make him look younger. His right hand thumb was bandaged and he had a sling bag full of some English newspapers.
He appeared to be unhappy.
I didn't know why but this scene struck me. An old man, all alone, appeared to be well educated, read a book in a petrol station.
It made me ponder. An old man who could read a book like this must have read a lot of other books in his life. A man who read so many books had to be a well-educated man, or at least a man that looked at the world and knew what was going on.
The point was, I was always taught that education is the key to success, that knowledge empowers you to be who you want to be and at the end of the day, brings you happiness?
I was inspired by people who stood on the stage with glow on their face, rewarded for their academic achievement. I salute people with higher qualification or multiple degrees.
I couldn't help but wonder what were the stories behind this man. Did he have his heyday back then? What brought him down a road like this? He didn't seem like a street wanderer to me judging from his well-tugged shirt and nicely-tied belt.
But I was just like anybody else in the shop, got our errands done without paying much attention to a distraught old man.
He might not know but without him doing anything, he created a little conundrum in the mind of someone who just started his life, his career.
I guess, I will have to slowly redefine my perspective of life.
For with much wisdom comes much sorrow;
the more knowledge, the more grief.
Book of Ecclesiastes, 1:18