In the last post I mentioned about attending some robotic workshop and here I am to elaborate on it. :)
So, everything started with the formation of
Penang Science Council
.
What does
Penang Science Council
have to do with robots, you may ask.
The fact that hundreds of electronics multinational companies sprung up in Penang for the past 40 years has created an ecosystem to attract and nurture more talents from all over Malaysia and overseas.
Thus, the Penang state decided to start the nurturing process as early as possible, which is starting from high school and thus Penang Science Council was founded.
They have a series of programs going on in schools all over in Penang and one of them is the
Lego Robotic Mindstorms Platform
.
This project prompted all the giant names in Penang like Motorola, Intel, Osram, B. Braun, Seagate, National Instruments and so on to sponsor 30 sets of Lego Mindstorms to schools. Apart from that, each companies will be mobilising volunteers to learn the necessary skill and then be distributed into different schools in Penang.
Wanna know more about Lego Mindstorms? Watch this.
This was the Line Following Robot that my counterpart and I designed in the Robotic Workshop.
Lego Mindstorms is actually a collaboration between Lego and National Instruments (read: my current company). Lego provided the hardware solution and National Instruments provided the software platform. Well, I know cupcake is not related to robot, just putting the photo here for the sake of it. XD
Basically, this Lego Mindstorms thing is a perfect toy for kid.
First, you assemble the parts. You can be totally creative and build whatever things you can possibly imagine!
To make life easier, Lego even provides a CAD (Computer Aided Drawing) software for parts assembly! haha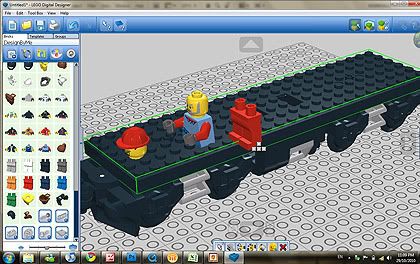 Look at that I am such a genius. lol.
Ops....This was the lunch I had when I was having my Lego Mindstorms workshop. muahaha. Totally not related to this post. Another 'just upload it for the sake of it' photo. :P
Anyway, after you build the structure, you can program it using G-programming language, which stands for Graphical Programming language!
This G-programming language is a solution given by National Instruments as NI is specialized for that! This Mindstorm NXT software is a subset of LabVIEW, the main software that NI owns. Read more at
ni.com
. lol commercial break here. XD
By doing this, it makes programming so simple that even kids could do it! I am sure you can understand the block diagram above right? It's meant for kids! :D
After two days of workshop, I took the Lego Mindstorms set home to explore as I will have to be a Mindstorms Mentor (sounds cool eh? Like some superhero from X-men wuahaha) in a month's time.
and these two were the projects that I did in the past week.
This was a segway/inverted pendulum that utilised a light sensor to balance itself on two wheels. :) PID control was involved to provide the error feedback.
This was a blind robot that had no sensor or what so ever. It would just move forward blindly and bump into obstacle. Anyway the interesting part was the mechanical movement. :)
Of course I didn't design these two projects on my own. The designs were taken from http://www.nxtprograms.com. Anyway I hope I'll be able to come out with some original ideas after plagiarizing two designs. :P
Therefore my living room was in a total mess right now. muahaha.
I am sure that this project will benefit the Penang kids. By exposing them earlier to engineering and science in a fun and engaging way, who knows we might have our very own Apple, Rambutan or Durian or whatsoever coming out from our very own
'Bolehland'
. lol. I don't mind Penang turning into an ultimate Geekdom. So much better than building some stupid 100 storey tower. XD
Of course, I am glad that I am able to involve in such a meaningful contribution to Bolehland or even the state of Penang. :D Tell you a secret, some other motivation for me to join this including hanging out with high school young
girls
kids and sneaking out to volunteer during working hour. :P I hope my boss wouldn't read this wuahahah. (In case you are reading it, I was just kidding! ^_^)
Oh by the way, I should not forget to mention that Lego Mindstorms is actually a toy for 8 year old and above. XD If you think you can't handle it, I feel so sorry for your brain. :P