Simply put, four days were never enough for a trip to the Big Apple. Somehow I was like a greedy worm, trying to chew away enough juice from the huge apple right in front of me with the clock slowly ticking away!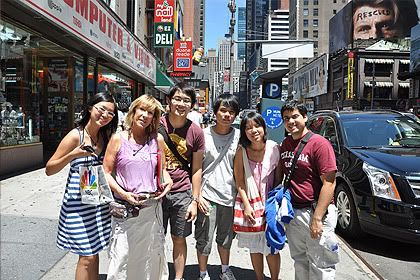 Our New York Pass actually gave us a two hour walking tour guide around the Broadway District. She was the tour guide who walked us back in time and told the stories of how New York achieved what it is today.
Right after that, we headed to the MOMA. Museum of Modern Art.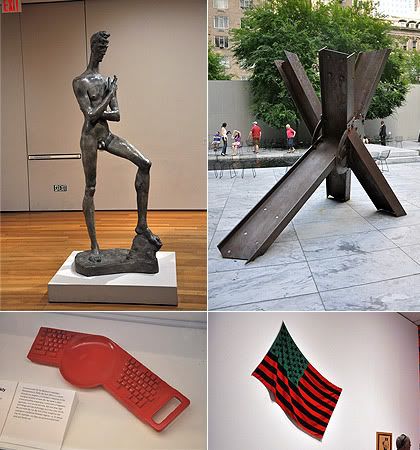 I was overwhelmed by the un-comprehensibleness of the items being shown inside. Be it a naked out of proportion male statue, a few huge pieces of metal junks, a keyboard with a plate in between, or a United States flags with distorted colour. There were a lot more weird stuffs and after 2 hours of viewing all of them, I felt, disturbed.
Perhaps my artsy-ness was not on par with the New York standard yet.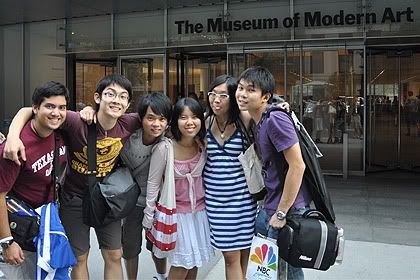 A group photo outside the museum.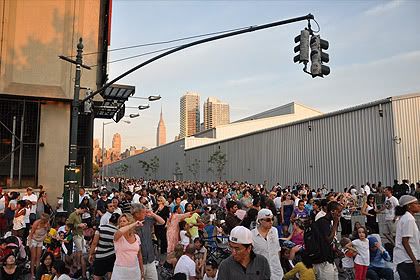 After the museum, we went to Hudson River Side to have a view of the largest fireworks in United States. Apparently there were a lot people who shared the same thought. It was easily more than 20 thousands people I think.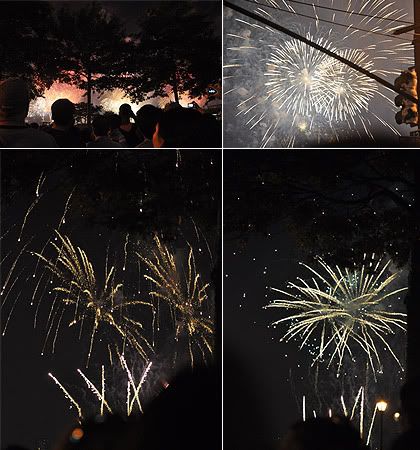 Unfortunately I was stuck behind some trees as it was way too crowded. But it was a great experience anyway.
A little story happened right after the firework. We were separated and without cellphone, we were not able to contact each other. Anyway, all of us made it back to the hotel safe and perhaps the separation served a purpose ;)
The next morning, I
wandered alone in the street
asked somebody else to take some pictures of me pretending to be lost in Time Square.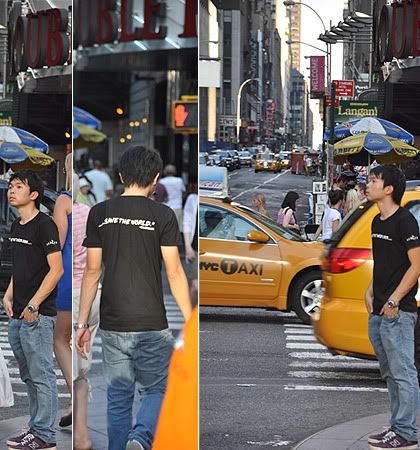 The best poser ever in NYC! :P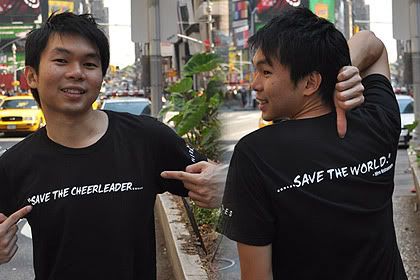 Save the Cheerleader, Save the World!! Anyone knows this quote? :P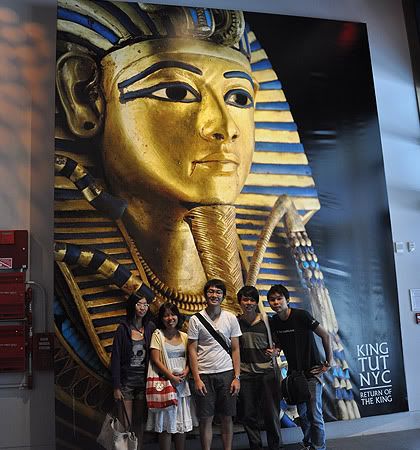 We then went for the King Tut Museum. Too bad no photo were allowed in the hall.
We then made our way to see the Statue of Liberty. We were transiting in the Grand Central Station so we did a little bit of photography there.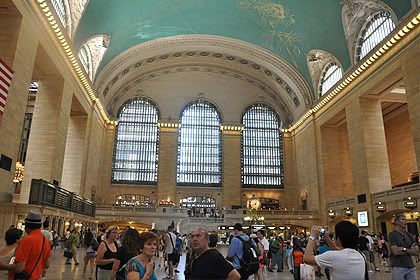 Yes this was Grand Central Station. :D
We got ourselves to the jetty to take the water taxi to the Liberty Island. Upon collecting the tickets using our New York Pass, we walked to line up for the ferry and guess what, the line was longer than 1 kilometer with almost 300 people waiting under the glazing smoldering sun!
We gave up on that one, and walked to another pier to catch a sail around the Statue, without stepping on the island itself.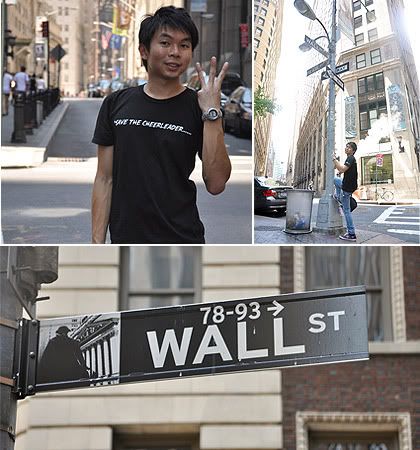 On our way there, we passed by Wall Street and how would a
poser
photographer like me ever miss the chance to snap a few good shots? :P
We then got ourselves up in this ancient sail boat known as Clipper City Sail and voila, we met the Statue of Liberty!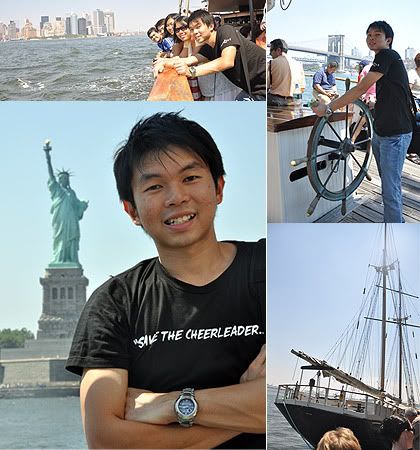 People, say hi to Lady Liberty!
We then made our way back to Broadway/Time Square district to catch a Broadway show.
Frankly, we were a little hesitant to pay 67 dollars (after 50% discount) to watch a Broadway show.
However I was decisive enough to insist on going to watch it even if I had to watch it alone.
and it turned out to be the best part of my New York Trip!!
We bought the tix for this fairly New Musical (all the classics like Phantom, Wicked, Mary Poppin, Chicago, Memphis were not on play), known as In the Heights. It was a musical about the life of Hispanics migrant in New York.
Guess who was in the play? We got a photo with him after waiting for half an hour at the backstage. Can you recognise him? A little hint here would help you to find out who he is: google "HSM 3 cast" :D
My advice: Never miss a Broadway Show if you were in New York, even if you had to beg for the money to buy the ticket! Seriously! :D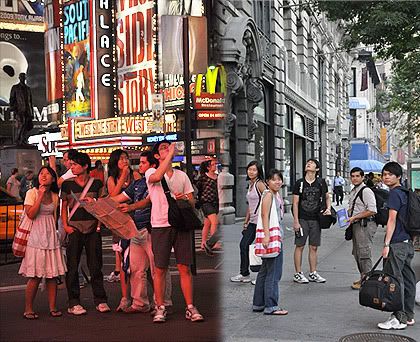 We called it a day after the boardway show and the next day was our last day in New York.
As our flight was schedule at 340pm in the noon, we decided to check out the hotel early in the morning, and made a visit to the last two destinations, which were Central Park and American Museum of Natural History with our backpacks.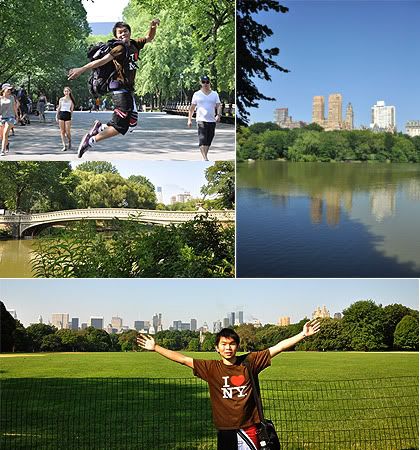 The spot where I did the hop with my backpack, was a spot featured in a lot of movies and the bow bridge as well. :)
As the museum was open at 10am, we had a barely two hours to visit it. FYI, the museum was super extravaganza huge and two hours were only enough to cover 10% of it.
So I picked some of my favourites categories to visit and gave others a skip.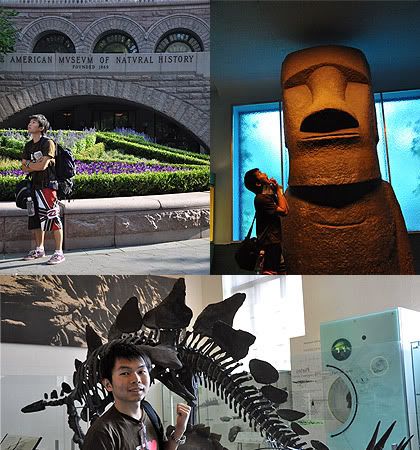 Meet the Easter Island dum-dum (remember Night at the Museum? XD) and the skeleton of my childhood favourite dinosaur, Stegosaurus!! yay!
When the clock struck 12, we had to leave the museum as we needed to reach JFK at 2 and the subway would take around one and a half hour.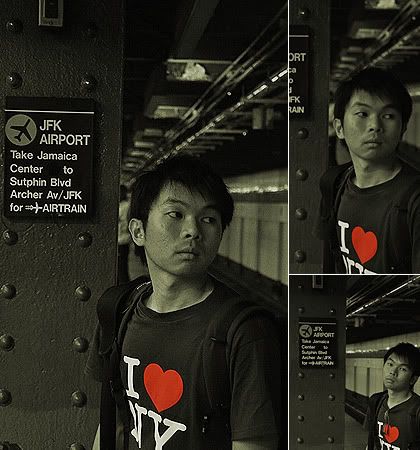 and I left New York, with a I *heart* NY shirt,
and a gloomy face. :(