I still remembered how I checked out the prices of the flight ticket from Malaysia to United States in December last year when Jon told me that he was going to get married in June 2010.
It turned out to be a figure that somebody like me, who would be graduating in May 2010, could never be able to afford.
So I just dismissed the thoughts of attending the wedding.
If you are a loyal reader of my blog, you should be able to know how I got myself in United States, without paying a single cent. Long story short, it's God's grace that brought me to the wedding. :D
The wedding took place in Abilene, which is located three and a half hours away from Austin. I got a ride to the town, just in time to make it for the ceremony rehearsal. :)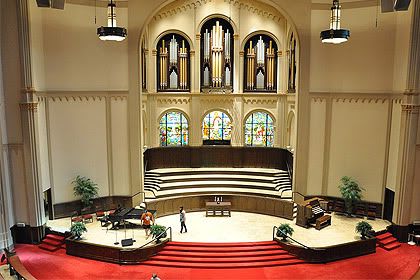 The awesome-est Church. Simply perfect for a wedding!I was made one of the groomsmen and I was totally excited about it!
The custom of American wedding is that the bride and groom are not supposed to see each other before the wedding takes place. Therefore right after the rehearsal, they had to be parted.
As the groom-to-be and I had never seen each other for two years, we really had got a lot to catch up. We talked until I fell asleep soundly, while he couldn't. XD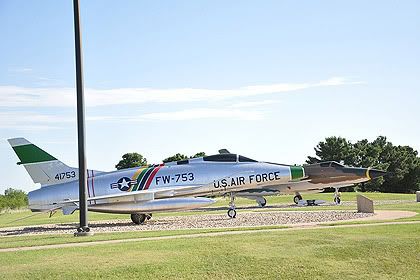 We woke up early in the morning to go to Dyess U.S Air Force to decorate the dining hall as the wedding reception was going to be held in the club house of the air force base. It was superbly cool! Apparently U.S Air Force base is not some place that anybody can simply enter!
After the decoration, we watched the World Cup game of USA vs Ghana before we changed into our suits. lol. U.S.A screwed up big time by the way. XD
I was on the stage throughout the whole ceremony therefore I wasn't able to take any picture.
I took this right after the ceremony ended. Lovely huh. :)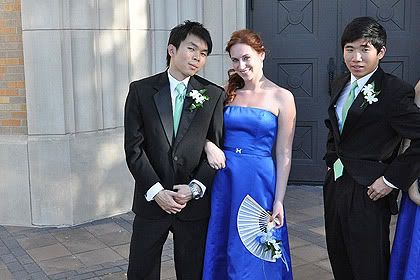 I was paired up with her. Lovely groomsman and bridesmaid huh? :P Ignore the person on the right please. XD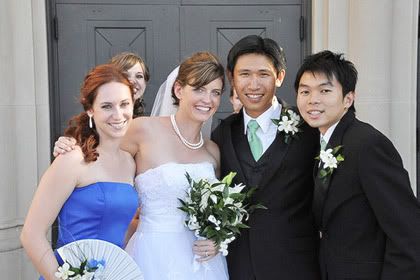 Officially Mr and Mrs Lee. :D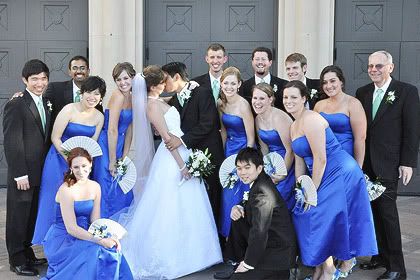 A photo with all the groomsmen and bridesmaid. yay!
It was almost seven and we rushed to the wedding reception at the air force base.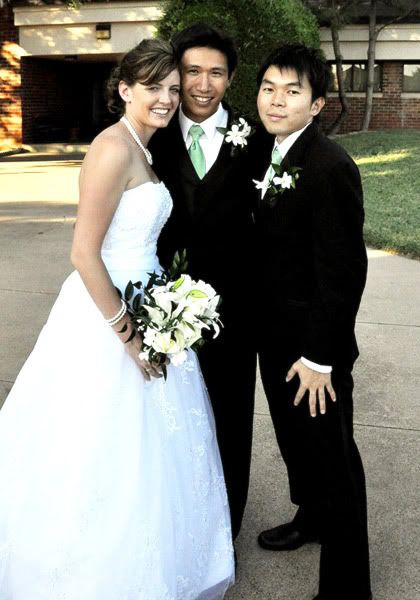 We took this outside of the clubhouse. Too bad we'd got no time else we could take one with the bomber as the background. :D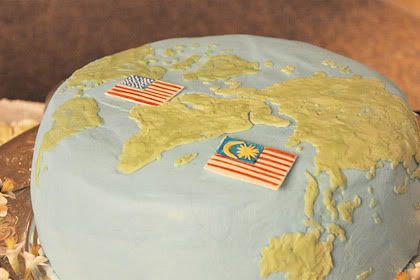 A rather patriotic cake I would say. and the boy in front of me took the Malaysian flag away before I could eat it. grrr....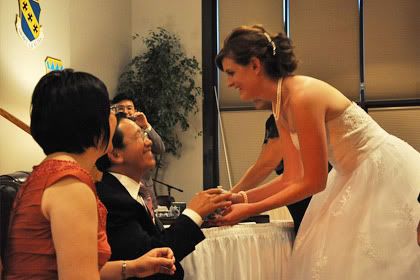 The Chinese Tea Ceremony during the reception. A must for Chinese but it was rather a new thing for the Americans. :)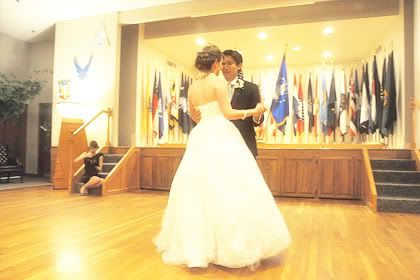 The First Dance. A must for American but it was rather a new thing for the Chinese. XD
The Wedding dinner turned into a party when everybody got out to the dance floor and danced. :)
and how could I not take a photo with the U.S Air Force officer, who happened to be the father of the bride! :D
Last but not least, my sincerest wishes to this lovely couple. I know it's lame but I really can't wait the day to hold a Chimerican baby. XD