Gentle reminder: This is a non-halal post :)
I slept at 3am and work up at 5am. We could only most probably gather like this in a few years time, or never again.
We headed up to Klang 630am in the morning just to have a bite on the famous Klang Bak Kut Teh.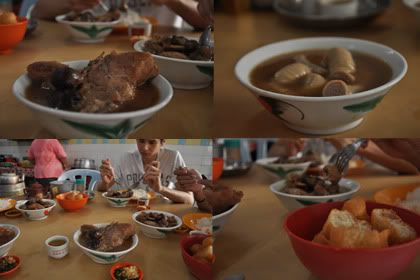 and trust me, the taste was so good that it was worth my sleep-deprivation. I don't think anybody can find such good bak kut teh anywhere else in Malaysia. The very same golden rule of no good laksa outside Penang.
Even someone like me who doesn't like eating intestines, found the pork intestine to be tasty. The gravy of the bak kut teh gave a very unique sensation to the taste bud as well. You really have to try it to understand what I am trying to say here. :)
After the heavy dose of breakfast, we then drove on to Port Klang, to catch the speed boat to Pulau Ketam.
The speedboat that we rode on. If you ever have the chance to board it, please do not miss the toilet. You let go right into the sea. :P
What is so special about this small little muddy island? Well this island is actually a swamp area and it is not really a suitable place to have permanent residence due to the muddy nature of the land on the island.
Somehow, there were people settling down on this island and started to build 'floating houses' which are houses that are built on wooden stilts. Kinda similar to the clan bridge in Penang I guess.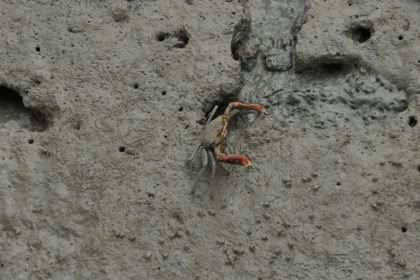 As suggested by the name Pulau Ketam (Crab Island), this kind of little crabs were everywhere in sight underneath the pathway.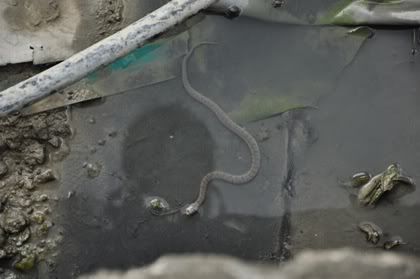 Once in a while, the special guest made its appearance.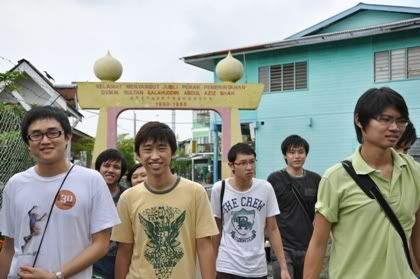 Nine of us roamed around the islands. The villagers didn't even bother about us. I guess in their mind they were thinking to themselves "Why are these city folks so keen to come to this kind of places? Some more bringing three huge DSLR cameras."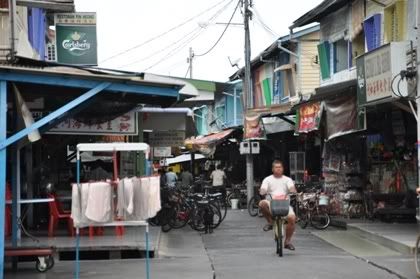 The street with restaurants and shops.
As I mentioned, the houses and pathways in Pulau Ketam were built on wooden stilts thus it was not possible to even ride a motorcycle on top (might crush into the mud down under anytime), not to mention a car. XD
Thus it was a usual sight that everybody was riding on bicycle in this small island with 8000 population.
There were also no road sign or whatsoever in the island so we were walking around blindly. However, we were lucky enough to meet somebody who was willing to be our tour guide for free.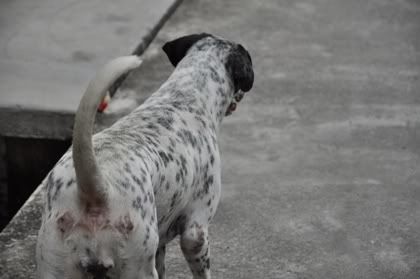 Meet our tour guide, Mrs Spottie~
The dog walked ahead of us and stopped every now and then to look at us, as if signalling us to follow her. Well, she really brought us to a few secluded places.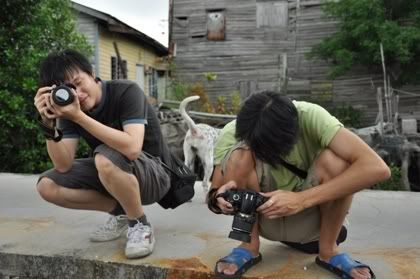 You see, the photographers were doing their jobs dedicatedly. XD
After an hour or so strolling around the island, the skies turned dark and we felt the rain drops.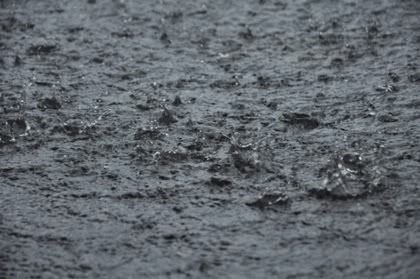 To our dismal, it rained heavily.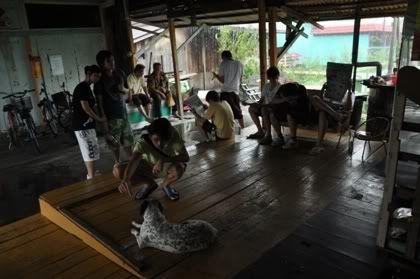 Thus we took refuge in a sheltered
kedai runcit
. So was our tour guide. Perhaps the kedai runcit owner paid her some commission? lol
There was virtually nothing to do. Some of us picked up the newspaper and read and some of us went playing with the dog, some fell asleep, some played with Iphone and I, was playing around with my DSLR.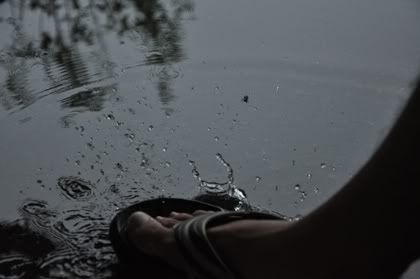 I tried on a few effects and this was one of my favourites. :)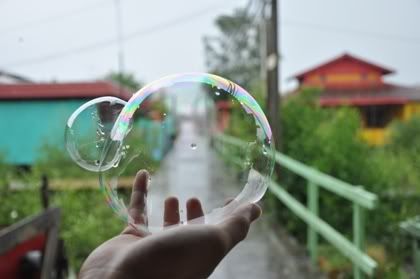 This one too. Wonder if you have ever played with this kind of bubble before? It comes with a small straw and a mini toothpaste package goo-like fluid. You apply the fluid on the stick and blow and voila, you've got yourself a big bubble :)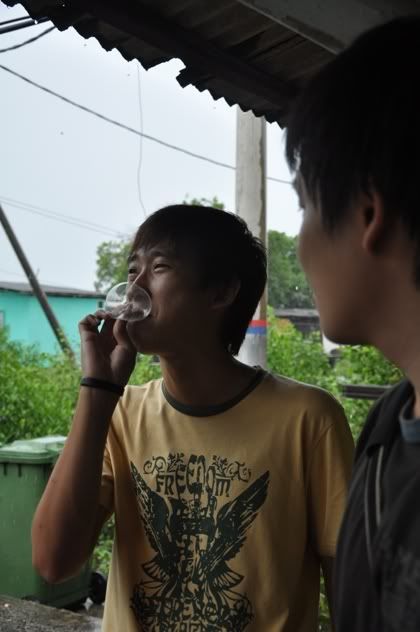 As per demonstrated :)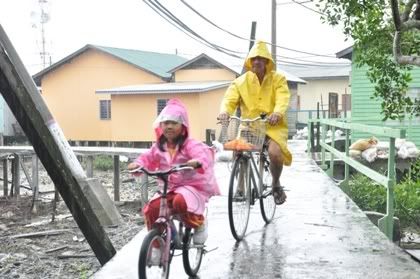 Trust me, all residents in Pulau Ketam are skilled cyclist. They have been riding on bicycles since kindergarten! For us, the worst case scenario of bicycle mishap is to fall down and bleed. For them, it is to fall down into the stinky mud underneath and heaven knows what is inside. (They do not have proper drainage system, so all the excrements go all the way down...)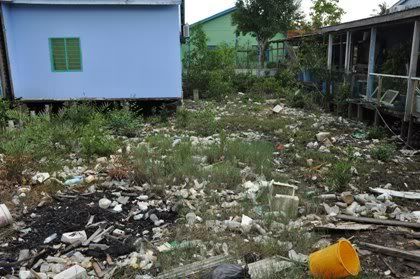 Just to give you an idea how filthy was the island.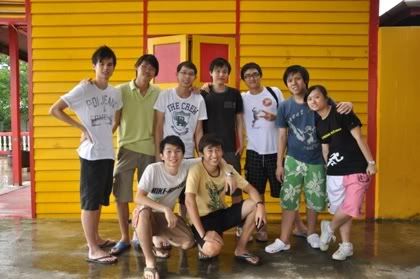 After the rain became mild drizzle, the tour guide decided to bring us to a temple. So we took a group photo there. The tour guide refused to join us. Too bad.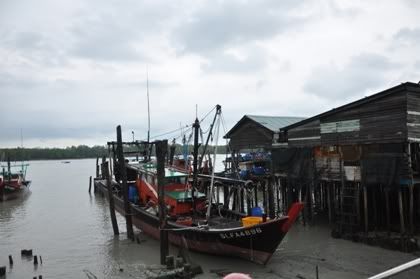 A typical fishing boat on the island.
We then went for lunch and the seafood on the island sucked big time! This was supposed to be a fishing village and the seafood should be fresh but I didn't know why it tasted worse than those in KL!
Even the crabs were overpriced (RM32 per kg, it was only around RM20 per kg in KL and RM12 per kg in Nibong Tebal). Thus we didn't order the crab.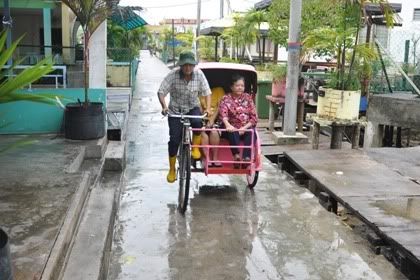 To make things worst, when I snapped the photo of this trishaw, the auntie seated suddenly yelled at me in a very rude manner
"Hip hamik l*n j***!?!?!!?!(" (copy this and paste into Google hokkien translator to understand what it means if you don't understand :P)
Leaving me stunned for a second and walked away.....
Definitely not a place I will ever step my feet on, again...
---
Will be leaving Malaysia in two days' time. If you are in Penang, I don't mind you sending me off in the airport with banners :P Just kidding. Let me know if you wanna meet up alright? :)