Memorial Day is a United States federal holiday observed on the last Monday of May. Formerly known as Decoration Day, it commemorates U.S. men and women who died while in the military service. First enacted to honor Union soldiers of the American Civil War (it is celebrated near the day of reunification after the Civil War), it was expanded after World War I.
-Wikipedia-
On the Memorial Saturday, some of the engineers brought us out to a shopping outlets in Round Rock.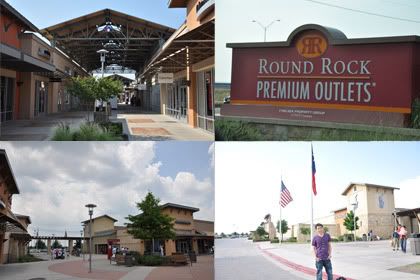 Round Rock Premium Outlet
There are plenty of outdoor shopping malls in Austin. I guess the people here prefer to have fresh air while they're shopping, simply because they've never turned off the air-conditioners at home.
There wasn't a huge sale going on either. Anyway, it was relatively cheap enough to give shopaholics from Malaysia some jaw-dropping moments.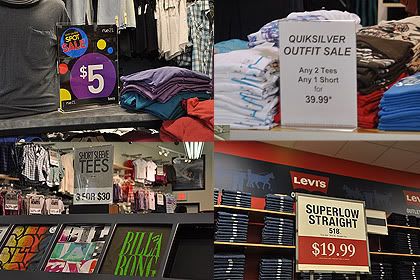 These were usual price. Imagine if there was a sale.
Anyway, I didn't buy anything on that day. I am waiting for a bigger sales!! ;)
---
The next day, which was a Memorial Sunday, I went to two sessions of worship in two churches together with another intern.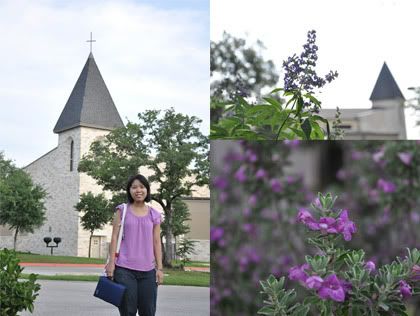 This was a Methodist Covenant Church, from the outside.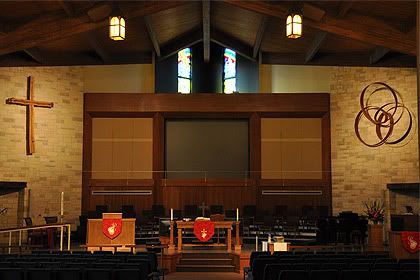 When we walked inside, we were awed by the ambiance of the interior design. Imagine this, we were actually singing 18th century old hymns in this church, accompanied by pipe organ! How cool was that?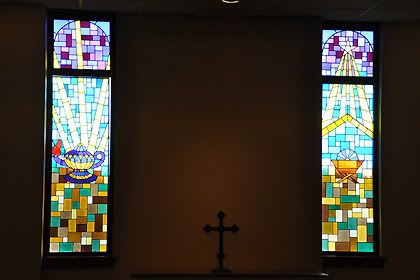 All the windows were crafted with different patterns and designs.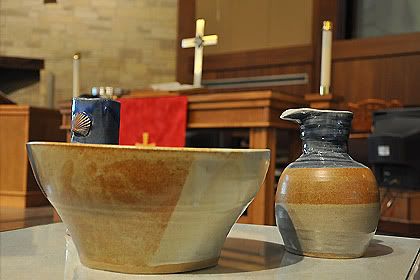 The altar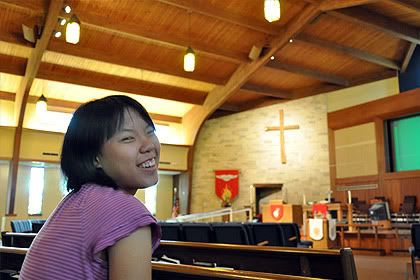 Judging from her smile, I would say she liked the church? :)
After the first session of worship, we went to the second church which was a Baptist Church, located just right next to this Methodist Church (which was also the church I went last week). It was a more modern church. On that day itself, they were singing hymns too. To make things interesting, in conjunction with Memorial Day, we actually sang this hymn,
America, the Beautiful

America! America!
God shed his grace on thee
And crown thy good with brotherhood
From sea to shining sea!
.
Trust me, for some reasons, I felt patriotic when I was singing that song. Maybe it was the tune and the mood. XD
---
Later in the afternoon, we went out to Town Lake to do some photo-shooting and also exercises.
I took this when I passed by downtown Austin in a car. This was actually Sixth Street, the famous street for its pubs and live music performances
.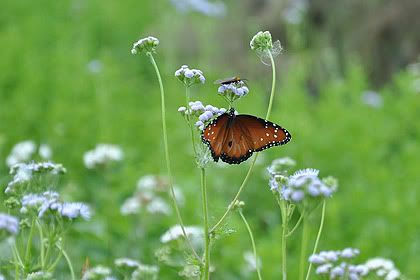 A butterfly around the Town Lake.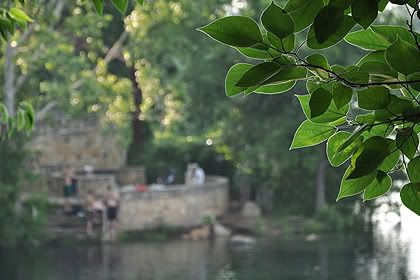 There were actually a lot of people swimming and kayaking in the lake, given that the next day was a public holiday.
The jogging trail along the lake. I went there together with other interns and engineers.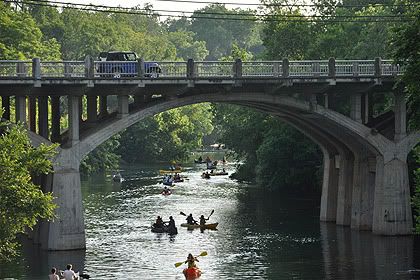 People were kayaking.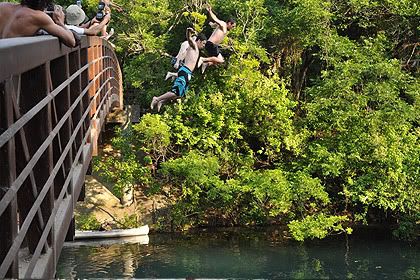 and jumping off the bridge.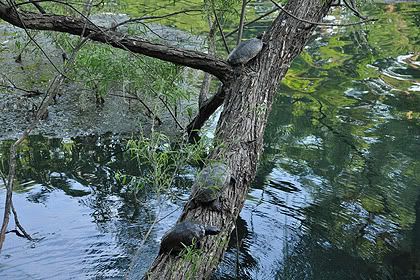 The tortoises got scared and they actually ran out of the water for their lives. lol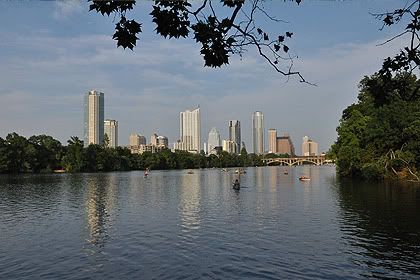 Austin city skylines from the Town Lake.
After that, we drove another few kilometers to get to Mount Bonnell. It was a very beautiful spot for sunset.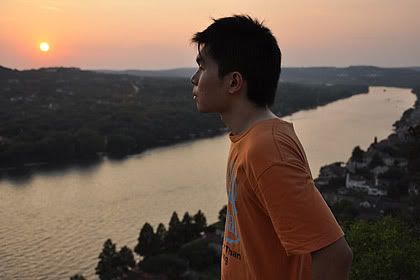 Finally some photo of myself. :)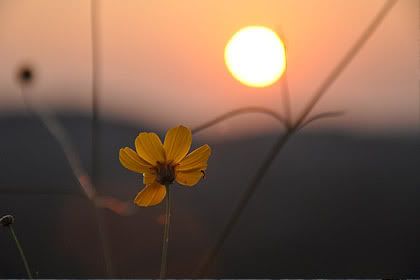 I love this photo. :D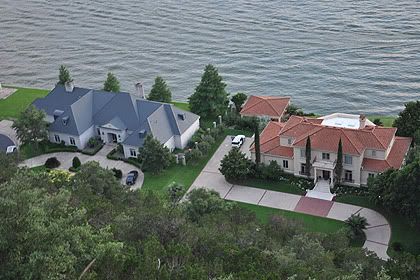 Some real nice bungalow built by the riches of the riches along the shore of the lake. Looking down, we could actually see their backyards. lol no privacy at all.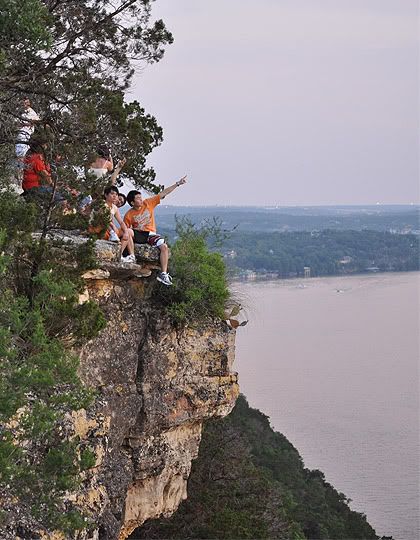 This was the best photo of the day I guess. I just love altitude. yay.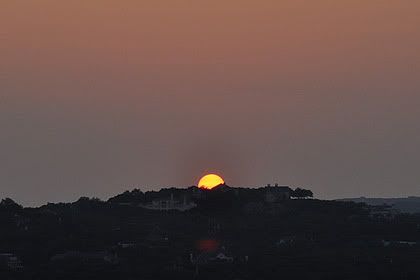 The sunset at 840pm and we went home.
---
On Memorial Day itself, I was planning a trip to downtown for more photo-shooting but this round, I checked the online schedule and was going to go down by bus.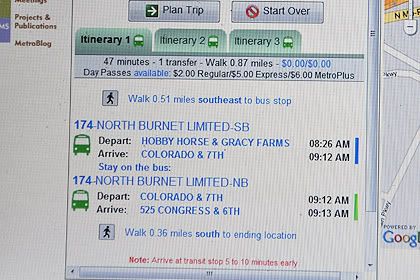 When I saw 8:26am, I was thinking "The Americans were really confident for their punctuality huh."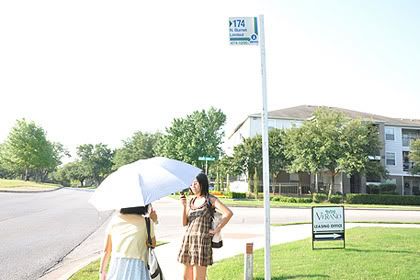 Guess what? We waited for 2 hours, and the bus never came.
Ended up we walked to a shopping outlets nearby.
What a memorable Memorial Day.