Finally I sat down and I decided to click on 'New Post' in the blogger dashboard.
One of the papers of my team's final year project was selected to be published in a conference in Singapore. At least one author has to present in the conference in Singapore in June. It would be a great honour and achievement if we are able to do a ass-kicking presentation. Anyway let's not contemplate so much as the completion of the project itself might be a problem. Anyhow, I really hope I can go despite of the numerous unforeseen uncertainties that might come in the way.
I hope I have more to tell you but I have to wait. Now I somehow understood the agony of being told to wait. Can't eat well, can't sleep well. I have to go swimming and jogging to release stress and make myself hungrier.
Anyway, it ain't over 'til the fat lady sings. I'll keep my fingers crossed.
Till then.
Let's end my post with a bowl of gastronomic curry noodle in Taman Sri Rampai
pasar malam
.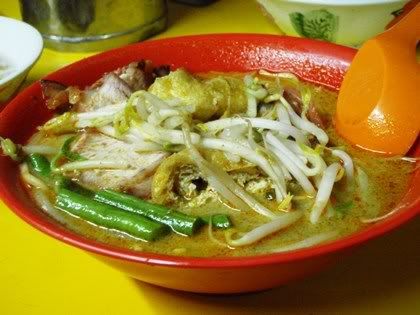 It helps me to gain my appetite back. :) (and makes life better XD)