The
Extreme Race
was a success therefore we committee went for a scrumptious meal to celebrate it.
and since the Chinese New Year was around the corner, we went for 捞生 (
lao sheng
). I have a difficult time trying translate it into English and I came out with a few names:
stirring/mixing/scooping the raw....and they all sounded awkward.
Basically this is a Chinese New Year customary dish invented by the Chinese in Malaysia and Singapore. The Chinese in China, Hong Kong or Taiwan don't do this. For more info you can click
here
.
So let me give you a lesson on how should you
lao sheng
First, you get ready with all the necessary ingredients. (Go to the wiki page for the complete list).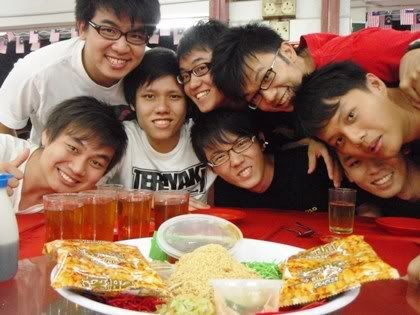 Then, gather all your stupid friends or whosoever that wanna become filthy rich.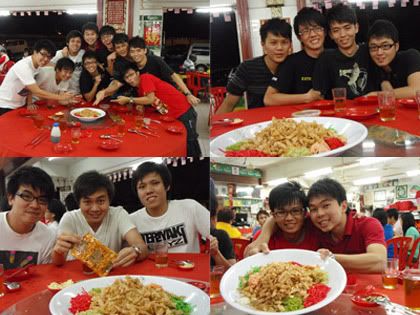 Everybody must wear black, white and red. XD lol I created this rule :P 
Mix all the ingredient together.
Take a photo of the
yu sheng
first
Get ready with the chopstick. By looking at this picture alone, can you tell how many of them hold the chopstick correctly? XD
and you scoop/mix/stir/chopstick the poor thing while shouting wishes/greets like 'Happy New Year', 'All Wishes Come True', 'Gong Xi Fa Cai', 'I love you', 'Happy Valentine's Day', 'May all prosperity flood your house' or whatsoever. I just went along with the crowd. lol.
So after you are happy with the process, you can start eating the
yu sheng
. 
After eating the
yu sheng
, it's time for some proper meal. 10 dishes omg.
Some more got this super huge deep fried fish head.  
and ah loong was such a desperado that he French-kissed the poor fish!!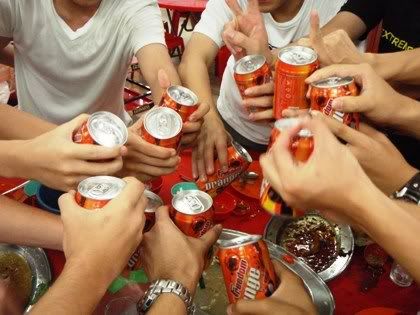 and we dirtied the table with some orange drinks. 
and I wish both of you love each other forever.
I know it's still a little early but let us get into the mood of the season faster. I would like to take this opportunity to wish everybody Happy Chinese New Year and Happy Valentine's Day.
Have a prosperous Chinese New Year! :)