The weather is extreme abnormal nowadays. I feel I am smouldering from the inside out. So much for global warming! Somebody please save the world!
Last week I got to watch a movie for free as friend won the free tickets from My FM. To celebrate the winning of the tickets, we went for Sushi ZanMai. It was costly but yet it was the best sushi I have ever eaten! That explains the queue during dinner time on an ordinary Wednesday.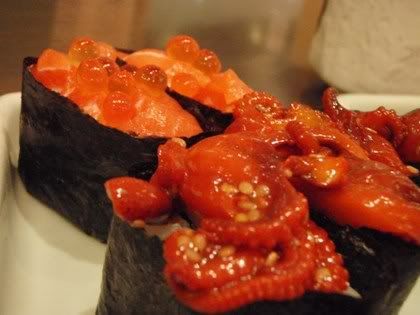 Ikura and Tako sushi!! yum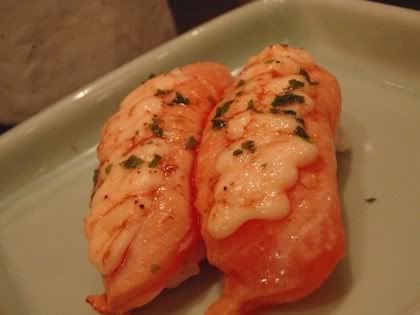 Salmon with cheese....Paradisal combination~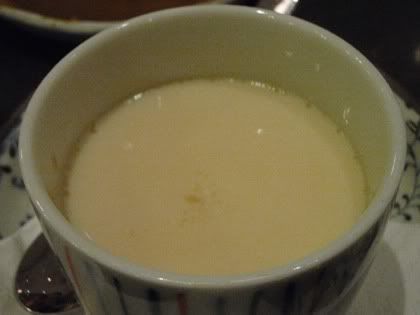 Chawanmushi - A cup of smooth steamed egg with sliced mushroom, crab stick and suprisingly, a rather fresh shrimp inside. @@
Talking about the free movie I watched, Legion. It was a crappy movie you wouldn't wanna watch unless you like movie with people machine-gunned angel-possess zombie for 5 minutes and then another 20 minutes of sentimental pillow talk and the storyline isn't much surprising. Luckily I watched it for free.
On a heavier note, I have bumped into a few obstacles in the progress of my FYP. I burned a piece of board (and burned ~rm100, that's how fragile electronic stuffs are :<)and I'm gonna start all over again. Anyhow this time I start with more experience and I have to work extra hard. Please praise me for my proactive attitude. XD
Actually I got nothing in particular to blog about except for the complains of the hot weather. How I wish I can go to the uni shirtless lol! Anyway this coming week there'll be an event Extreme Race and 22 teams have already taken part. Bravo for the Askar Wataniah society! :)
and there might be a change for my intention to go for Askar Wataniah in May. I might be offered something much better. So let's just see how. :)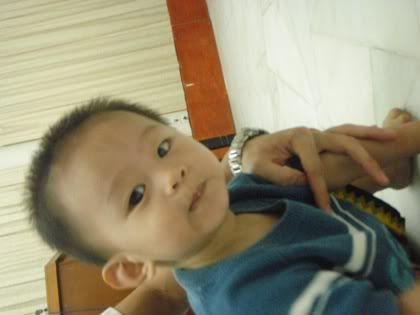 People, say hi to Ah Hau. :)
By the way please help me with the poll on your left hand side. Thanks :)