Nothing feels as good as stumbling into a scenic waterfall.
As a matter of fact, this waterfall is just located a few km away from Nibong Tebal.
I knew about its existence but in my beat-up memory, it was just a dry-up stream.
So the other day I saw this post on
Niel's blog
, and I decided to give it a go.
After all, it was just a 15 minutes drive away from home. Why not?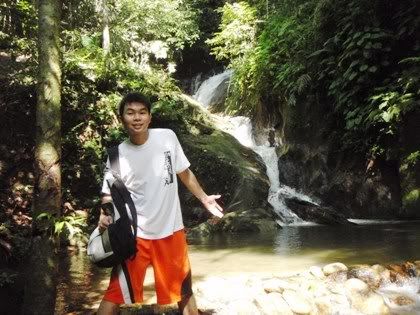 We didn't stop at the first waterfall we saw, we hiked up instead
Then we were amazed by this.
I should have brought my shokubutsu along. XD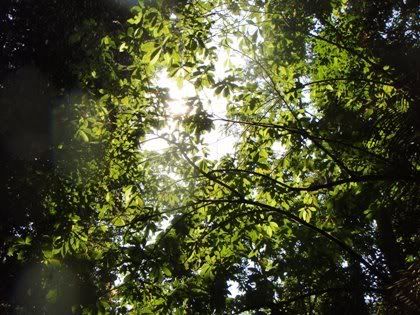 It was 12 in the noon, but all I felt was cool, refreshed and serene.
One of the reasons that made me feel so good was the rainbows all around me.
I saw rainbows literally everywhere. 
Looking back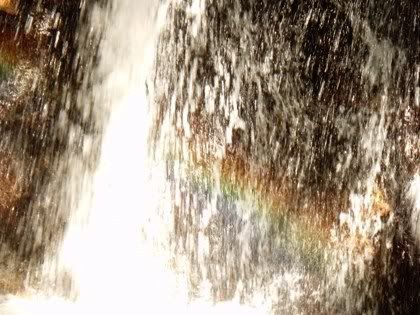 Looking up
Looking down
Tell me, what feels better than immersing yourself in the cooling waterfall on a sunny day so hot that it bakes you?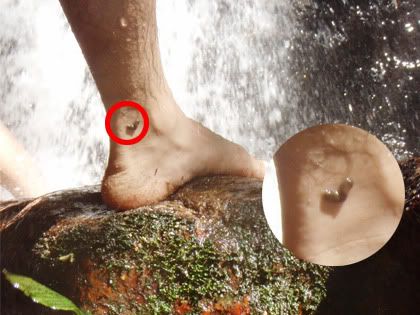 Of course there's always a price to pay but I don't really mind. Leeches help a lot with blood circulation XD
FYI, I wasn't aware that there were leeches on my feet when I took this photo. I only found out when I browsed my photo later on. :)
Some green algae on the dried tree trunk. This photo makes me love green even more :)
The water was hard on me!!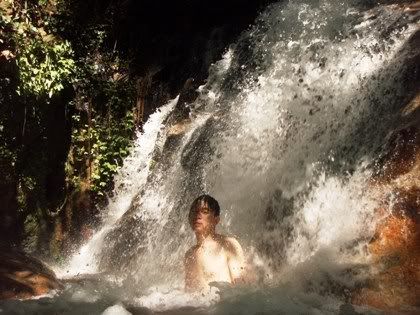 But I remained still and it felt like a really good massage :)
I wasn't aware when this photo was taken. I don't really recall what I was thinking at that moment but for sure, it was something philosophic and deep. :P
Nature is good to enjoy but only for those who are aware. There was this dent downstream and we poked a two meter long stick down and it couldn't reach the bottom. Somebody put a dried tree trunk there for a good cause. From the length of the tree trunk I did a little bit of trigonometric and I think the depth was more than 3 metres, which means it can easily have a swirl pool down under. 
For waterfall lovers, it's always good to test out the depth of the water by observing the colour before you dive. Most people that died in waterfalls are trapped by swirl pool. 
Last but not a least, a video of me exploring further upstream.
Please don't try this at home. The lion doesn't always sleep. XD
and I found out that we could have hiked further and there was better view up there.
This is so going to be something that I'm gonna do everyday when I'm home. So, who's with me now? :)