Neuro Linguistic Programming.
Sounds like a big word huh?
Well, as a matter of fact, it is quite something.
The other day I attended this soft-skill course organised by UTAR with the name of Power Selling NLP for Marketing and Sales.
It was a two day course and it worths RM140. However I got it free because I was (and am) the assistant course-rep and I used to be the vice president of some robotic society. So UTAR was generous enough to give me a few hundreds of incentive points and 1 point worth RM1 (of course only for use in soft-skill)
So these points would go to waste if I don't make full use of them.
That's the whole reason I attended this course and I wasn't particularly interested in sales or marketing so no worries folks, I won't do you some direct-selling XD
Anyway this course turned out to be more fruitful than I thought (I even brought my laptop over in case it got too boring I could do something else)
Well, all the long winded reasonings and I still haven't explained what's NLP.
Let me show you a video. (Youtube disabled the embedded feature so kindly proceed to youtube to see it)
Well, I guess it pretty much explains what's NLP. It's a technique and something related to how people use language to influence a person's mindset and thoughts.
Sounds scary huh? Well it is kinda scary actually, to know how fragile human mind can be. and don't be impressed by me the next time you see me :P
In the two day course, I came across some people who are really keen on doing sales and they really hoped that they could get something from the course. Apparently they did.
Not forget to mention the fact that the facilitator was really a fun guy. The whole 9 to 5 course slipped away without us knowing. The whole thing was full of games, practices and experiments. It was kinda practical actually.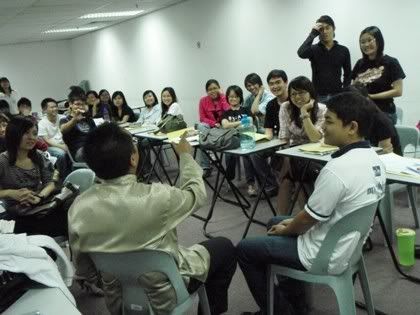 The facilitator was trying to sell an Iphone to this poor kid. He had to buy it or he couldn't walk out the classroom alive XD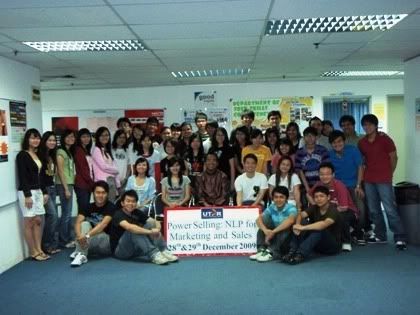 The group photo. For a clearer picture see my facebook. :)
At the end of the day, yeah, I no longer have troubles buying birthday gifts for people. XD