I was caught red-handed when I posted that I was going to Guang Zhou in facebook. She furiously nudged me and asked me why didn't I tell her.
Well, simply because I had forgotten that she is in Guang Zhou. (haha sorry ya ning :P)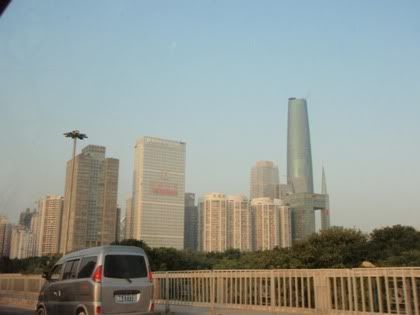 Guang Zhou
So I promised her that I would call her and pay her a visit when I reached Guang Zhou. Well, I did and she brought me around the town.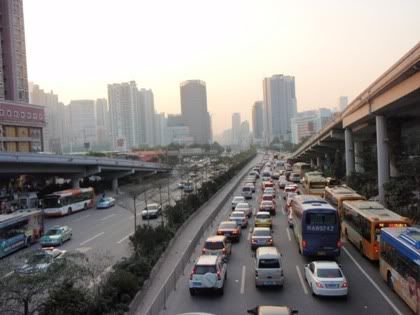 So I took a cab to her place once I got back from Hai Nan island.
and we went out for some Muslim street food. (Am I not getting enough of them in Malaysia? XD)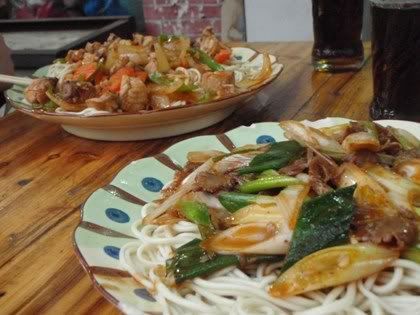 and the portion of the lamb noodle was bloody FOUR times of the size in Malaysia.
and I finished it!!! Can you believe it? haha?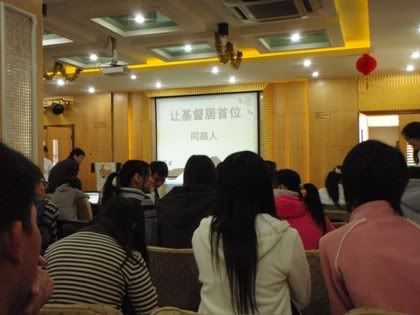 I followed her to the church cell group in the night and the worship in the next morning as it was a Sunday.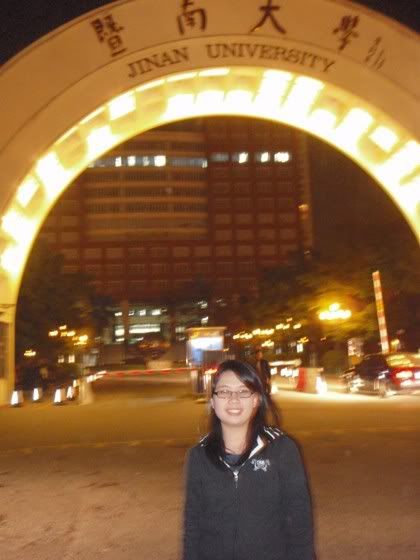 Ji Nan University
and it turned out that she wasn't really familiar with Guang Zhou although she started attending JiNan University 3 years ago. =.=
She started scratching her head when she asked me where I wanted to go and I said 'Anywhere that allows me to camwhore and the photo should look China'.  (as I had to catch my plane back to Malaysia on the next day already)  
So she called up so reinforcement. XD
Right after the church service, we took a bus and got down at Zhong Shan University.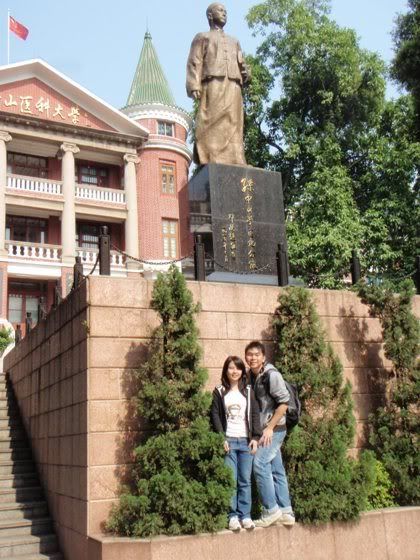 Took a photo with the statue of Sun Zhong Shan. No idea who he is? Pretty sure you're a banana or tembikai, or non-chinese. XD
Her friend then brought us to a restaurant nearby which used to be the office of Sun Zhong Shan's personal secretary. It was then modified into a coffee house. (which is rare in Guang Zhou! People there just don't drink coffee!)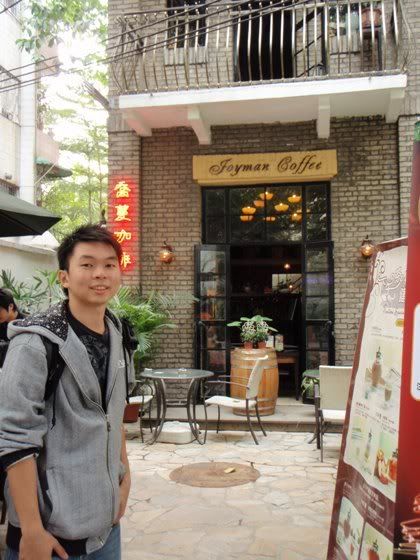 Joyman Coffee House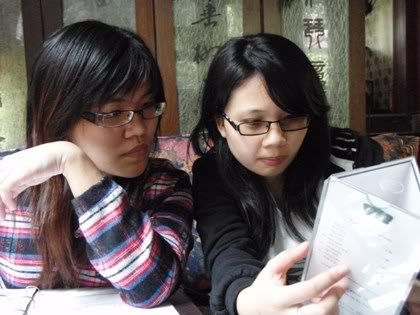 Turned out that it was quite a cozy place to hang out and you must be wondering what the hell, eating in western restaurant in China?
Well, the five days with my relatives was just torturing as my stomach was stuffed with an awful lot of food after every meal. So I was hoping for something, erm lighter.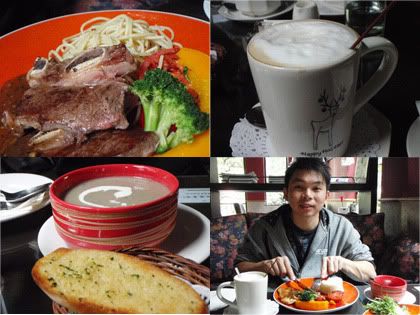 and it's hard to find coffee in Guang Zhou. People just don't drink it in Guang Zhou. =.=
After an hour or two in the coffee house, we moved on.
The next destination was an underground shopping complex.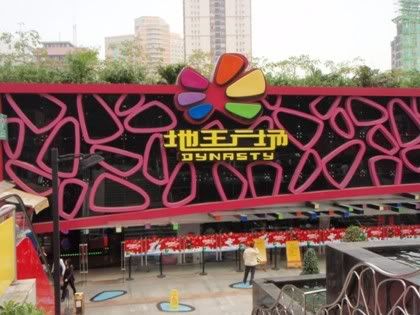 Amazingly, there were 6 floors in this underground building and the air ventilation inside was pretty good actually! At least I didn't feel suffocated.
and I bought a pair of jeans. The price can go down to 50 renminbi per pair. Insanely cheap! :P
We then took the subway to the camwhoring spot, which happened to be a metropolitan park in Guang Zhou. There were a lot of Guang Zhou landmarks in this park thus it kinda fulfilled my requirment.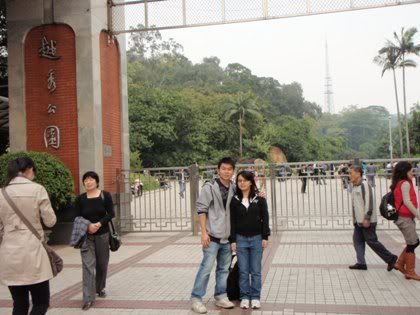 Yue Xiu Park.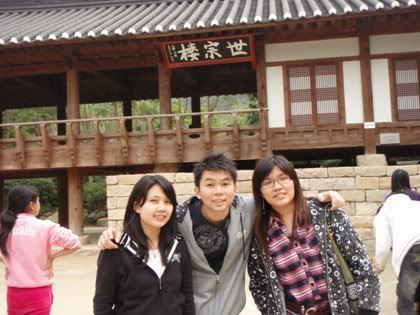 This was a Korean Village. =.=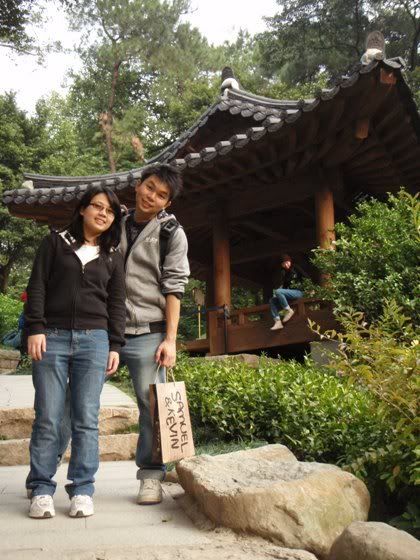 This was a candid shot but I liked it :)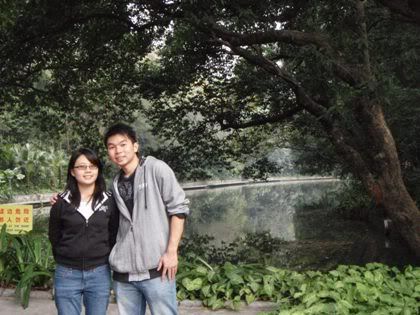 Some lake inside the park.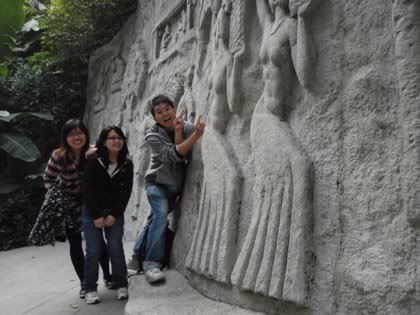 So this was ancient porno? XD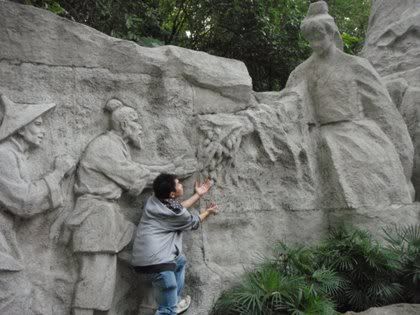 The Chinese Santa Claus perhaps? XD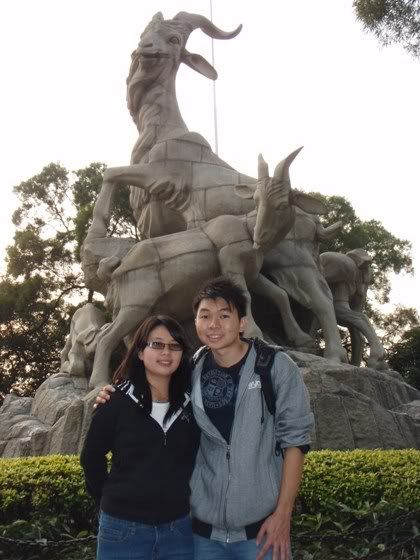 The Five Goat statue of Guang Zhou as Guang Zhou is known as the 'Goat City' (Yang Cheng).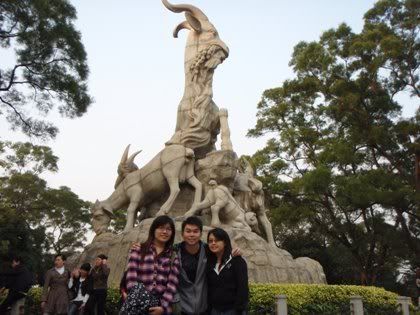 Another angle of the statue
There was this stall right beside the statue selling all kinds of souvenir. I walked there and saw some postcards so I flipped through them. I was showing my interest to buy it already as I have a habit of sending postcards in each country I go.
"Hey you, if you wanna buy just buy it! Don't flip! You are making a mess!"
the evil lady at the stall yelled at me.
I stared at her. Speechless. What kind of attitude was that? I gave her some disgusting look and continued flipping. It was the only stall I came across with postcards so I had no choice but to buy it.
I guess the Chinese doesn't have the subject pendidikan moral huh?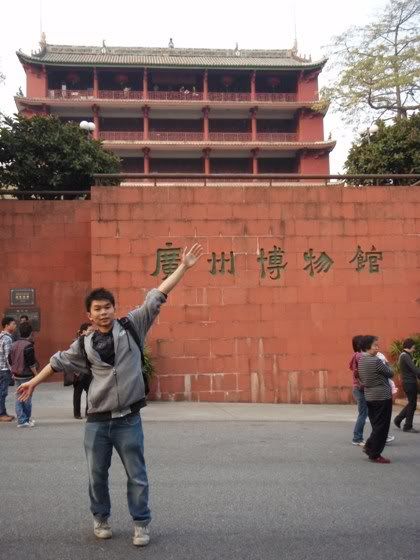 The museum. This building was built in the Ming Dynasty, 14th century.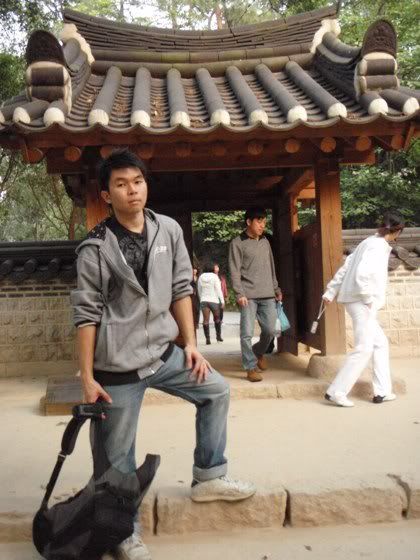 It was about 5 and the skies were getting dark at 6. I had to rush back to my relatives' place as my aunt had cooked the last dinner for us.
Anyway, it was a fruitful day.