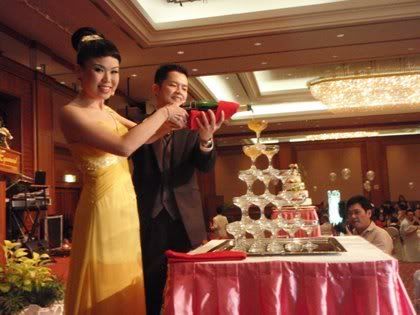 Congratulations to my dearest cousin for getting such an awesome husband and I sincerely hope that both of you live happily ever after :)
---
and I notice some fun facts of Penangites (me myself included lol) during the wedding dinner.
The fish was served as the 7th meal out of the ten-course meal and everyone reached out their chopsticks for it.
After putting the piece of fish into the mouth, I frowned and I looked around. Everyone frowned too. Some took a sip of the beer and some forced it down the throat.
Then everyone started to whisper.
"Eh, the fish not fresh la."
"Ya la. Taste like the fish from longkang la."
and no one really wanted to eat it but due to the principle of not wasting food, we all did our part by finishing the fish and then we started complaining again. XD
As a matter of fact, the fish was like 10 times fresher than most of the fish you get in KL.
But I never heard people complaining about totally-unfresh-fish when I am in KL.
At the end of the day, I would get weird stares if I said something like 
"Eh don't you feel this fish is a bit, erm, not so fresh"
So the next time you wanna know if somebody is a Penangite, just feed him with a not-so-fresh fish and see what does he have to say about it. XD
---
On the other hand, just to act a bit melancholy, 2009 is soon to come to an end and it forces me to think about my future everyday.
People are showering me with questions like when do you graduate and where will you work and stuffs like that.
Just when I thought I have got more freedom by growing, the contrary is happening in fact. I am certainly more mobilized but the responsibility and duty that I am getting is certainly pulling me back.
argh I guess that's the price of growing up huh?
Anyway, I am gonna get myself abroad in 2 days time, again lol.
Don't wanna let you guys know my whereabout. :P
ps-> please stick the blog and I'll try to do some live update~ ;)