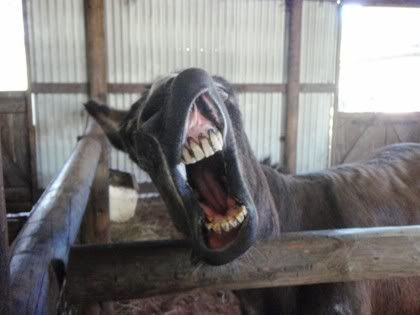 Welcome to Caversham Wildlife Park! and please excuse my bad breath for I've never brushed my teeth in a thousand years.
Jo was supposed to go for classes on that particular day when we were driving up north to Caversham Wildlife Park. However, she skipped her important Parasitology classes so that I wouldn't be so bored. How sweet was she~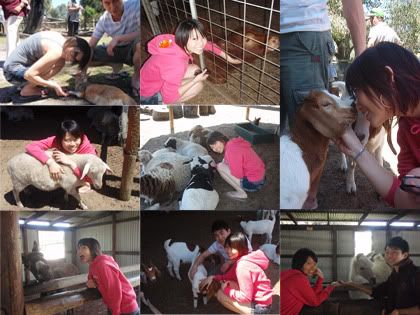 At the end of the day, she enjoyed herself very much and she didn't regret coming along. You see, she even kissed the kid! XD
Bringing a vet student to the wildlife park was just like bringing her to paradise. lol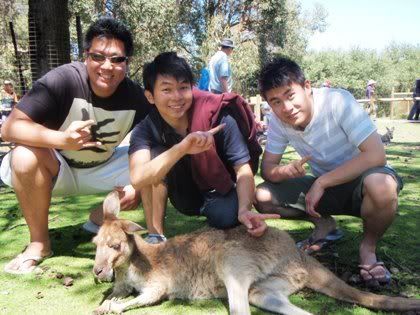 All the way since I entered the park I had been nagging "Where's the kangaroo??" until I laid my hand on them. XD
and no, I wasn't thinking of deep fried kangaroo meat when I was touching them! In fact, I was thinking of tom yam kangaroo. *evil grin*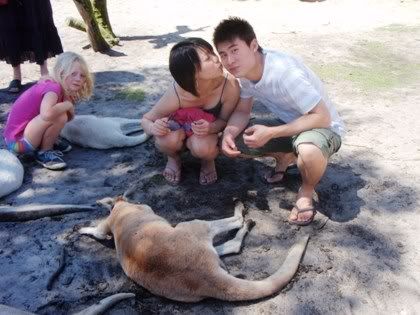 The kangaroo was pwned and went orz because it was diagnosed with diabetis XD. The little blond girl was asking us not to be animal abusers.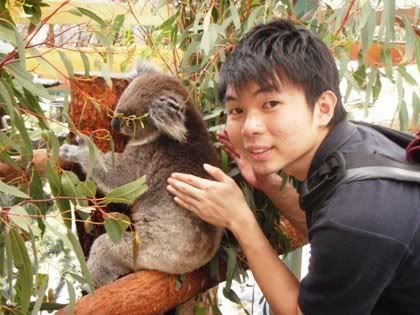 and a trip to Australia is never complete without taking photo with the koala. By the way, they seriously need exercise.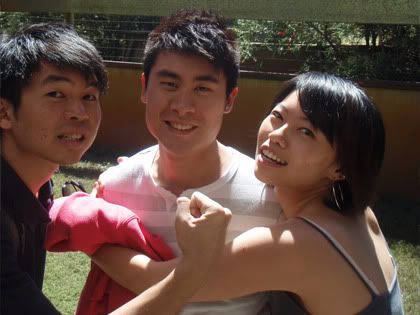 a trip to Australia is also never complete without punching the koala-wanna-be. By the way, I was the animal abuser.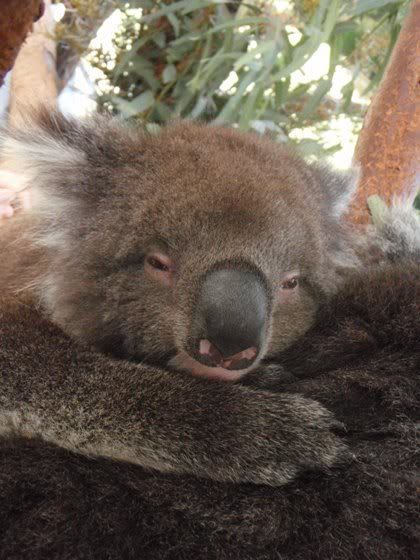 Anyway koala was just way too cute to be abused.
Of course there were a lot more animals but I wouldn't just post all of them here as it might just bore the hell outta you. I wasn't quite interested in all the birdies and rodents and reptiles and you-name-them, you see. So the final 3 photos of the wildlife park would serve as a quiz. Name what are in the photo. The first one who gets all three correct will get a plate of Bukit Mertajam duck-egg fried kuay teow. Tempted? XD (Anyway not applicable for those who are in Australia)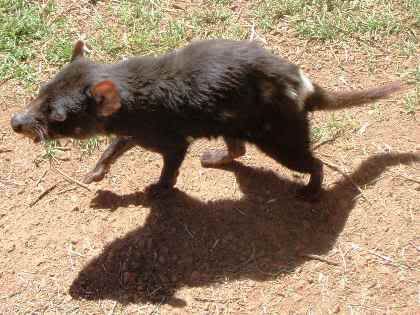 Name this animal. (Hint: it's a pretty hot rodent)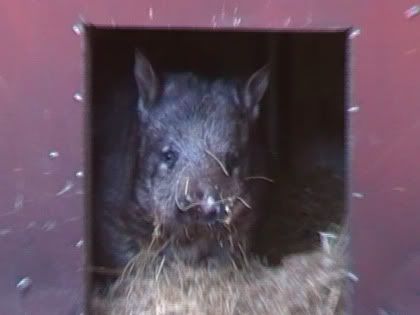 Name this animal. (Hint: Not a kangaroo)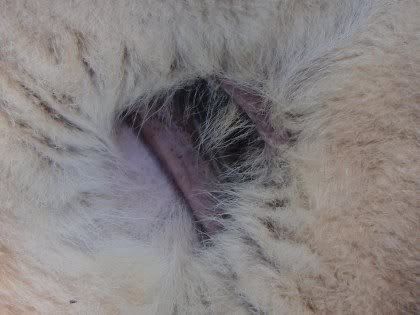 Name this. (Hint: It's alive!)
Swan river was our next destination.
and Swan river is famous for its free chocolate and wine tasting.
FREE Chocolate and Wine Tasting. These few words are enough to put me in an euphoric state.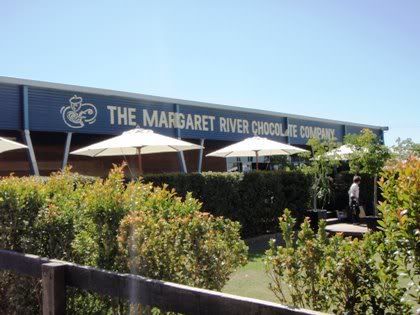 I went inside and I grabbed a handful of chocolate and wandered round and round and grabbed a handful of chocolate and wandered round and round and grabbed a handful of chocolate and wandered round and round and grabbed a handful of chocolate and wandered round and round......(of course I was munching all along!)
and I forgot to take photo. XD
I forgot how I got out. Perhaps Joe and Jo and Ben dragged me out.
Anyway I bought some chocolate abo I felt paiseh. XD
and we moved on.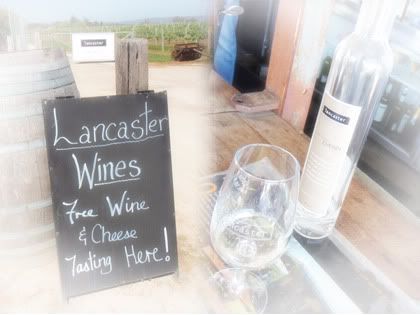 I thought it only exists in my dream. :P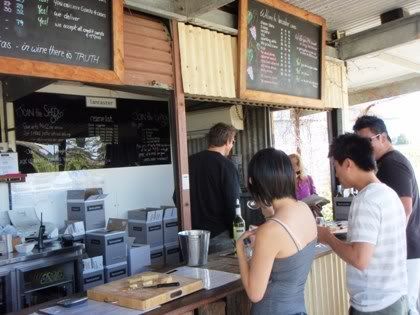 Tasted a few shiraz and chenin blanc and I forgot the names. I bought 2 bottles too. :)
When the wine guy knew that we were from Penang, he said
"Penang has the best food in the world"
right away. This was where I got the
video
from :)
After the euphoric wine tasting, we went home and got out at night for the gastronomic
World's Best Pizza
.
Feeling that the night was still young, we went to Mill Point for some night view and of course, camwhore session. :P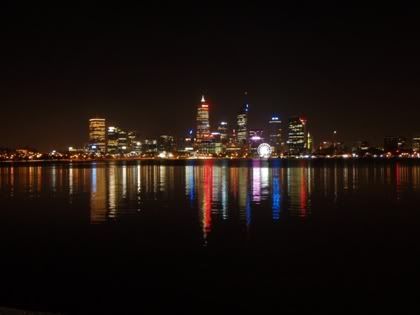 Mill Point. Definitely a spot you don wanna miss if you love city night view.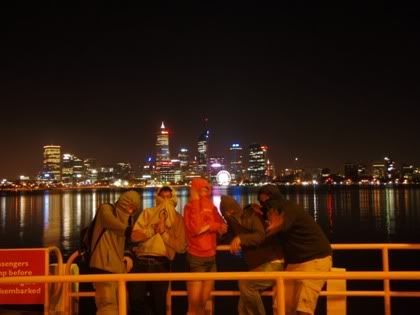 Then out of nowhere, the five power ninja ranger appeared. They wanted to rescue the world initially.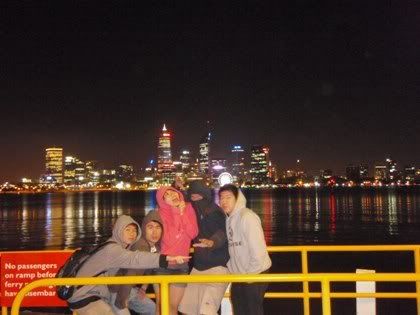 But apparently it was so cold that all of them went nuts and the world is now hopeless. XD
They were sent into the psychiatry and the city celebrated by putting up firework.
Okay enough of the nuisance. Tim said I was lucky as there was only 1/30 of chance to see this firework as they put it up once in a month only.
Yay. Thank you for making it this far.
This will be the last, or perhaps the second last post on Perth. :)
ps-> and please click on the ads to financially support me. I am broke. broke broke. :P
But I will still treat the winner with duck egg ckt. no worries.
Thank you. :)