So many things had happened since the trip back from Hong Kong. 
and to be frank, I lost the patience to blog about Hong Kong especially when there're some other bloggable materials on hands. :P and I am definitely not a long-winded person.
So basically this blog post is a summary of what I have done for the last week.
First off, splashing in Sunway Lagoon!
Never-ending fun~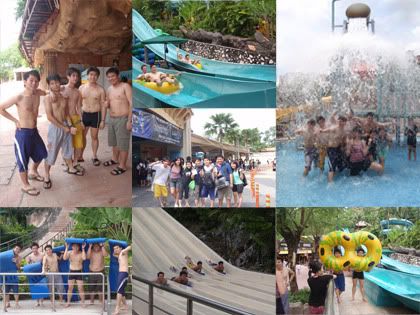 Okay, I gotta be honest with you. This was the FIRST time in my life in 22 years to step into Sunway Lagoon. I hope that's not very embarassing. :P
and after that we went for the Yuen steamboat buffet in Sunway with its superb yummilicious roasted chicken wings!!! (SO delicious I forgot to take photo :P)
---
Emerge Conference in Sunway Convention Centre by City Harvest Church.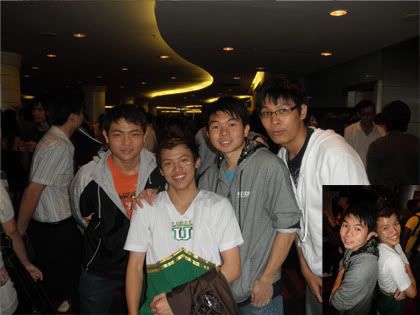 Yeah Evan was taking part in the cheerleading performance and how could I not support him when he got bruises and wounds all over his body just to give his best performance?
This is the video that I took. Apparently the seat I had was not good enough. Browse for more in youtube. :)
---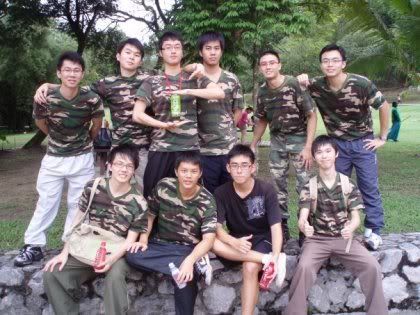 and I was on duty for UTAR trekathon in Lake Garden. hehe, no choice, the askar boss asked me to. For your info, I was plannning to go for the one month Askar Wataniah recruitment next year May if nothing goes in the way.
---
and I abandoned my Final Year Project to be the mentor in this Project SNJ. (and I didn't feel bad. LOL) 
Basically it is a 3 week course for all the form 3 students from churches all over the country who had just done with their PMR organized by Emmaus Bible School. Due to my own schedule constraint, I was only there for 3 days but it was rewarding enough.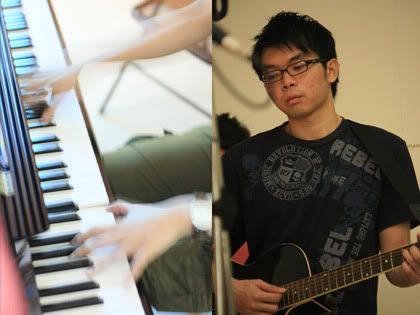 The professional pianist (Guess who, KY? :P) and the not so professional guitarist. :P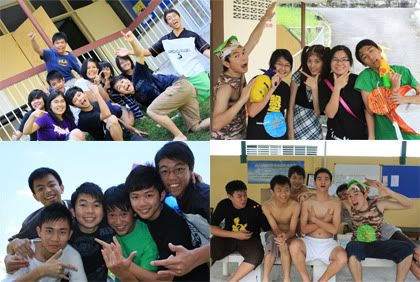 We played and yelled.
Honestly speaking, I love working with teenagers. Underneath the rebellious surface of them, there are always this longing for acceptance and understanding.
By sharing my very own life experience (although not much) with them, trust is earned and thus they are willing to talk and to share their very own problems. A lot of teenagers are not happy with themselves, they can't fit in the gang and somehow feel rejected. I might not be able to be much help in every situation but I can be a good listener.
and there's one thing I find rewarding about working together with teenagers --- It's the genuine smile on their face when a bond is formed :)
So much for one week huh? :)