"You know the most tear-jerking and touching moment for Kae Vin throughout the days in Perth, was the time when he had his first bite of the pizza at Mundaring. He was there, closing his eyes, savouring every bit of the pizza."
Joanna
It has been bothering me for a few days about what to write about my trip to Perth. The truth is, I experienced a lot and really enjoyed the time there. Hanging out with them and traveling around was awesome in the sense that I wouldn't have to bother about my final year project or society or church stuffs. It was an incredible getaway trip. (I realised that no one bothered to call my cellphone during that period):P
Anyway, I don't wanna bore my blog readers with some clichéd travelogue and I definitely want my blog to maintain its popularity. (as if it's so popular? :P) So after giving it some thoughts, I will first blog about this Mundaring Pizza that I had.
Back then, before I went on the trip, Joe told me that there was this little pizza shop known as Little Caesars Pizzeria in Mundaring that has a title of "The Best Pizza in the World". I googled it up and I found that the chef of this pizza shop indeed won a lot of competition. (Do not confuse Little Caesars Pizzeria with the franchised pizza chain, according to the
home page
, this Little Caesars Pizzeria is a privately owned business.) 
Due to my insistence (a better word for 'the gluttony of a foodie') to have a bite on this so called world best pizza, poor joe had to drive 80km back and forth to take me there for dinner. (but it was certainly worth it, even he himself said that :P ) Little Caesars Pizzeria is located about 40km away from the city of Perth up a town on a hill, Mundaring.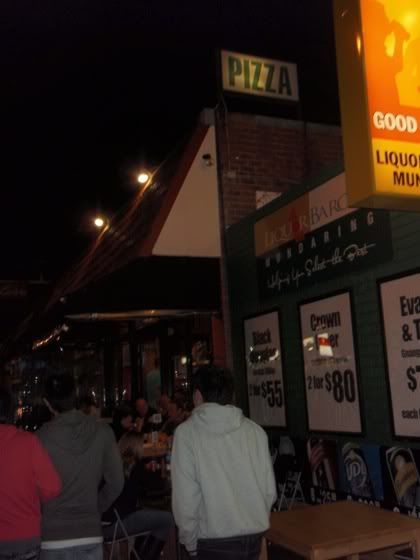 Initially I thought it would be a big restaurant but I was apparently wrong. It was just a tiny shop that can barely fit 20 people and a few tables outside that can seat another 20 people I guess. 
Besides, the shop doesn't do delivery. However it accepts phone reservation.
So we went to the counter and made our order and seated to be served. (we had to sit outside and it was freezing as inside was full...)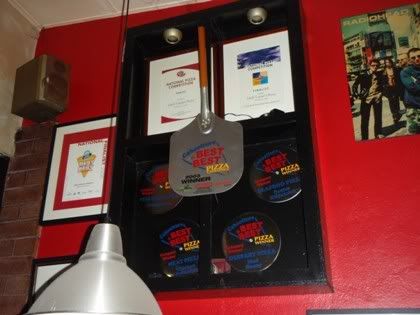 The certificates of winning pizza making competition were hanging everywhere on the wall. These were just part of them.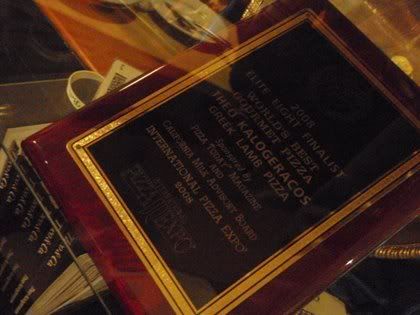 This certificate was framed nicely in a showcase near the counter. I think it was a world class award. (Oscar for pizza I guess? lol)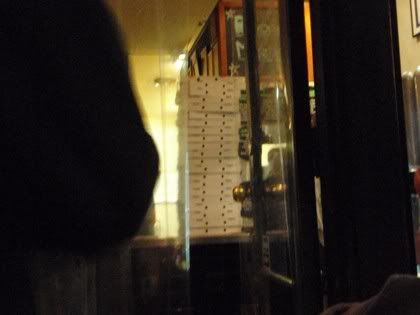 We waited for quite a while, around 30 minutes I guess. Why? Just take a look at their take-aways. These were just the beginning. There were more!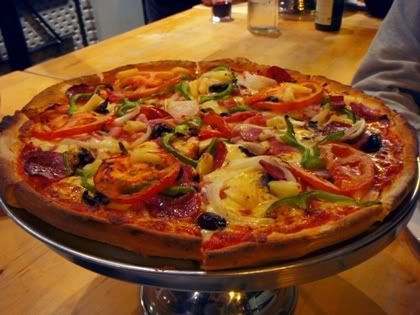 The Mix or The Lot.
Finally we got our pizza served.
and the first bite of it melted me.
I don't know it's just me or this is really the best pizza I have ever tasted. Okay I have to admit that the only pizza I have ever tasted was from domino's or pizza hut but this, was heaven!
The warmth and amount of cheese was just nice that it gave a very fulfilling taste to the tastebud. The crust of the pizza was thin yet crunchy. The fillings of the pizza gave a balanced strike of the taste.
I really ran out of words to describe it. You just have to taste it yourself to understand what I am trying to say.
I'll let the pictures do the talking.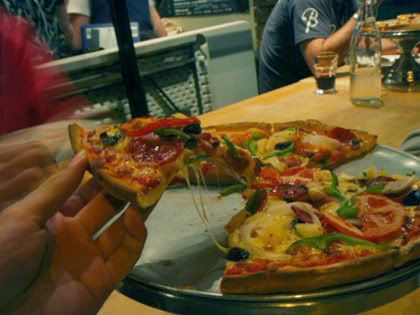 Trust me, it was so good that we fought for the last piece. (lol just kidding)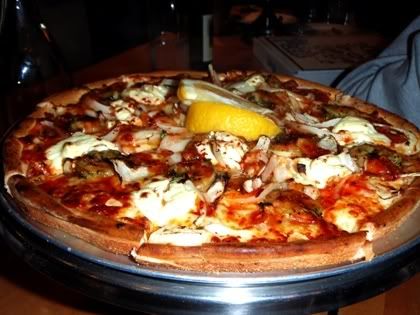 The second pizza we ordered was Thai Chili Sauce Shrimp something. I couldn't remember the name. It was bloody good as well.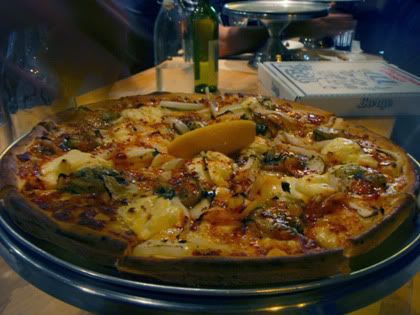 We squeezed the lemon all over and it tasted a bit sourish and spicy-ish and I donno. I think it was the cheese that made it so delicious.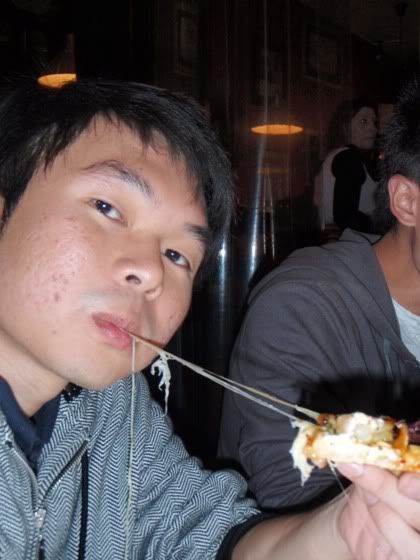 and the tensile strength of the cheese was proven to be very strong. XD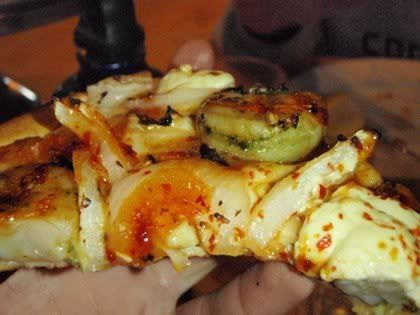 The prawn was very fresh. No prawn in KL can ever beat that. Trust me, I grew up in a fishing village town.
Apart from umami satisfying pizza, it offered some options for sweet tooth as well.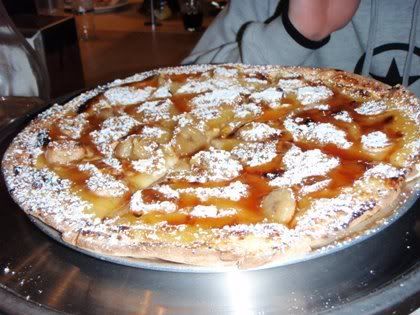 Banana with Caramel coating. Honestly, this was just too sweet for me. But try it if you think you can take it.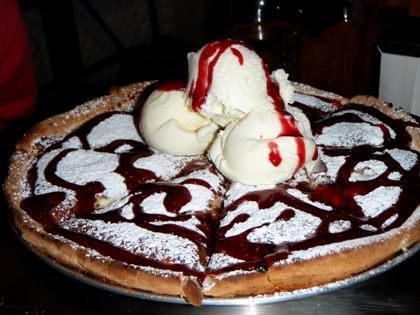 This was my favourite. Ice cream with raspberry coating and icing and chocolate filling! and the chocolate was in a solidified liquid form with warmth. A bite of it and the chocolate burst out in the mouth. Oh man, I just couldn't continue. :(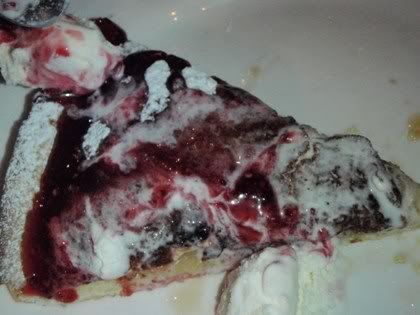 Eating it together with vanilla ice cream was simply a terrific idea.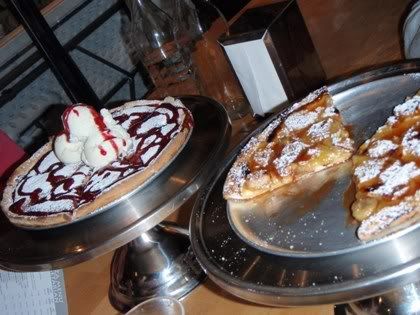 The dessert pizzas.
That day I ate 8 pieces of pizzas and I craved for more.
Trust me. This is one of the world best pizza.
If there's any reason that I'll go back to Perth, this Little Caesars Pizzeria will be the number one reason.
and no, I am not paid to write this. (althought they should XD)
ps-> number two reason would be the sardine puff. lol insider joke ;P