Finally, the dreadful days of exam are now over.
Frankly I have been doing quite lousy in my exams this time. Perhaps it's the lost of motivation?
I could have done better but let just let bygone be bygone. Afterall, it's not the results that have the say on everything.
Hmm, anyway I have no time to stop and pant. In fact the next adventure is waiting for me.  
Actually not adventure also la. I'll be paying one of my best-est buddies a visit in Perth, have a little walk in town and a couple of beers and chill perhaps. It's more like a vacation than a full-schduled travel.
Anyway I did some homework too. Just in case I miss out anything :)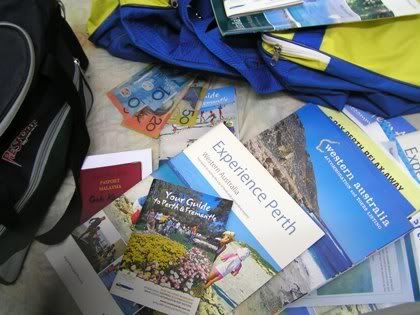 Experience Perth......with a lot of $$$. Most of the activities recommended inside are so high-maintenance. Who has the book "101 ways to earn money in Perth"? lol
By the way maxis required me to deposit Rm300 for activating my international roaming service so I decided not to. My phone is unaccessable and please leave me a message here or facebook or msn or email me if there's anything. I'll be having internet access there.
and don't bother telling me to buy gifts for you. I am on a super-constraint budget. muahahahaha.... ;)
Let's fuel the jet! XD