The study trimester was officially ended yesterday.
It simply means, I'll have my one last trimester in Uni during January - May 2010.
So damn fast.
I really feel the time slipping away from my fingers but still there's nothing I can do.
Like what I have been saying over and over again, so many wants but so little time.
and I look back at my
new year resolution for 2009
and let see how I am doing this year. (although it hasn't ended, it's always good to do some self-evaluation along the way)
1. Keep my weight at 60kg by all means.
I'll be having problem squeezing into Air Asia seats if it's more than that. So it means I'll have to exercise more and avoid all kind of all-you-can-eat buffet. [erm....shouldn't be that hard right?]

Still up to it! :)

2. Study hard.
I mean really really hard. I am already in the last three or four trimesters in uni. If I don't keep up and stay alert, I might just bloody flunk it. Plus I am holding some vice president post in the Robocon society (No I don't know how to build Asimo. :P) and the leader post in Setapak Gospel Centre's Teen Fellowship (hell yeah I am still a teen!). I really need to be wise in my time management. [I can do this as long as I stop procratinating, all the time XD]

well, my result dropped a little bit last trimester but gonna catch up in the coming exam!

3. Improve musically.
Practise for a better voice, guitar and piano. I realized that I haven't learnt new stuffs for a very long time and the skill is starting to deteriote. Music has been part of my life and I don't want it to get rotten and I eventually become someone the 18-year-old me dreaded and loathed to become. :(

Not very successful, the improvement is too slow and the effort i put in is too little!

4. Continue learning Japanese.
It is very much unlikely for me to enrol in a Japanese class anymore in KL as the centre is a thousand miles away and I don't have time for that. As for classes offered by UTAR, last semester the teacher already expressed clearly that it is needless and useless to further learning Japanese. So i signed up in www.japanesepod101.com and got some book to do self study. Anyway this is the one with least priority. So wish me luck!

I give up this one! =_=
Look like I am still not pushing myself hard enough huh. aiks.
Anyway, just to let you guys know my whereabout in the coming three months.
So I'll be having my final exam in 2 weeks time and right after that I'll go Perth for some traveling! (have been longing for that for YEARS XD) and then I'll have a week back in Penang.
I will not be having classes from October to December this year. However I'll stay back in KL for my Final Year Project. Meanwhile I'll do a little bit of traveling too.
and I shall conclude this post with a picture. Basically this was how we spent the time during the very last lecture in the very last day of the very last week.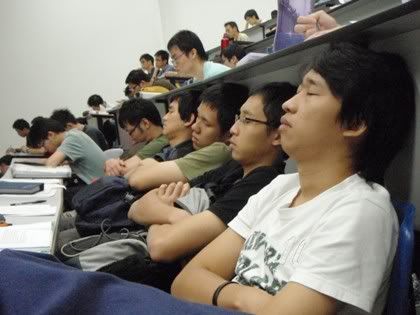 lol I had to wake them up when the lecture ended! XD