Jalan Pasar is definitely not a alien term to electronics engineering related students in Kuala Lumpur as it is a hot spot of shops that offer a wide range of electronics components and gadgets. Apart for getting components online from Farnell and RS-components, I guess the usual spot to get cheap and good electronics components will be this Pasar Road.
However, little did I know that it is also a place for hidden good food. It's like a hidden jewel in the middle of a bunch of electronic junks. LOL :P
So the number one food in Jalan Pasar will be....*drum roll* *teng teng teng teng*
The Beijing Roasted Duck!!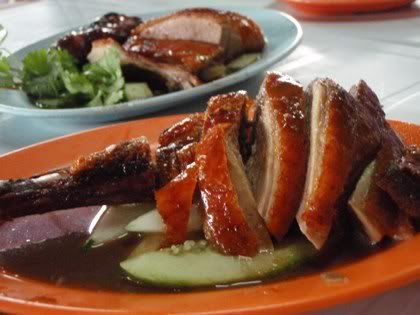 It was crunchy, juicy and totally free of the ducky stink! The meat was so smooth that it slipped into my tongue before I was able to chew it! (lol just exaggerating)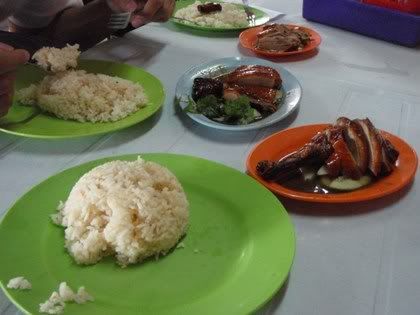 and the good news is, it is not expensive at all! A drumstick like this only cost RM5.30 together with a plate of rice! How heavenly is that?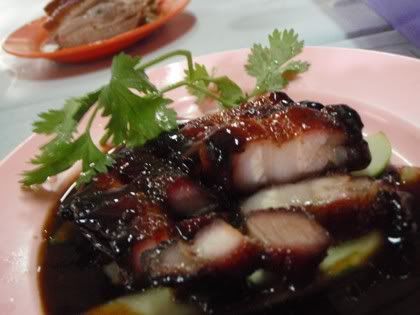 Besides duck, it also offered a wide range of meat like this 'po lei char siew' (玻璃叉烧
glassy
roasted pork). I have no idea why do they name it 'glassy'. My guess was that the pig grew fat by feeding it with fibre optic. What's your guess?
By the way, this 'glassy roasted pork' is more expensive, it cost about RM6.50 together with rice if I don't remember wrongly.
The duck rice is sold in a small hut which is not impressive at all. It opens around lunch hour and if you reach there around 2pm, you'll find it close.
Apart from this duck rice which is located at the beginning (or end? it's relative lol) of Jalan Pasar, there's another roadside stall which sells good porridge.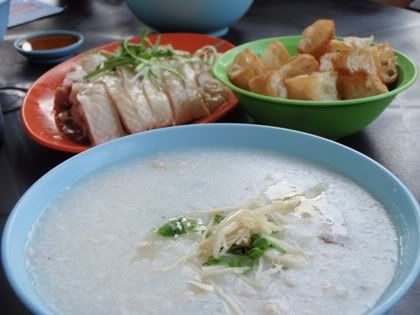 The porridge is well cooked and the fragance will stay in your mouth for a long long time.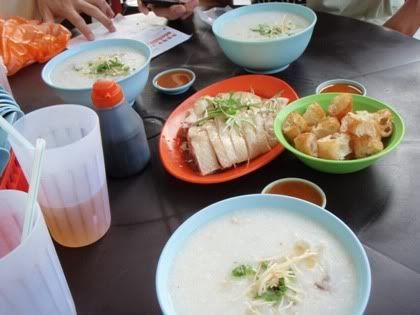 Eating together with 'yau char kuay' is definitely indulging! However the chicken is not very impressive. So just go there and order either pork porridge or fish porridge with a plate of 'yau char kuay'. It will for sure satisfy your gluttony. XD
This stall is located just right next to RHB bank. It only opens around 3pm.
I think my blog is turning into a food blog. Help! :P