kindergarten -> primary school -> high school -> university -> ?
Seriously thinking of getting myself a master first before I actually go out to work.
I'm interested in semicon field. But the problem is where? and what about the money?
Work or study? I guess this is a question I have to keep in mind from now onwards.
Here's abit of comparison:
If I work, I will be.....
-Making money
-Gaining working experience
-Building network
-Getting to know the market and the so-called 'real-world'
I'll most probably get my way back to Intel Penang Design Centre. I actually like the working environment there, albeit it's quite taxing, the pay is not bad.
If I do master, I'll be......
-Getting valuable knowledge and certificate
-Building a network in the academic world
-Staying innocent for a few more years
-Making money if getting scholarship and taking up tutor/assistant researcher role
-More free time to do things that I like
I am interested in semicon industry and therefore my research topic. It's important to get a well-known advisor with strong academic background and it is a must for me to get scholarship in order to continue studying to reduce the burden of my family. It will be very much favourable if I can go oversea for that.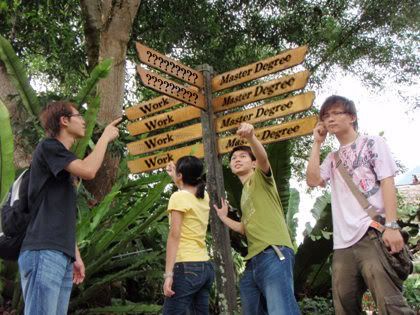 *scratch scratch*
I know my blog is being read by all walks of people. So each of your advice and opinion will be very valuable to me. At least it can help me to see things that I might not be able to see.
Thank you :)