"I quit my university when I was in year 2. I studied IT and Technology Management. We Cambodia different from you Malaysia. After graduating, we cannot get a job. I want to have my own business"
the tuk-tuk driver
and I forgot to tell him Malaysia is not any better lol. =_=
Anyway, I know I have been posting a lot of post about my trip to Siem Reap. Anyway this is the last one. It's all about the activities in our last day in Siem Reap and it includes me being married to a girl, forcefully. Interested? Read on. XD
This post consists of 24 photo in good quality so....be patience with the loading k?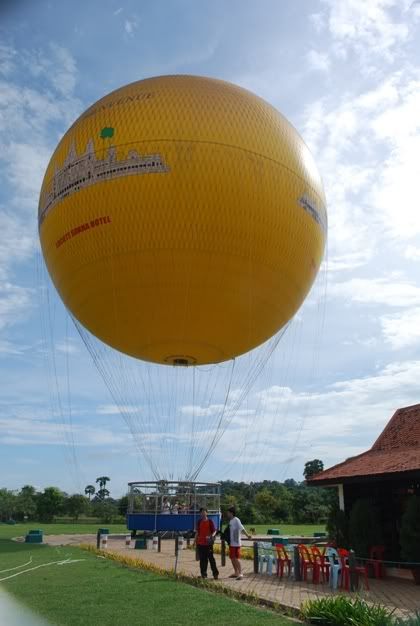 The day started with the visit to the hot air balloon. This was the fifth day we were in Siem Reap and our three-day pass to AngkorWat was already expired so we went to places which did not need pass. This was one of them.
We boarded the balloon and it slowly ascended.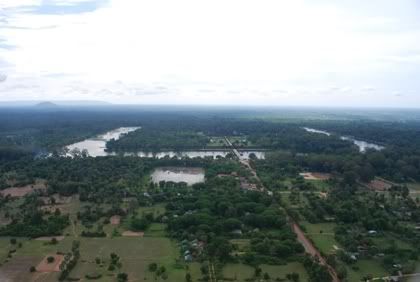 This was the aerial view of the magnificent Angkot Wat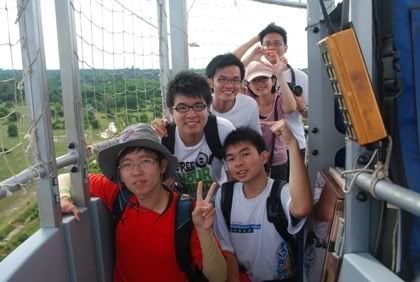 A group shot on the hot air balloon.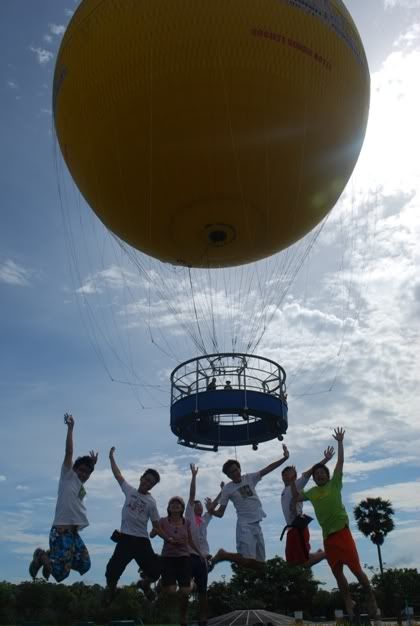 I think this was one of the best photo of 260385603 photos we took in Siem Reap. :) 
Then we proceeded to Mount Phnoh Kulen which was a holy mountain for the Cambodian. It was about one and a half hour drive from Siem Reap town centre. Honestly, if you are to visit Siem Reap, you do not need to visit this Mountain as there're practically nothing much there and the entrance fee was 20USD per person! =_=
Anyway the waterfall was amazing.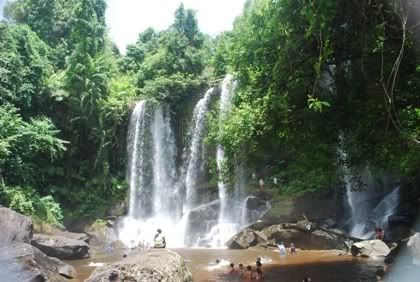 Well most of the people there were locals. We were among the rare tourists. XD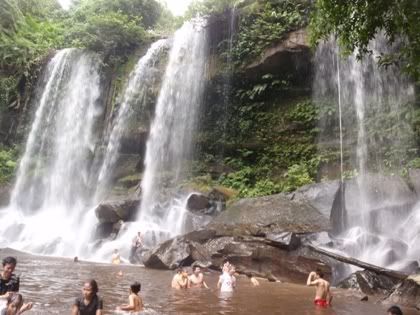 Anyway Malaysian survived in the waterfall too. XD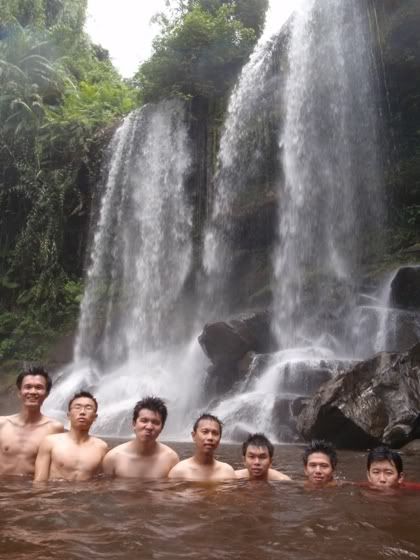 Do re mi fa so la ti! The last Do was holding the camera lol.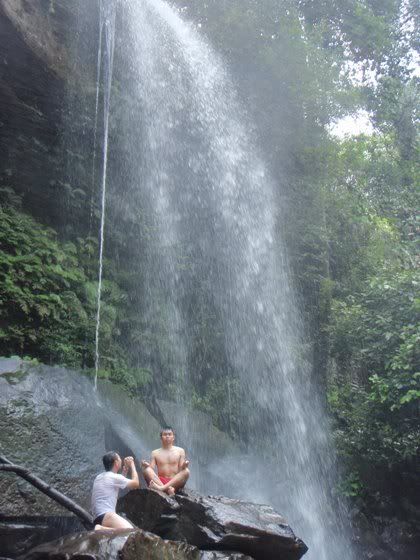 Pray to me and I'll grant you wealth flowing like this waterfall =_=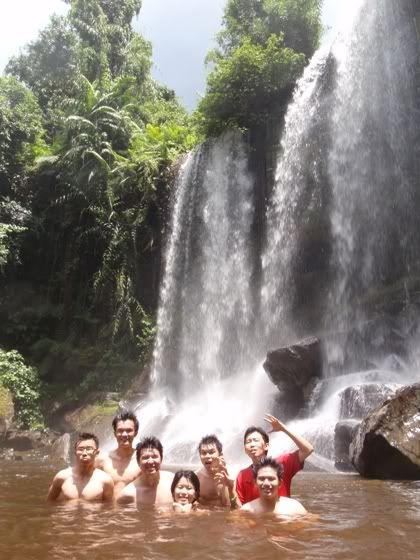 The monster was wearing a red shirt! After lunch, we went back to the town. We then separated as we wanted to go different places. As for me, I went to Cultural Village with another 2. It caused me 11 dollar for the entrance but I think it was worth it. I would suggest to those who are going to visit Seam Reap not to miss out this spot. In fact, arrange a half day tour there.
In the cultural village, there were numerous of performances and shows of different ethnics groups in Cambodian and there were quite interesting and lively. Much better than the Cultural Village in Kuching. :P
There was this Cave of Karma in the Cultural Village. They charged extra 2USD to enter (which I think it's too much) so we didn't want to enter initially. However there was this Taiwanese and Korean tour group entering the cave and we went ahead and asked the Taiwanese tour guide if we had to pay to enter and he said,
"Just join in the group la. We had already paid for that"
lol so we joined in.
It was a very very dark cave. We literally couldn't see what was inside. We heard people yelling, shouting and shrieking from the back and we thought what could be so scary.
The Korean girl behind shouted out of the blue and then someone patted my shoulder. I turned around and saw a guy wearing a mask. I stunned and he ran away and I managed to hit him with my umbrella. lol. and there was more than one 'zombie' inside the cave so everyone was so alert that a pat on the shoulder can be returned by a punch in the face XD 
It was so dark inside that I didn't see this statue until I flashed it. lol
and we went to one of the shows which feature the Cinderella Story of the Khmer Legend.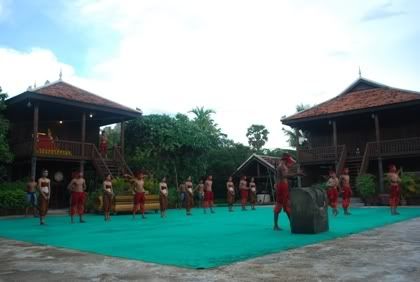 They started with a dance.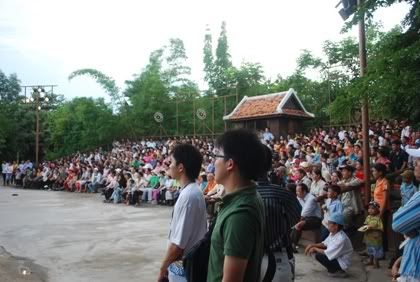 We were late so we got no place to sit.
We were standing quite near to the performing stage and the story needed a volunteer to be the hero. The actor was asking the crowd to come out with one volunteer in Cambodian language.
Suddenly, the actor turned to me and started to speak in English
"How about you young guy? You looked like a hero"
and I looked left and right
"Don't look around, it's you. YES, you!" and he started to walk towards me
then I panicked but I got no choice, he was already in front of me.
Then I thought, nevermind la, this is a foreign land, no one will recognize me anyway lol.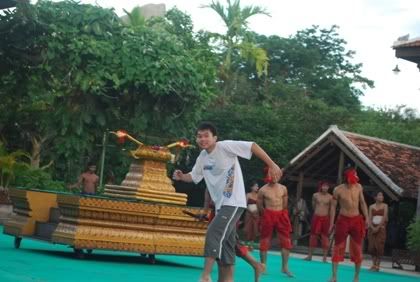 So I started to act spontaneously as required by the helper beside me.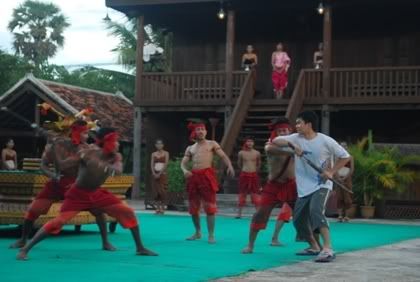 I know I looked like one hell of a KungFu master! Dont play play! XD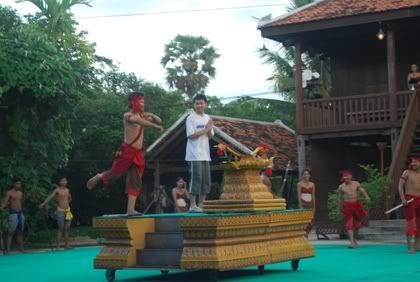 and I was supposed to take up this heavy bow that no one could.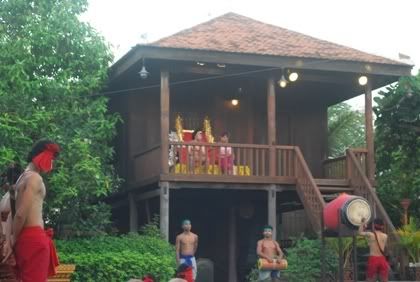 After that, I was invited into the house and changed into traditional Khmer Warrior suit. XD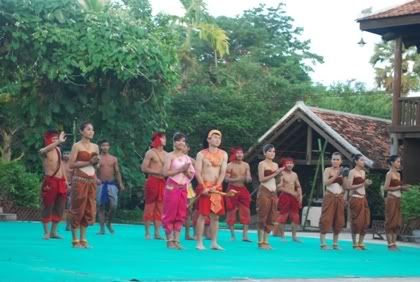 Without permission, I was forced to marry to this Khmer Princess. Anyway she was quite pretty la XD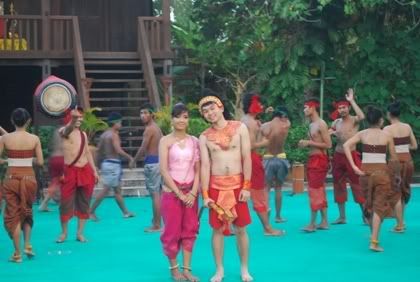 Luckily I got exercise a bit. If not Cambodian will think Malaysian guys are fat. :P Anyway they thought I am Korean XD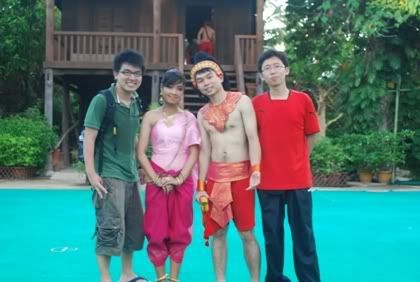 My only 2 friends in the wedding ceremony XD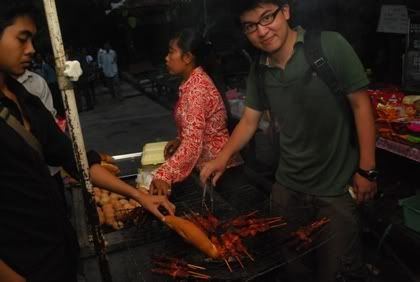 Vinc even got a part time job to help him to buy flight tickets back to Malaysia. XD
We then had a buffet dinner in quite a classy restaurant.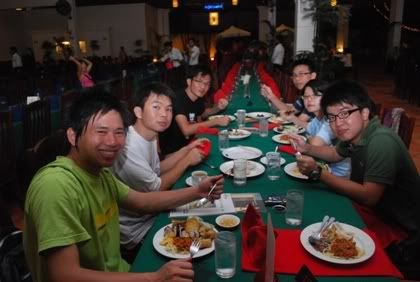 See his smile then you know how satisfying this meal was!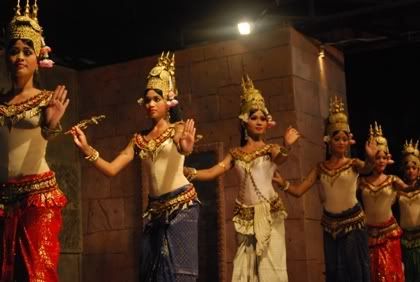 Along with the buffet dinner, there were performance of Apsara Dance. Apsara Dance was the royal performance for the ancient Cambodian King.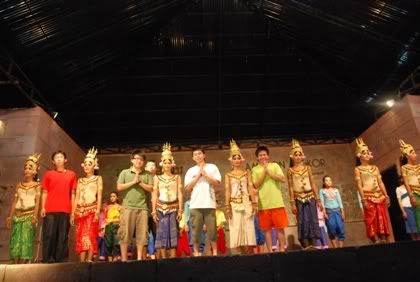 When it ended, we went up stage to take photo with dancer. 
and here ends my amazing Khmer venture.
It was definitely one of the must-go in your travel list. 
Thank you for your patience.