"For those who are young, please donate your blood. For those who are old, please donate your money. For those who are in between, please donate both"
Dr Beat Richner
Dr Beat Richner
, is a name you should remember.
He set up 4 hospital in Cambodia and they are all privately funded.
and one of them, King Jayavarmann VII Hospital is in Siem Reap. Despite his old age, he performs Cello every Saturday night at the hospital to gain the attention of the tourist about his work in Cambodia and he gets 5millions USD annually from the donation of the tourist however the total spending for 4 hospitals a year is more than 20 million USD.
I went to his concert and I was moved by the things that he has done.
All of his hospitals are giving FREE health care to the children and women of Cambodia. I could see that his hospital was always full with people during my visit to Angkor Wat. Hundreds and thousands of life are being saved because of the hospital.
and his hospitals, are the remaining infrastructures in Cambodia that are not invaded by corruption as he runs a really good system in them and pays the worker sufficiently.
To surprise you, all 2000 staffs of the hospitals, are locals. They graduated from the hospital in Siem Reap. Humorously, Dr Beat said they are only three things which are foreign - he himself from Switzerland, his Cello from Italy and a MRI lab from Germany.
and he plays good cello, although I could see that he took a very deep breathe everytime he stroke the bow strongly on the strings.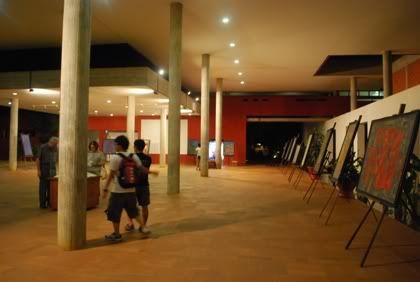 This is the hallway at his hospital. I dare say it is one of the finest architectual you can find in Cambodia. Anyway, the design was not for artistic purpose. It was for the ventilation and the prevention of fungus growing and virus spreading. Brilliant huh.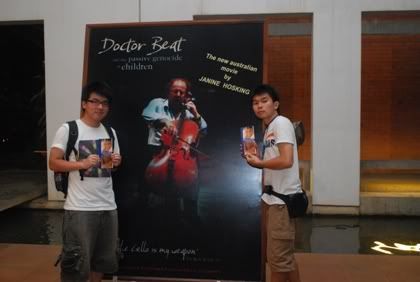 We thought taking photo with his poster was cool.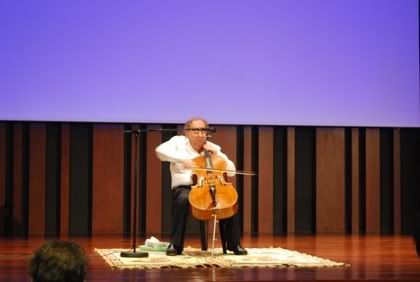 Beatocello is the name he uses when he performs
After the performance, we bought and donated some money to support his work. That was the time when a psyco woman went nuts and confronted him with some theories that no one could understand. Watch this video and tell me what the psyco was trying say. I came out with some subtitle but it wasn't all correct. Please correct me if you identify any. Thanks.
Anyway, we got a chance to talk to him and he told us that Cambodia used to have the same standard of medical equipment and knowledge as Malaysia and Singapore back in the sixties. It was the war that destory everything and he said nobody wanna pay the price of the war and the people suffer.
Human race is just so ironic, isn't it?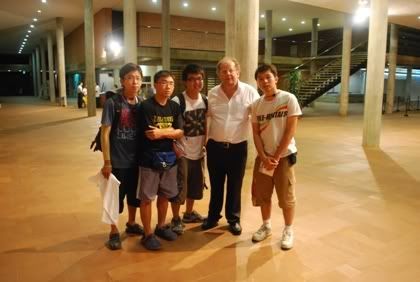 A photo with one of the greatest man on earth. Salute!
and we got a chance to take a photo with him.