JX asked me to attend this concert that she would be performing in. She said this would be the first ever J.S Bach "Mass in B minor" to be performed in Malaysia.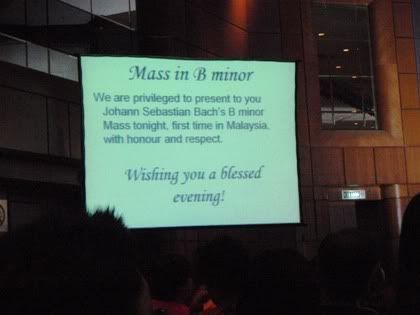 Malaysia first yay.
Mass in B minor is a masterpiece that J.S Bach, who was the "Father of All Music" composed and compiled just one year before his death in 1749. Baroque period (the very first period where music actually existed in the form that we know today) was actually named and categorized just because of Bach. 
Not gonna lecture here but because of Bach, only we live in such a wonderful musical world ever since then. :)
Frankly, I am no fan for classical music and I always thought that it is rigid and stubborn.
Anyway I was proved wrong by this concert.
"Mass in Bminor" is serious yet lively. The musical instruments used in the orchestra are very limited yet the music was rich enough.
A combination of four choir groups from KL, Johor and Singapore sang this very piece in Latin and they did a really great job.
Well music is always beyond words and I was having a hard time describing this huge masterpiece by JS Bach which lasted for more than 2 hours.
So the only thing I could say that, J.S Bach is definitely better than Jay Chou. lol. XD (comparing JS Bach with Jay Chou itself is already a disgrace to Bach. lol)
Round of applause to the conductor, suprano, mezzo suprano, tenor and bass solo who did a great job. and also the choir and the orchestra. really awesome to perform this great piece. (move your mouse over to the picture to see the magic :P)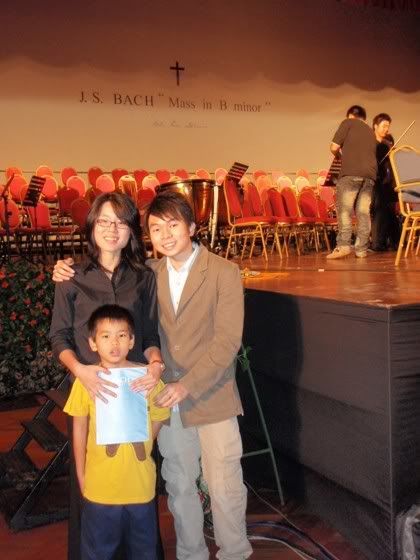 and also JX who sang the second suprano and his little brother who sat quietly and listened. :) Congrats for performing in such an inspiring concert. ;)
Bach was definitely godsend :)