"This is not my boat. The company paid me USD50 per month for driving it. and he needs to go to school."

the boat man

Our flight was at 7am. So we got to Low Cost Carrier Terminal (LCCT) at around 5am.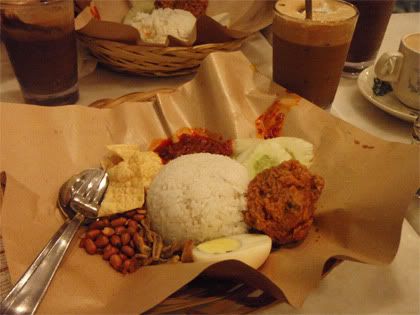 Old Town in LCCT is so not LC (low cost, what are you thinking by the way? :P)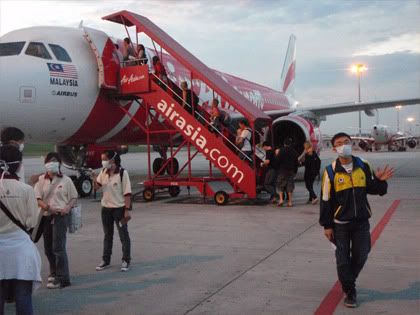 At Malaysian 9am, Cambodian 8am, the plane hit the soil of the Kingdom of Wonders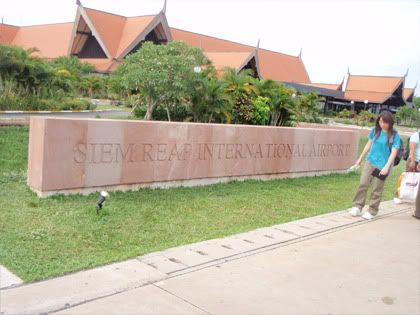 Siem Reap International Air Port, which seems very local. 
The driver from the guest house that I have booked online was waiting for us outside the airport, with my name written on a piece of A4 paper.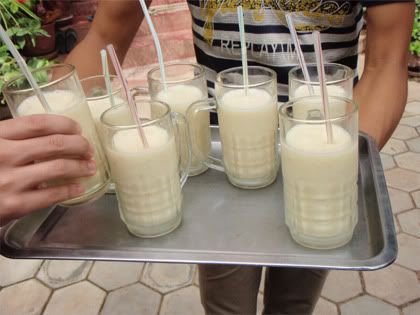 Once we reached the guest house, we were greeted with 8 glasses of cold and sweet blended fruit shake. After a two hour dry long flight, it was like oasis in the desert.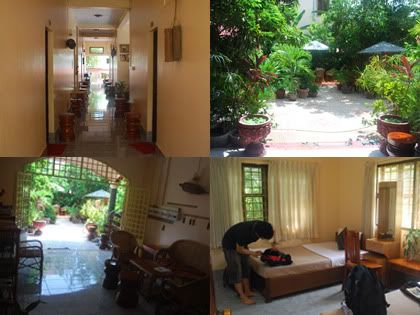 We then checked into our cozy and tidy room in this guest house. Some ad moment here, this guest house is known as Bou Savy Guest House, located about 3km away from the air port, 5 km away from Angkor Wat area. It is clean, cozy and the people are friendly. For a non-aircon twin room, it is only 9USD. If you book for 5 nights, one night is free of charge and breakfast is included. Oh ya, they give a complimentary dinner too along with a 5 day package. :)
After some clean up, we were out for lunch. 
The first spot we visited was the old market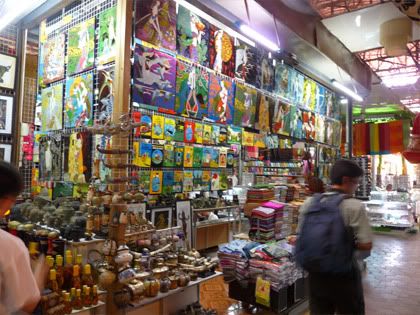 Basically nothing much to see. It's like Petalling Street + Pasar Pagi. Except for fried cocoon and crickets :)
Then we proceeded to the killing field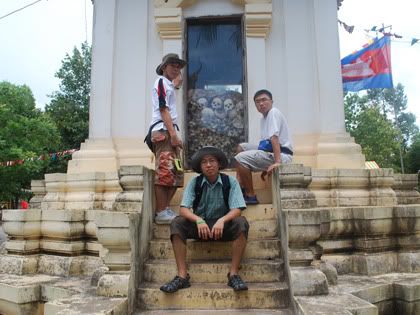 All these skulls were victim of the Pol Pot Regime. 
The destination of the day was Tonle Sap lake. Tonle Sap was occupied by 2 big water villages. Thousands of people were living there. It was also the largest fresh water lake in South East Asia.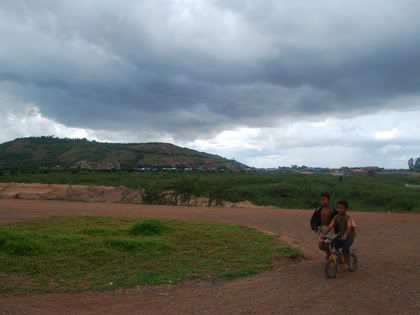 It was gonna rain before we boarded on the boat. We were quite worried.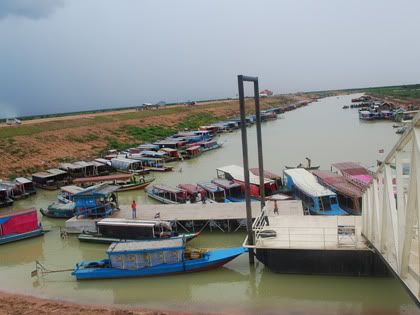 We would be missing a lot of views if it rained. and it did, when we were going to board the boat. The worst thing was there was not a single boat that was willing to let us board their boats (I guess because it was going to rain) even if we board the tickets and it was raining cats and dogs. 8 of us were running around like idiots. Anyway, there was finally a boat that was willing to take us.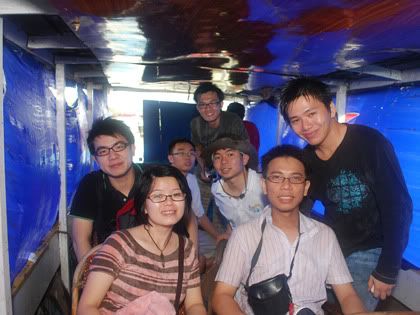 Wet and soaked on the boat.Fortunately, not long after that, the rain stopped and we were off to the centre of the lake.
I made a video with the videos that I had taken in Tonle Sap lake. Don't miss it especially the part where the little girl was performing 007 act by jumping from another boat to ours just to sell us some soft drinks. :)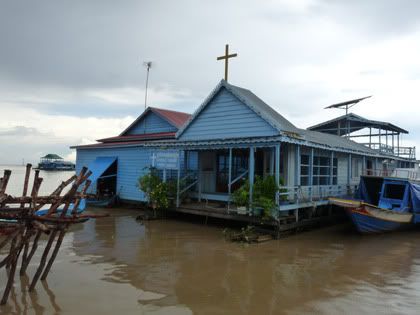 A church in the middle of a water. The boatman said it was built by Koreans.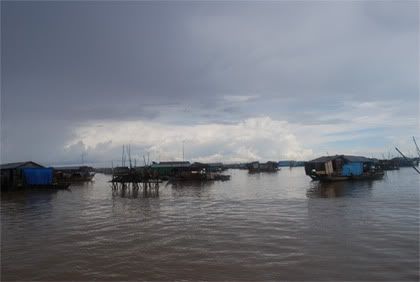 The magnificent view in this lake.
Some camwhore moment on the front deck of the boat. It almost flipped the boat when 8 of us were trying to move there. XD
We then reached a floating restaurant + crocodile farm (like what you have seen in the video).
It was 3 storeys tall and we climbed out to take some photo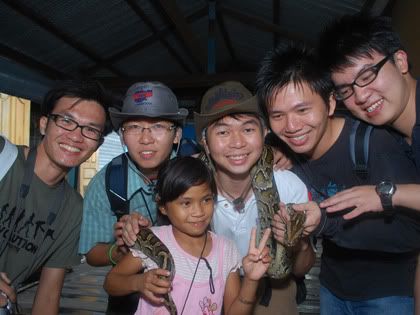 The little girl took out the snake and freaked everyone out XD It wasn't that scary though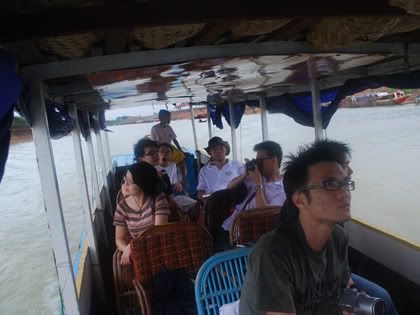 We then made our way back with everyone exhausted.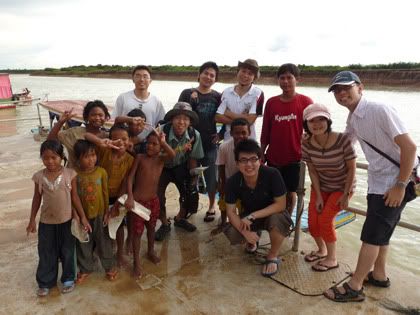 When we landed on the jetty, we took a photo with the boatman (in red) and the assistant (the kid with his knee bend beside the boatman) and a bunch of kids who were there playing joined us in this photo.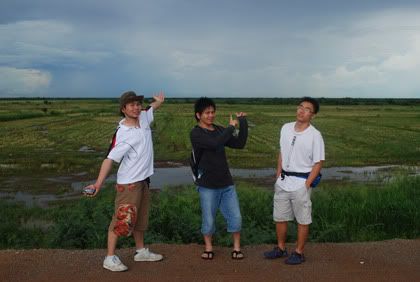 There was this big paddy field beside the jetty.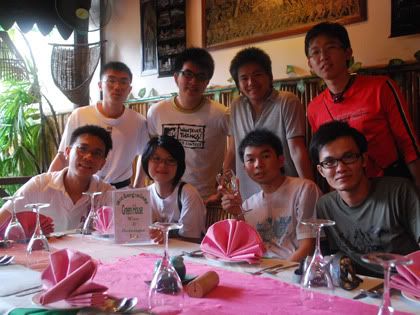 We then had our dinner in a restaurant with a Khmer touch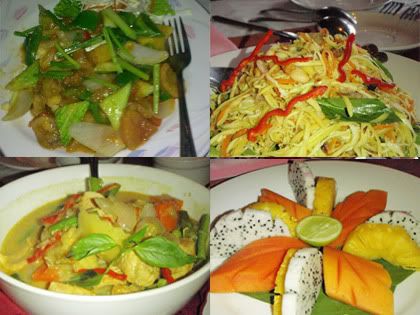 I would say Cambodian food is very similar to chinese food. However, the taste wasmoderately balanced and mild. Unlike Malaysia food, it was not spicy at all. and the amound of vege and meat was always equally balanced. So it was very healthy actually. :)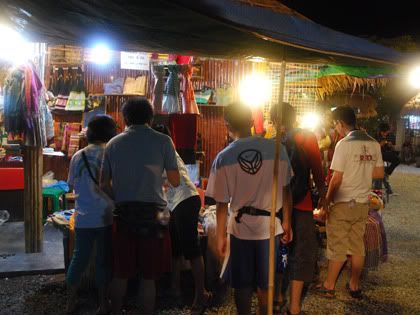 After dinner, we went to the night market for some souvenirs. Sorry guys, I didn't buy any. XD
We then called it a day, the first day.
Be patient for Angkor Wat :)