Despite the hectic schedule that I have, I squeezed myself to a trip to Bentong organized by UTAR Traveler's Den last Sunday. It intrigued me as one of the destinations of the visit was Kuala Gandah Elephant Sanctuary (which is one of the location in my destination list on the right hand side).
I woke up at 6 and got to school at 7. At around 930, we reached the sanctuary.
Well this place deserved some brief introduction here. The Kuala Gandah elephant sanctuary is actually a non-government and non-profit organization that actually keeps stranded elephants or elephants that wander too near to human habitat and pose a threat to human.
There were 20 ++ elephants in the sanctuary  from all over the world. I have seen two from Myanmar and India.
This is a local one. She is 13 years old.
In this place you will have the chance to make very close contact with the elephant. Like this: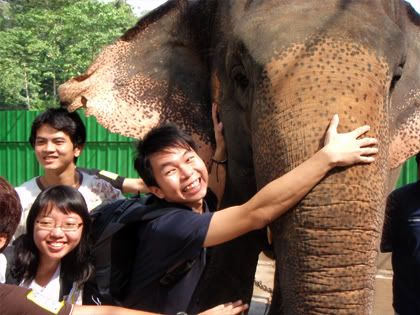 This is a Burmese elephant and I think he didn't like to be hugged at all. XD
Then we had the chance to ride on elephant. Only for one small round though. But I think it was quite a royal experience huh.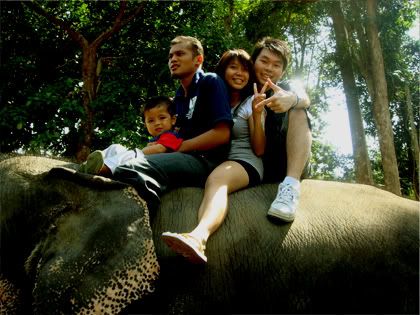 Yoyoyo, here comes the elephant riders! (
Sherril
sorry I forgot to photoshop it :P)
By the way, if you were to visit that place, please make it after 2pm. This is because the 'shower on the elephant back with elephant trunk in the river' thing starts only after 2pm. We missed that one because the itinerary scheduled the visit from 10am - 12pm. Mehhh. :(
After some camwhoring session, we proceeded to the second destination which was only a few kilometers away - The Deerland.
Well initally I thought it was some petty zoo that had nothing much to experience but I was so wrong!
The Deerland was operated and funded privately. The entrance fee was only RM5 and you got to enjoy some really cool activities with the animals.
First stop,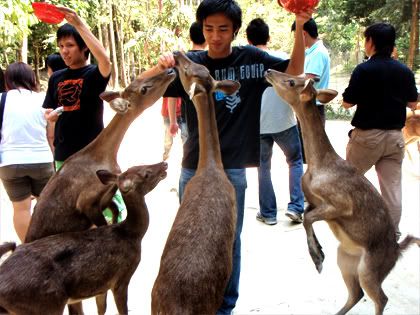 Deer attack!!
Head to head monkey hop!!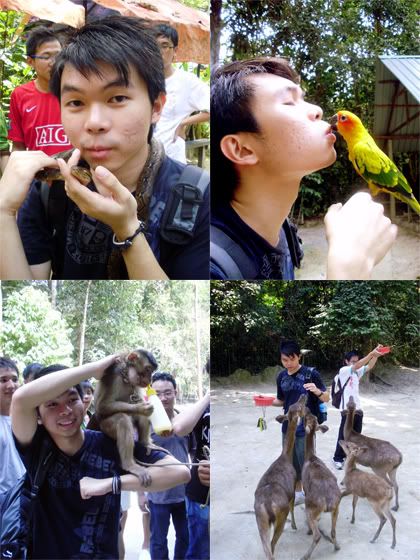 For a moment, I thought I was tarzan except that I wasn't wearing underwear made by tree leaves XD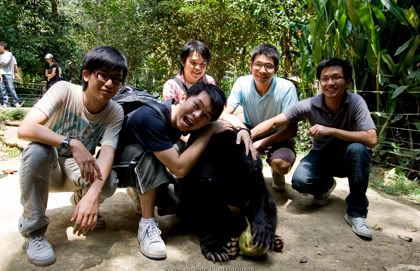 Now you see the real bear hug! Anyway, I almost ended up like the coconut as I pressured the bear too much. I thought it was a teddy bear XD
We then had our lunch at the deerland. (no, to our dismay we didn't have deer meat, or bear either. XD)
During the lunch, the deerland boss was very excited and he wanted to show us around his own built campsite after lunch. So we walked a few hundreds meter away and got to the riverbank.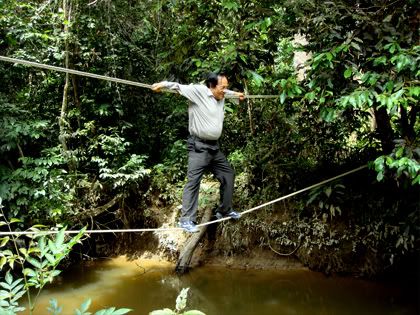 The first one to cross the river: The lecturer who taught us Power System! Somemore in formal wear. Unbelievable. @_@ and no he didn't fall into the stream XD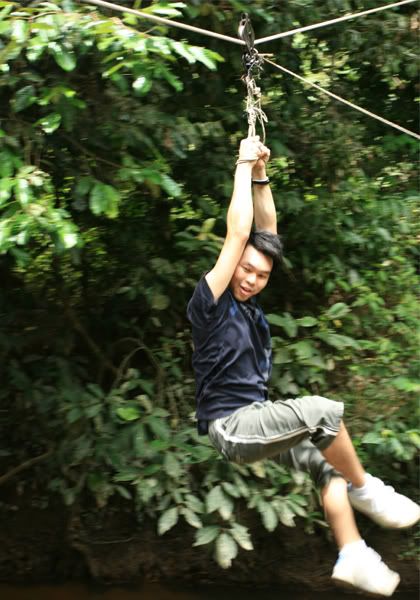 I started to believe that I was a tarzan. XD 
and we had a group photo~
After this, we headed on to Bentong town for some ice creams. Yeah you hear me right, it's I-C-E-C-R-E-A-M! I screamed!!! Yooohhooooo. (please ignore)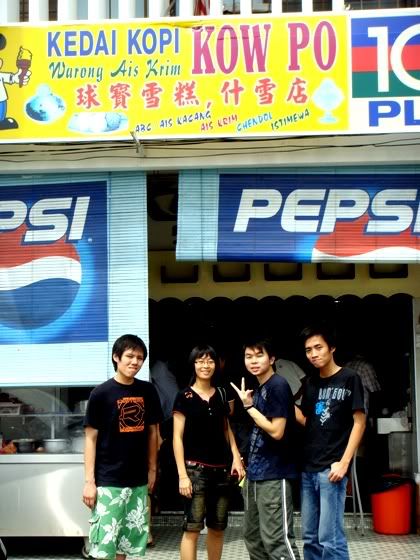 Kow Po ice cream. It started its operation for more than 60 years! and two thumbs up for the ice cream. It tasted differently from conventional ice cream. Less milk but more to the powdery type. Still the taste is solid and it doesn't melt easily!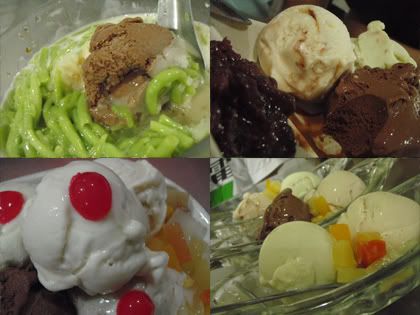 It offers different type of flavour, namely chocolate, banana, peanut, vanilla and corn. and you can have it in whatever combination imaginable. Not cheap though, it was RM2 per scoop. I had the chocolate cendul one.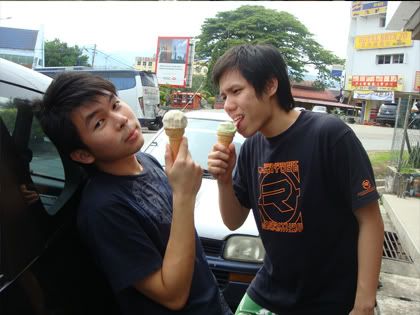 and after that, I had another peanut one. You can see how euphoric the ice cream can induce? XD
Last destination of the day, Chamang waterfall, which I'll reserve for the next post.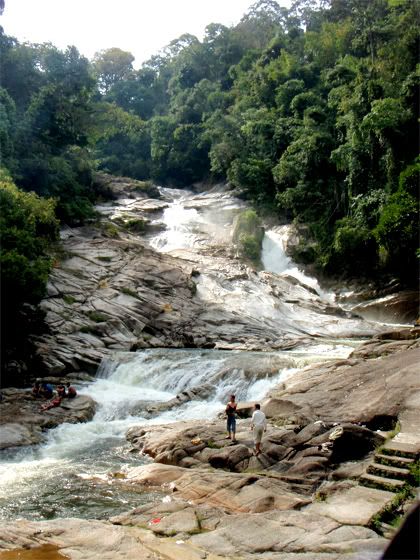 I love waterfall.
Please come back in a few days for the chill. Thank you!
ps: kL's post about this trip. Warning: Contained spoiler for the waterfall XD