First and foremost, wishing everyone happy 2009.
Since I'll be leaving for KL in one week's time, I would like to post something more Penang-ish. Well I guess people who are close with me know that I always prefer to stay in Penang to other states in Malaysia. If given a choice, Penang for sure will precede any other choices.
Of course apart from the fact that I grew up in this place and had been nurtured and cultivated in this place for years, there are still some very solid statement to support my argument.
Anyway, my points are heavily biased and shall not be taken seriously. :P
10 Reasons Why Penang Is Better Than Any Other Places (especially KL)
Interesting places to go

First of all, to justify whether a particular location is a good place to live in, it's important to look at what it can offer in term of places to go. Let start with shopping malls. As a matter of fact, Penang has the most numbers of shopping malls after KL. Although they might not be as glorious as those in KL, they serve their purposes pretty well. After Gurney plaza, Queensbay mall, Sunway Carnival, Bandar Perda sprung up like the mushroom after rain. In a few years time, Penang Time Square is going to storm Georgetown.
Well shopping malls also mean all sort of commercialized entertainment and activities like karaoke, movie theatre, spa, hair salloon just to name a few.
Of course, Penang has more to offer. Apart from commercialized outlets, Penang retains most of its greenery. No matter which part you are staying in Penang island, you can get to parks within half an hour. Youth Park, Botanical Garden, Metropolitan Park, Meng Kuang Dam and etc are well-maintained parks for Penangites to stay in shape. Others like waterfalls, beaches, hills...you name it, Penang has it.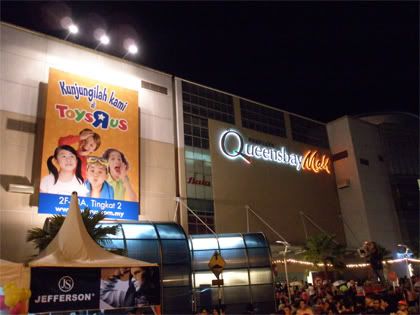 Queesnbay Mall
Yummilicious Food to eat

I need not say too much about this. From streetfood to fine dining, Penang offer a wide range of choices. and it's always fun to do food hunting in Penang as good food hides in alleys and taman-taman like precious jewel.
Only in Penang....
Tough Road to drive
Actually, Penang is also secretly funded by some mysterious organization to be a driving centre.
Penang is famous for its narrow and crowded roads in the town area and also its
reckless
skilled drivers that want to train up new drivers in this island. Apart from that, Penang has motorcyclists who ride as if they are blindfolded. Besides, the lack of parking spots at all those nice food spots is a challenge for the drivers to figure out creative ways to park their cars. Furthermore, the jam in Penang bridge teaches the drivers how to squeeze their way out without falling into the sea. All of these offers a tough driving environment and adrenaline rushing driving experience. It is meant for you to brush up your driving skill.
Sometimes, bulls are used to train up driver too.
Mooo.....drive like a bull....mooo.....
Therefore, you get free driving lessons everyday once you drive. Where else can find?
Fun Things to do
Sports facilities can be found easily in Penang so it's not a problem to find places to play basketball, badminton, tennis, squash or to swim, run, jog, jump, dive and whatsoever.
Natural spots like waterfall, beaches, forests, hills are easily available too. It's not surprising to hear that people saying
"Hey tomorrow Christmas let's go to waterfall and picnic there." and bring a few packs of junk food and a few cans of beer there to celebrate Christmas.
Penangites love to go fishing too and Penang never runs out of fishing spots also (as a matter of fact, Penang is surrounded by sea ok?)
and most importantly, we can go camping and barbeque at the beach, anytime we want. muahahaha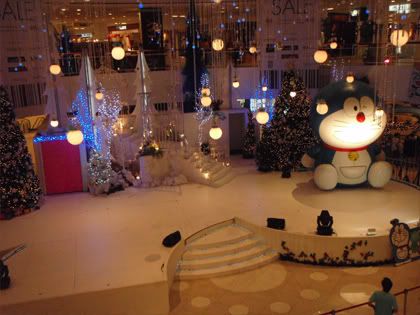 Living in Penang is as if living with Doraemon XD
Multilingual Tongues to speak
The state language for Penang is Penang styled hokkien (which pronounce char kuey tiaw as char kuey tiaw, not char
ke
tiao) however English, Mandarin, Tamil and Bahasa Malaysia are widely spoken. Other dialects like Cantonese, Teo Chew and Hainan are spoken by the minorities too. Penangites also do not have problem understanding Cantonese as the results of watching too much Hong Kong series.
Beautiful Scenery to see
What?!? It's only the sixth point? I very lazy to write already. This point is very obvious la. Penang got all the mountains and seas and heritage sites and they are very natural unlike those in Singapore....all man-made and artificial. and our bridge is much longer than the total length of all the bridges. Somemore now they are going to build the second Penang bridge. Even longer. XD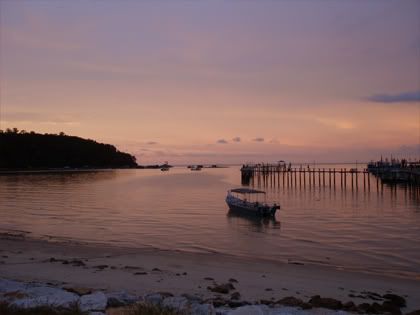 See so beautiful. This was taken at The End of The World, Teluk Bahang.
Smart Gahmen to lead
After 308, we see a lot changes in the gahmen. Somemore want to implement FOC wimax in Penang. But the problem now is all our laptop is only up to 802.11 and wimax technology is 802.16 la. Maybe the gahmen will give away free laptops to all Penangites. Who knows? argh I went astray from the topic ady. Ahem....what I am trying to say here is we got smarter gahmen now compared to some other states la.
Gorgeous People to look at

It's an undeniable fact that Penang has the highest percentage of hot chicks compared to other states (statistic provided by John Doe, Xiao Hua, Ali and Muthu). Well there's rumour that there are a lot of entauba also and personally I agree to this also. :P
Made in Penang. and look like the rumour is true. :P
Plenty of MNC to work in
Penang got Agilent, AMD, B-Brawn, BenQ, Dell, Hitachi, Intel, Motorola, Sony, Western Digital......just to name a few. Although most of them are manufacturing based MNC, they formed the working community in Penang. Somemore those companies contributed a lot to Malaysia GDP!
But who knows what's their fate in the future....
Quality Life to live
Imagine this:
You wake up 6am in the morning and you rush to change your clothes. Shit! You forgot to iron your shirt last night and you have to get it done really fast now. After putting on your shirt, tie, belt, pants, socks and shoes, you walk some 200 meters to Wangsamaju train station. At that time, the train is packed with human beings. Out of all sudden, you remember you have an important meeting at 830am. So you fight your way to the train and you make it with the price of the wrinkles on your shirt.
When you reach your office, it's 829am and you run all the way to the conference room and everyone stares at you. The meeting lasts for 2 hours and your stomach keeps growling and you realise that you forget to have dinner the day before. After the meeting, you rush for the remaining jobs despite the hunger as you have to send out the report before 12. When it's finally 12, you go and buy yourself 2 sandwiches and continue working because you are running out of time.
The next moment you look at the clock it's already 7pm. Oh no your loved one has already bought a movie ticket at 8pm. You quickly finish up your remaining job and it's already 720pm. You rush to a fast food outlet nearby and grab yourself a burger which has excessive calories and swallow it like nobody's business while you are in the train station.
After the movie, you are exhausted and your loved one is mad at you because you don't feel like talking to her/him. You fall asleep on your bed the first moment you reach home and you dread the next day.
Now, picture this:
You wake up 7am in the morning. Put on a t-shirt and a pair of jeans. Take your badge and start your Honda City. You drive along the Coastal Highway with seagulls flying by the seaside. The reflection of the rising sun on the sea is a little bit dazzling but it is warm and cozy. When you are about to reach your working place, it's a little jammed but it also gives you some extra time to listen to the song played in your cd player.
After 15 minutes, you reach your office and you make yourself some coffee and start your day by clearing up your mail box. After giggling on some jokes, you get serious in your job and time passes without you realizing it. When it's 430pm, you change into shorts and go to the gym for the treadmill and workouts.
Then you enjoy your dinner with your friends or your loved one at 7pm. Since you already had some western food at the seaside restaurant at Tanjung Bungah yesterday, you are probably thinking to have some authentic Penang laksa to help you digest. So you drive to the favourite laksa stall of yours.
The night is still young. After shower, a friend you haven't seen for a long time called and you guys met at a bar with live band playing and grab a few cups of beer. Thus ends a day in yourlife.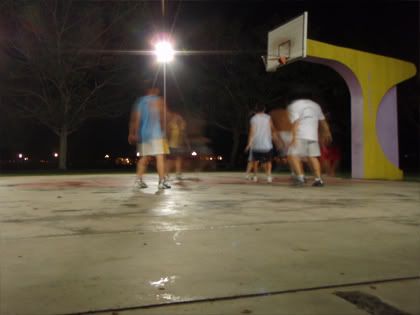 At night still can go play basketball somemore
---
Well, again I have to stress that all my abovementioned reasons are heavily biased. Take it at your own risk. :P
Anyway, I have to shout it out loud:
Penang rules!
Quote:
"You can take a Penangite out of Penang, but never the Penang out of a Penangite."
lol. Anyone please come out with 10 reasons why Penang is not any better than any other places? XD