180 boxes of oreo wafers, 6 cars, 12 persons, 10 organizations.
It was first a request from Pastor Andrew from Holistic Integrated Services (HIS) that we help him out to distribute all the oreo wafer to 10 social organizations in the klang valleys. Well simple as it may suggest, it was actually not a simple job to do. All the centres are widely distributed in the klang valleys: Puchong, Jinjang, Klang, Semenyih, Kajang, Kepong and Old Klang Road. and
we
some of us got lost even before reaching the HIS centre in Shah Alam (me being one of them :P) to get the wafers.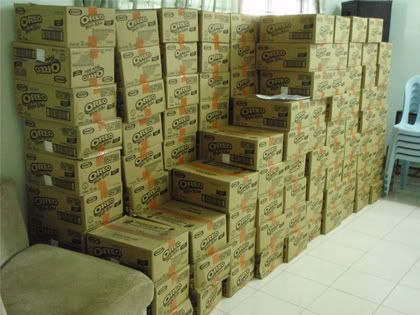 Anyway, upon reaching the centre, we saw boxes of oreo wafers piling up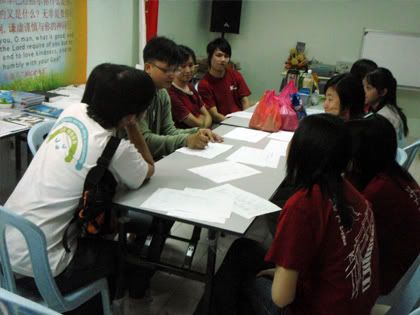 and after some light breakfast, we were briefed about where to go and how to go.
we loaded our cars and took off. Tze Hui was with me and our destination was somewhere in Puchong.
We used almost one hour to reach Puchong from Shah Alam (it was only about 30 minutes distance but we got lost for a few times) only to find that we were at the wrong location. So we proceeded to the new location after contacting the person in charge of the centre. It was off Old Klang Road, beside Parkson. Anyway thanks to my classmate ah sam the Puchong guy for giving me all the detailed direction.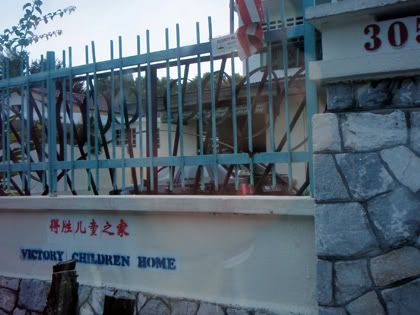 I sighed a breathe of relief after I found myself in the correction location. It was
Rumah Victory
. I parked my car in and Mr Loh, the person in charge came out to greet me. At once, hui and I were surrounded by curious kids and they were greeting us "kor kor, jie jie". It was heartwarming and it worthed all the hassles. Mr. Loh instructed and the kids started to unload the Oreo wafers from my car.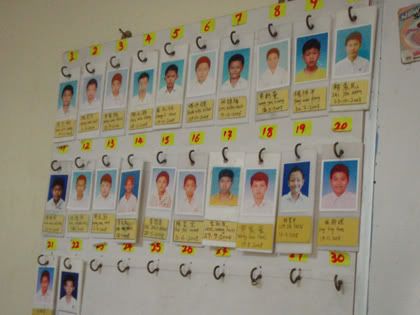 We proceeded to the office and had some chitchats to know more about the kids in this House of Victory. There were around 30 kids, all boys and he told me that 80% of the kids inside came from single parent families and some of them were indeed orphans. It somehow struck me when I heard that as I thought most of them were orphans. He said some of them were sent there because their parents totally have no idea about how to raise them - some were too young to and some were too irresponsible to.
The kids were no difference from the kids you and I see everyday. They were active, talkative, curious, energitic, naughty and a little bit mischievious. They ran around, fooled around and some volunteered to show us around the rumah.
Hui and I followed a kid and he started showing us room by room as if he was the master of the house. Well, we asked questions and he answered like the questions had been asked a thousand times.
The kids there still go to school like any other usual kid. The only difference is that instead of going home, they go back to rumah victory. If they behave well, they can go home in the school holidays, if they have one.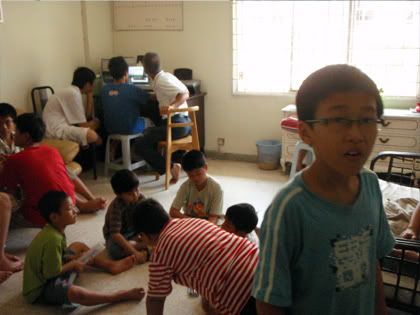 The living room with one computer and one television. Window Vista I notice. :)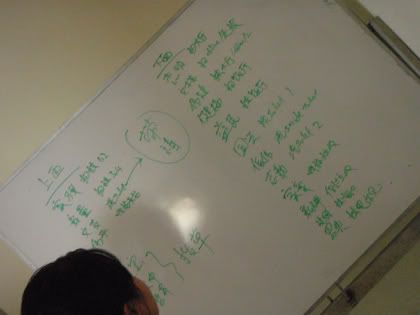 The duty roster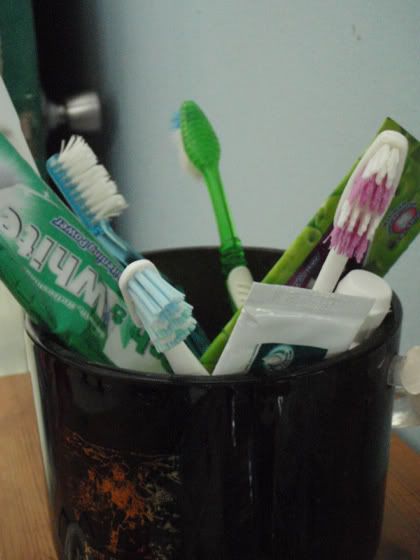 The toothbrush brotherhood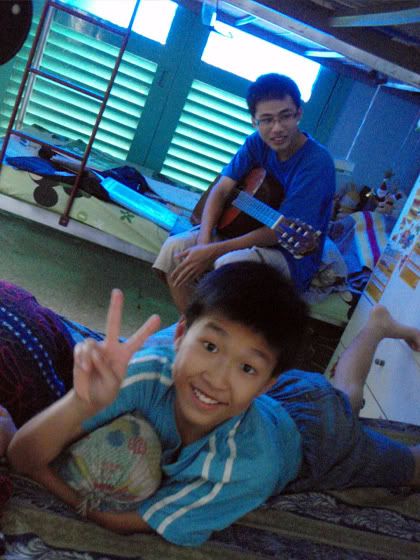 This kid is a natural poser! and the guy behind is already 16.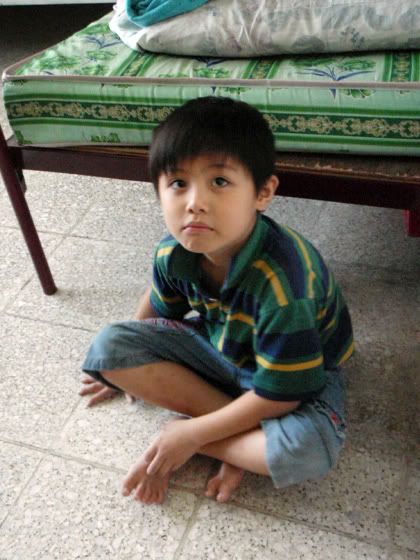 and hui said that she would adopt him if she were rich enough.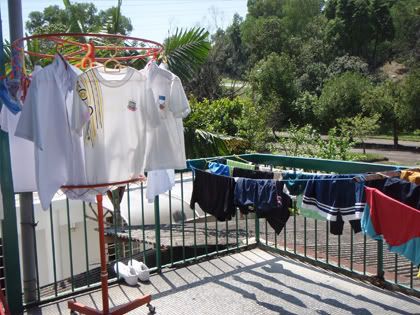 The big boys would help the small one with laundry. I asked the kid who led me around
"You know how to operate the washing machine?"
"Sure! I can also wash with my hands" he proclaimed with such confidence.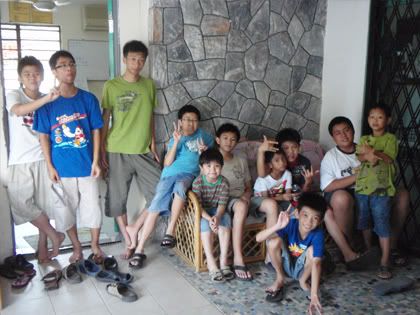 The group photo. Not all, but half of them here.
Not trying to make a point here, but the fact is that I really felt for them. Kids like them. I mean, they are no difference than any of us. They just needed to be loved and pampered like any of us. I have to admit the fact that everyone has a different path to walk but I just can't help but emphatize. What would I feel if I were in their shoes? Knowing the fact that my own father/mother left me there because I am such a burden to them? What should I tell my teachers when they ask me where do I live? Can I fill the siblings column with 30? or 0?
It can be sentimental to think about that and it is also easy to dismiss all those thoughts. Anyone could just harden their hearts and say 'Their problems are none of my business".
Honestly, I just couldn't do that.
I have come to a point to realize that how blessed am I to be what I am today and I think that everyone deserves that.
and something is not right with this society, when more people are focusing on getting bigger cars and bigger houses when there are other people around need help. It's reality but it doesn't make it any more right.
I am not optimistic about changing the society but at least this blog acts as the vent of my thoughts - apart from taking from the society, we have to give part of it back, to those who need them. I hope I wouldn't have to explain much on this.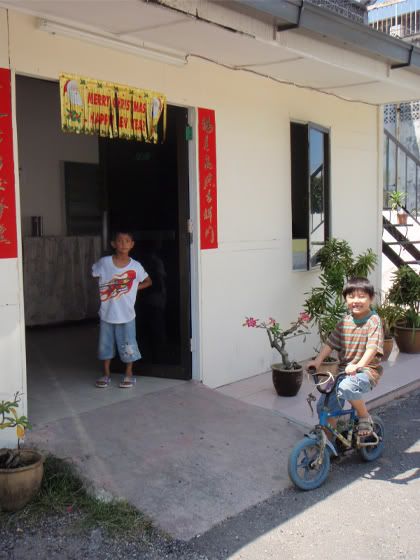 I left the place with a complicated feeling but I assure myself that they will be alright as I know, they were all being taken care of, not only by Mr Loh, but also by the Almighty as promised by Him.
"A father of the fatherless, and a judge of the widows, is God in his holy
habitation." -Psalm 68:5

This is an unexpected ending when I first promised to be the Oreo guy.