She sailed from her homeland to a land that was so estrange to meet up with her husband.
The fishing boat was filthy. It was overloaded with people. Men and women. Old and young. The odour was terrible but she knew she had to bear it for a few more weeks.
She didn't remember on which day that she was waken up by a terrible cry. A woman was struggling to get off a few other men's grip and some other men were carrying the woman's son, so pale that at her first sight, she knew he was dead. There was only one way to deal with dead people on a boat that didn't even have toilet - a sea burial.
She looked at her own son who was sleeping soundly beside her, unbothered by the fuss and she grabbed his hand tightly. She wouldn't want the fate of the chap who was thrown into the sea happened to her son too. She was praying to whoever gods that could help her that both of them to land alive.
At the fifteenth sunrise on the boat, she finally heard the fishmen announcing that they had reached this island. As if she was destined to live on an island, she thought. She had spent 30 over years in an island called Hainan and only heaven knew how many years would she spend on this island known as Penang.
Now, she finally saw her husband who had parted for 10 years amongst the crowd. He dressed decently. She knew she looked terriblely awful after 2 weeks of sailing on a fish boat but she eagerly walked towards him with their son in her arms. Life was tough in the People's Republic of China which was just taken over by the communist and she knew they had a new life ahead on this island.
Life in this alien land was so much better. Her husband got a job at the jetty and she stayed home. It was just a rented room barely enough for 2 actually. She started to pick up the dialect here. It was somewhat similar to Hainanese but still she had that accent that others could not comprehend. Anyway she wasn't talking to much people but the vege-dealer that sold vegetable using his bike.
Occasionally, she got letter from her elder daughter who was was under the custody of her grandmother in China. She would put the letter on top of the desk to wait for her husband to read it, as she couldn't read.
In a few years time, she gave birth to a few children and life was getting better when her husband started to get better job. Soon, he started his own business by opening a coffee shop. Life was not easy but still, they sent clothes and stuffs back to China as situation was much worse there.
The kids grew up and they all got educated. Penang was becoming busier and more prosperous. The business got better and they finally bought a car when the eldest son was old enough to look for a girl friend. Then they bought a double storey house and life got better ever since then.
She, is Oon Chun May, my grandmother.
---
Frankly, I am not influenced by my grandmother in any way, unlike the newly inaugurated President of United States. Anyhow, she is the woman who gave birth and influenced my mum and my mum influenced me a lot.
I haven't been raised my grandmother and she speaks hokkien with hainanese accent that I could barely understand thus it is forgivable that I do not have a strong bond with her.
Anyway, seeing her today had made me ponder. She had alzheimer's and she didn't even recognise my mum, let alone me. She became so much skinnier compared to last year. The effect of time is apparent on her. She couldn't eat and she would vomit if too much were eaten. She was visibly and audibly impaired. I wonder if she still remembers her past, as penned down by me.
Somehow, I hope that I could converse in Hainanese so that I could at least ask her questions about the past when she was still conscious. But it was too late now as I could only listen to stories from my mum.
Soon it will be the eighty fourth Chinese New Year that she had ever lived through. I guess she would not even notice that it is that big festival which she used to prepare everything.
Time has taken its toll on her.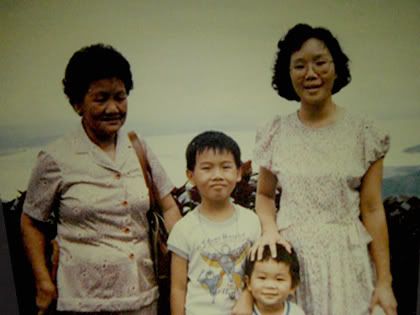 When I was four year old or younger. From left: grandma, Ah Liang cousin, me and my mum. Taken on Penang Hill.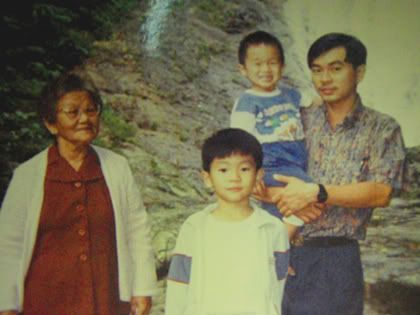 When I was 7 or younger and my brother was 3 or younger. From left: grandma, me, my younger brother and my dad. Taken on the waterfall on the way to Cameron Highland from Tapah.
Taken on 20/2/2008.
Taken on 24/1/2009.
Happy Chinese New Year, grandma.