I was on a vacation with my family last week.
The destination was Damai Laut, Perak. We went there for a 3 days 2 nights relaxing fancy hotel stay.
and this round, it was my younger brother who drove. The seemingly never grown-up brother is now driving already!
I really have to admit that I am OLD. OLD OLD OLD.....
Anyway, the first place we visited was the Segari Turtle Preservation Centre.
Well there were big turtles, small turtles, medium turtles, big turtle eggs, small turtle eggs, medium turtle eggs, white turtle eggs, yellowish turtle eggs, cute turtles, ugly turtles, handsome turtles, pretty turtles......*I could go on forever*.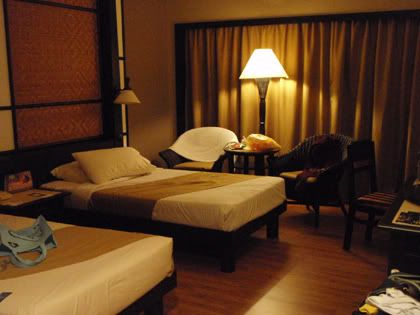 Then we checked in the hotel. Wah hotel room so nice.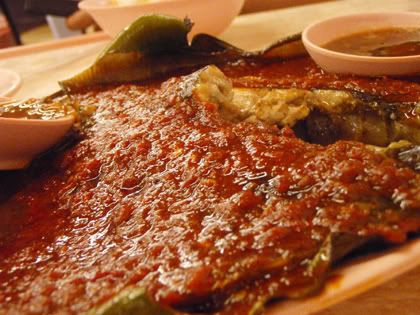 Then the buffet dinner in the hotel cost 55++ per person and we decided to dine out. We drove to Setiawan and ordered Ikan Bakar. It was very fresh and the sambal was indeed smouldering.
Not forget to mention the sotong + clam bakar also. Chewy and tasty~!
The second day, initially we planned to go Pulau Pangkor but it was a Sunday and we would be spending hours queing up for ferries. Moreover, we must also fully utilize all the facilities in the hotel premises or else we would be wasting our own money only, so we decided to stay in the hotel to play lo.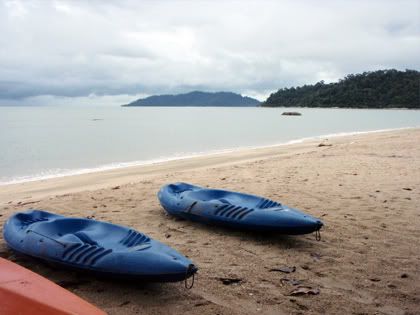 The beach of the hotel
We went canoeing lo. By the way, my parents just rolled all the way back to Penang to tabao asam laksa for us and came back.
and they provided us with free archery shots. So we all went to try out.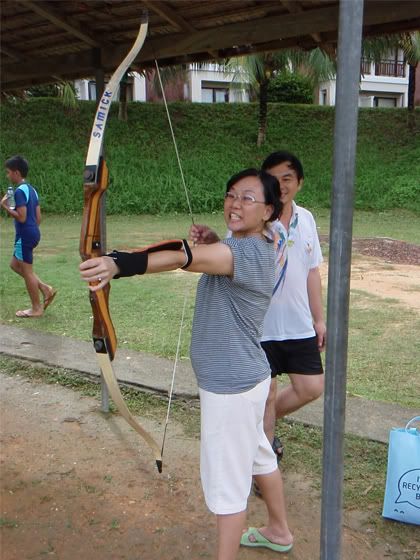 My mum decided to buy this so that she could punish me and my brother with this everytime we disobeyed her. :X
Apart from that, we also played basketball. (no photo)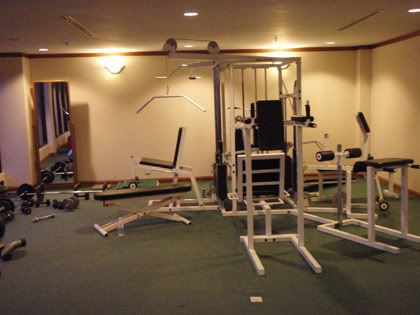 Then I went to work out in the gym. Now I got six abs ady. Dont play play.
In the late afternoon, we drove out to Teluk Batik to buy some cuttlerfish so that we could eat it with beer in the night watching TV on the cozy hotel bed. (How i wish to spend everyday like that)
Contrary to
Jit Pun Kia's
previous visit to this beach, it was full of people. (From my estimation at least 500).
Time flew and it was now the last day at the hotel.
Before checking out, we cycled to the jetty.
The coconut trees was swaying as if they were welcoming us and the breeze greeted us and gave us a chill on the spine. (=.=)!
After checking out the hotel, we went to Kellie's Castle in Batu Gajah!
I saw the castle but I didn't see Kellie. So disappointed. :(
Then we drove all the way to Kampar to have our lunch
Ate the famous Curry Chicken Bread. The bread had this fragrance and the curry was quite satisfying also but it was apparently overpriced! Like this also cost 26??? I ate KFC better la. No wonder no customers la.
In a nutshell, this was a very happy trip and I was very happy and my parents were very happy and my younger brother was also very happy and we were one
big
small happy family.
Not forget to mention the hotel people also very happy coz they earned a lot of money.
......
ps: I think I have schizophrenia or I have been haunted by some primary school ghosts.
=.=|||