Today is the day marking the end of my internship. It also means that I am getting back to school and be a preppy student again.
Usually, people use one quarter of their lives to prepare themselves, and another 2 quarter to earn, and another 1 quarter counting the days.
Apparently, I have another one and a half year to go and I'll be graduating. So I have almost reached the end of my first quarter and I am supposed to be well-equipped to enter the next phase of life.
I don't know whether am I ready for it. I don't know whether all the Faraday's Law and Kirchhoff's Law are going to help me survive the future. I don't know with the gloomy mood in the global financial status, how things will work out in the future. I don't if I have enough confidence to face the unknowns. I don't know a lot of things.
But I know the ground that I am standing. I know what is my center of gravity. I know that if I stumble and fall, I am going to get up again. I know where to go if the world repels. I know who to talk to when the sky falls apart.
Anyway back to the internship thing. Sincerely I must say that I am fortunate to have an indeed cool experience and a rather friendly working environment. Well it's a drastic difference if you compare the internship I had last year where I finished reading Harry Potter in the office because no one cared. lol.
During these three months of my internship, I had a glimpse of what's going on in the company and also the microprocessor world.
Well I shall stop further commenting about this company. Later got people say me glamourising it. :P
In a nutshell, it's a fruitful 3-month experience.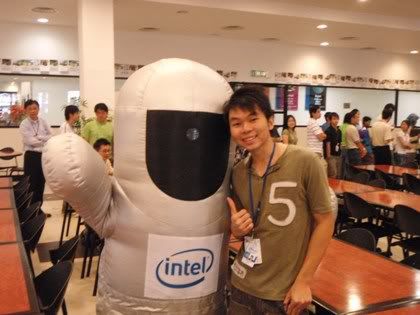 Bunnyman.
Happy New Year~!