One thing I really hate about following a tour is that you don't get to choose your own meals. 
Although Hat Yai is not famed as a food paradise, there're lotsa interesting food enough to try out. However, in this tour to Hat Yai it included 2 lunches and apparantly these 2 meals sucked big time. Imagine eating real ordinary Chinese dishes and some not-any-better-than-Tambun-or-even-Nibong-Tebal seafood. =_=
Anyway, being a glutton who is always curious to try out new stuffs, I still managed to get some of the interesting stuffs :P
Behold people.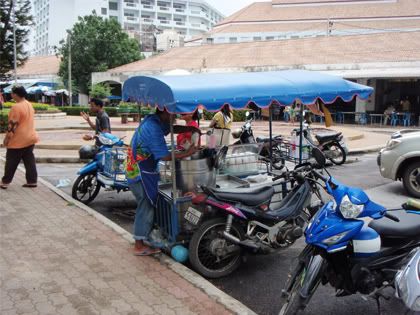 Songkhla beach Coconut ice-cream
It was a cup of coconut ice-cream costed 20 batht with generously given atap-chee, nuts, raisins, dried pieces or bread and some jelly. Too bad I was having diarrhea so my mum took it away from me after 2 bites. !@$@Y#)(T$E&@)#&!...and I nagged her on the following day as I couldn't find it in Hat Yai city.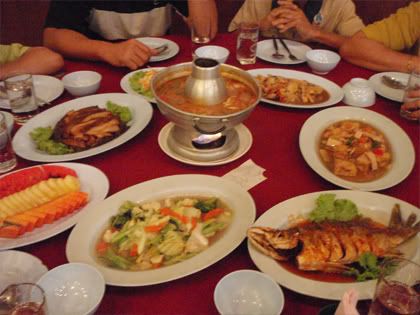 This was the dinner we had before the akua show. The tomyat was good and the fish was fresh. Anyway you could get that standard simply anywhere in Penang :)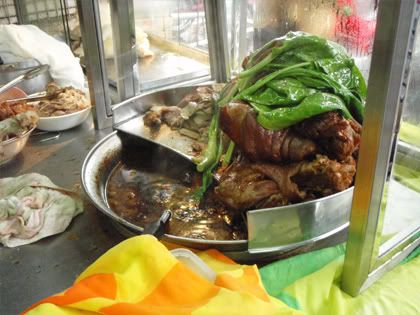 The breakfast we had. It was vineger pork feet (tu kah chor)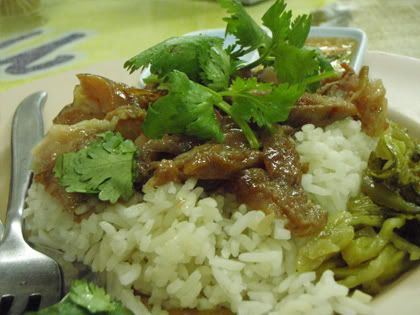 The meat was chewy and the taste was sourish and salty. It went together well with the Mui Choy. (40 bathts)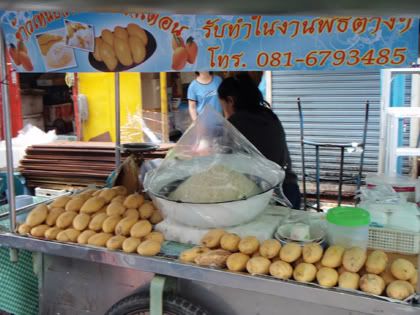 and it was absolutely wrong to not eat mango glutinous rice.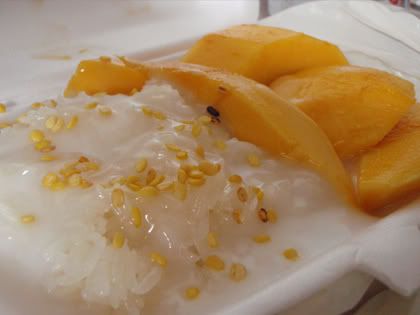 and it tasted real good man! The santan (coconut milk) and the sticky but solid rice with some kacang topping is superb to eat together with mango! (40 bathts)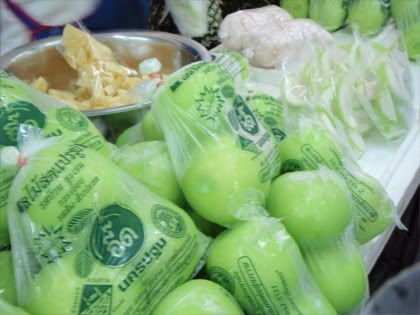 Last but not least, this fruit is worth a mention here. These were green-apple alike guavas.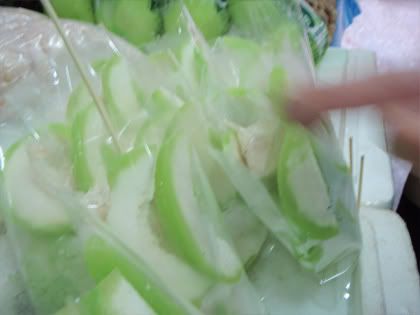 Unlike Malaysia guava, the guave outer layer is somewhat transparent, thick but soft. In each pack of sliced guavas, there was a pack of flavouring. Usually in Malaysia we ate it together with sour plum powder and some salt and sugar. There they served it with chili powder and sugar and salt. (20 bathts) Anyway they said it was coated with pesticide so we only had one pack of it. 
That's all I wanna talk about the food there. I didn't really see places selling Tom Yan Goong there. Perhaps I'll reserve that for my Bangkok trip in the far far future when Air Asia offers zero fare tickets again. :P
ps: There'll be one last post about Hat Yai.  :)