To be honest, I am not a true blue fan for sweet food.
I mean, I like chocolate and strawberry ice cream but I don't particularly
crave
for sweet food.
Anyway, recently these two really sweet thing have completely swept away my perspective towards them.
Well, they are pretty normal thing but I just didn't know that they can taste so....distinctive.
The first one would be the Egg Tart from Nam Hiong Kopitiam at Ipoh old town. (Not the franchise Old Town but it's literally Old Town in Ipoh.)
On the way down from Cameron Highland last week, we enjoyed some tea break before heading back to Penang.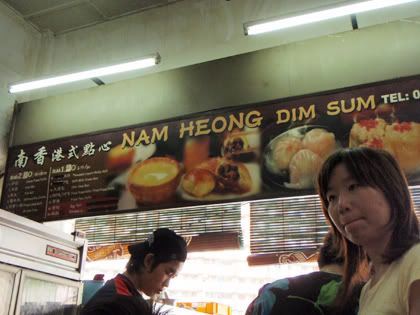 Nam Hiong
The egg tart was so famous that even before they were baked, people started queing up for it already. We managed to get a few pieces as we ordered beforehand.
During that moment I didn't really have any appetite for such a sweet thing like egg tart as I was not feeling well after a sudden change of temperature. (It was chilling in Cameron Highland and smouldering in Ipoh).
Anyhow, I took a bite of the egg tart and I found myself wanting to have a second bite. The crust was neither too hard nor too soft and it was crispy and it went together perfectly well with the egg jelly filling thingy (how do you call that?). The egg jelly filling thingy was warm as it was fresh from oven and I felt like it was melting right away on my tongue.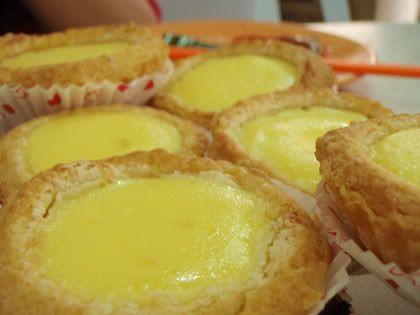 The egg tart
Tempted? Go for it if you happen to be in Ipoh. Anyway, I don't really know the location of the shop but I have an indicator for you to know if you are in the right shop.
Look for this auntie with her well-groomed old school 沈殿霞 hairstyle. By the way, ignore Jeffery whose only purpose was to serve as a decor.
LOL. 
---
The second one would be the Roti Bakar and Half Boiled Egg from Joo Leong Kopitiam, Bayan Lepas, Penang.
It is only a 10 minutes drive from my working place to this kopitiam. It islocated right beside of a three lane high way beside the airport and Free Trade Zone and there are no parking space around the area.
So the creative I-will-do-anything-for-good-food-including-risking-my-car- to-be-banged Penangites just park their cars at the left lane of the highway.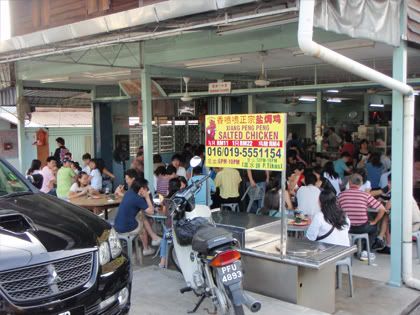 It was full of people when I reached there.
This cafe operates daily from 7 - 1130 am. But don't go at 1130 as my friend told me by 10 something they would be sold out already.
So we ordered the famous Roti Bakar and Half Boiled Egg which we usually call it Nor Tei Nor Liap. (Two Pieces and Two Biji)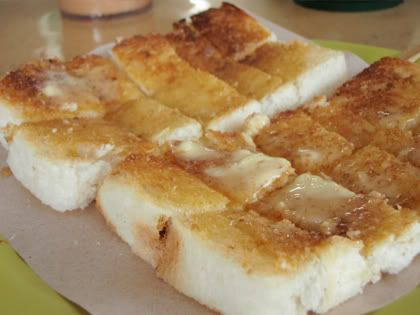 The roti bakar was only baked with butter on top. There was a bottle of granulated sugar there for the customer to sprinkle it on top of the roti.
This roti bakar is actually a very common food which can be found litterally anywhere in any kopitiam in Malaysia. However, the roti bakar from Joo Leong has such a unique taste and fragrance that really make you ask for more. It is a little bit salty and slightly burned odour. Further more, it is perfect to be dip the roti into the still hot half boiled egg and stuff the roti into the mouth in one shot.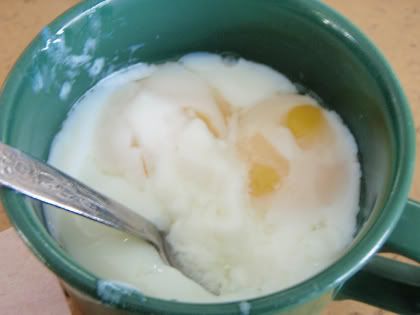 The half boiled egg. I think they used kampong chicken egg or something cause it really tasted different from the original eggs from Hypermarket. Having it with tau yew and pepper is a must. :)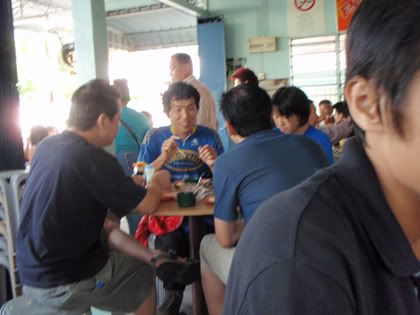 and there were a Japanese couple sitting behind us. I guess that was how far the Kopitiam has stretched its name to. :)
oh yeah, not to forget that it even has its own website:
http://www.penangnet.com/jooleong
These two food are a must-try if you are a sweet tooth and not afraid of dying with diabetes (lol Actually not that sweet also la). and I think I am getting better at blogging food. 
LOL
and I am expecting hate comments from those who are now oversea.
:P