I am suffering from Obsessive Compulsive Disorder. The most typical and common kind of OCD behaviour we could see in TV is obsessing with hygiene. The person with OCD will repetively wash his hands and still not feel clean enough. He would be afraid of shaking hands with people or touching anything. You can see that in The Aviator, the play by Leonardo Dicaprio.
Anyway, I am not having one of those typical symptoms. My symptom is more off the track.
I am obsessed with Air Asia free ticket.
Somehow I was brought up in such a way that, I feel that only extremely superb rich people can fly in a plane and I'll have to wait until I become millionaire to start getting on the plane.
However, I had my first flight last year when I was climbing
Mount Kota Kinabalu
. That flight was not a really comfortable one. You know la, Air Asia, stewardess so so, wanna eat also need to pay, somemore the seat so cramped up I almost had a muscle cramp. lol. However the flying sensation actually gave me some adrenaline rush.
and the second time of me flying was when I visited
Moses
in
Kuching
this year.
and then Air Asia is like a farmer who hangs the carrot on the tip of the long pole in front of the donkey. It never fails to lure people with free seats which would be affordable by ordinary people like me. and it's a successful one I'll have to say. I always fall into it despite knowing that it's a trap. =.=! 
and everytime when it offers, I would have the same adrenaline rush when I was surging up the skies in the plane. I would call around and asking people to go travel with me and usually I could get people going.
and the real deal begun yesterday. I got an email from Air Asia telling me that they'll offer free seats with no fuel surcharge and I was like zOMG-why-don't-you-just-kill-me. I started to send out sms'es to people asking them if they wanted to go to Hong Kong for a two-way flights of rm150? Most of them agreed until I told them the date would be next year October.
No one was decisive enough to make the deal at 12am sharp last night. and my internet was down. So I went to bed and expected
Gillian Chong to tell me that she already prepared a room for me in her house
all my other friends who hadn't decided will be decisive enough to give me his answer in the morning.
However, when I woke up in the morning, I found out that most of the zero fare tickets were running out very quickly. and the thing was, no one could give me a confirmed reply. 
So with my obsessive compulsive disorder at its max I couldn't stand no more and I thrillingly obsessively compulsively compellingly
bought the air ticket
. Yes you
hear
read me correctly, I bought the air ticket for myself to Hong Kong for a two way price of rm158. 
By late afternoon today, I think 90% of the free tickets were sold out.
which means no one will go with me, even those who were 60% inclined to go with me. (Due to the price la.) 
which means I'm gonna bloody go hong kong alone?
I went ahead to read all the backpackers' websites and it seems like Hong Kong is not a perfect spot for backpacking due to it's crowdiness and heavy population. and it's such a high cost city.
Frankly I am fine with backpacking
alone
anyway. It's just that my parents aren't. Especially in such a complicated place like Hong Kong. 
So what do you guys think? I seriously need some advices and opinions. I actually have a few options now:
1. Plan ahead and go for backpacking. Disobey my old people (which is absolutely my last choice)
2. Forfeit the tickets (which is also my second last choice)
3. Get someone to backpack with me (He/She'll have to pay RM500++ for the two way tickets). Perhaps it's YOU?
4. Get an agency and ask them if they have any tours on that date. Spend big bucks and join the tour. (Grrrr.....I'm running out of cash)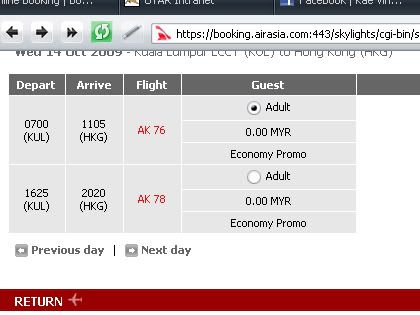 This is my ideal date. However it was no more zero fare in the morning. (click to enlarge)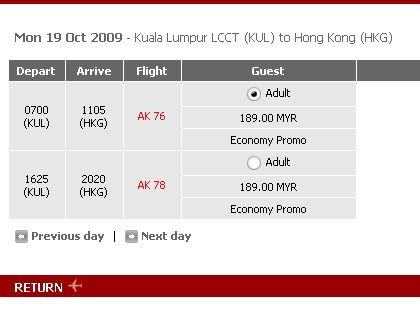 This is the date that I booked. The total I paid was rm140 + rm 18 insurance = 158. If you book now it's rm189 + rm189 + rm140 + 18 = rm536. (Click to enlarge)
Tell me. What should I do? Argh....my OCD has brought me into such a dilemma. 
Brainstorm and help me. :(