I just realized that today is the fourth birthday of my blog since its very existence in 15 nov 2004. *clap clap* At least I'm persistent enough to write for four years --- without getting any advertisement (Considering adding one due to the economy crisis and my OCD of simply booking air tickets. lol)or discouraged by a few years of empty comment in my post (sometimes it felt like as if no one is reading, and no, I didn't know about Google Analytics either...)

Anyway it survived 4 years and the readers are increasing :) I think blogging has gradually become part of my life without me realizing it.
---
Let's switch the focus back to
now
. It might sound cliché-ish but I really have to say that time flies. I have completed about the first month of my intern in Penang. Working in this particular company has been a great experience to me. I learnt a lot of things and the do's and dont's about the working life. Nevertheless, I really have to say that this company that I am having my internship really pampers its employees.
It's obvious because where would you find a company that sets up Wii in its clubhouse for its employees to play anytime during working hours?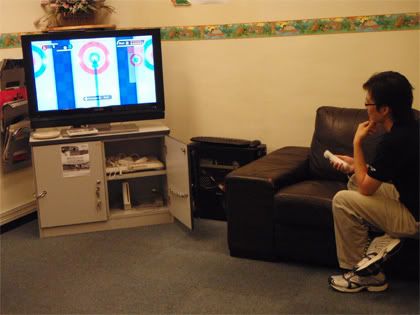 Playing Wii. (Game: Wii Sports: Curling)
and if that doesn't convince you, then this should.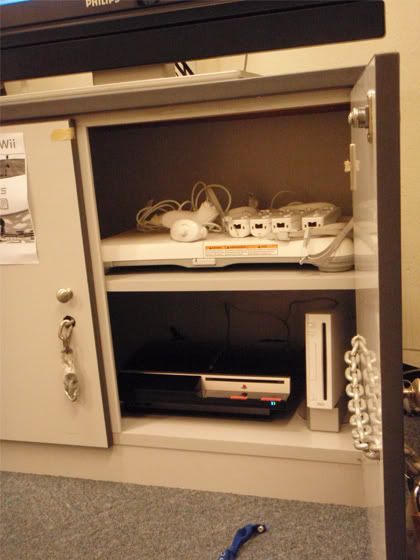 Employees were complaining soring arm muscle due to playing Wii. So today they just set up another option which is a brand new PS3 in the club house. I went for a try out with my colleagues :P
The person in charge told us that to get the best graphic on screen, they bought a hdmi cable instead of ordinary AV cable. Lol. What can you possibily ask for more?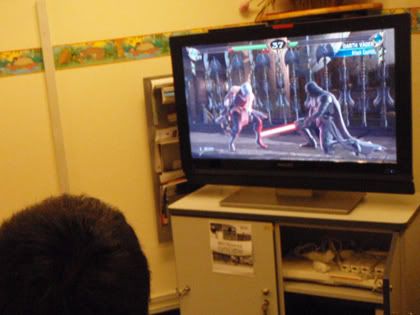 Darth Vader on the move. (Game: Soul Caliber)
Anyway I just wish to know that is there any company out there that provide better entertainment than PS3 and Wii? It might be me who is ignorant of the new emerging trend that all the companies are trying not to make their employee jack the dull boy? :)
and because the company treats the employees well, the superiors treat the small people like an intern like me very well too.
We went out for a team lunch for a completion on schedule project I never took part in. and yes the manager was paying and it was Paddington House of Pancake.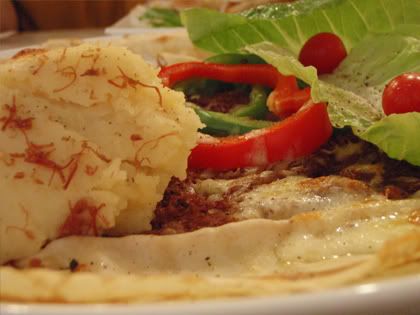 I couldn't remember exactly the name of the dish I ordered. In short it was some weird combination of mashed potato and minched beef on top of a roti canai-like thing. It was very filling though.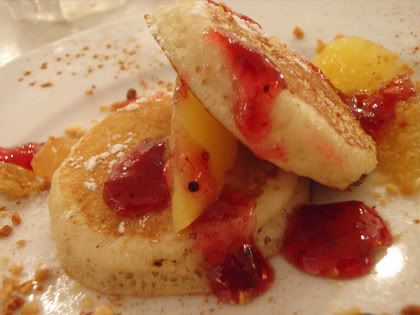 Pancakes for dessert
and me and some colleagues went for Madagascar 2 few hours back. Remember the
Buddy Lunch
I had at Swensen's? Well they got 10 coupons worth RM10 each from the meal. and the best thing was, you could use all 10 in one shot.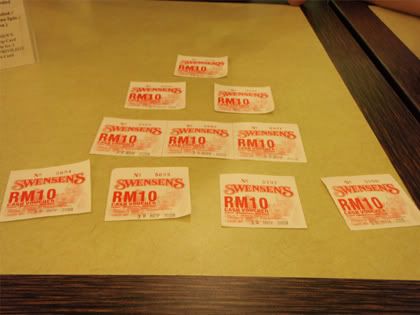 RM100!!
So we ordered ice creams for our dinner. Now this was a total indulgence.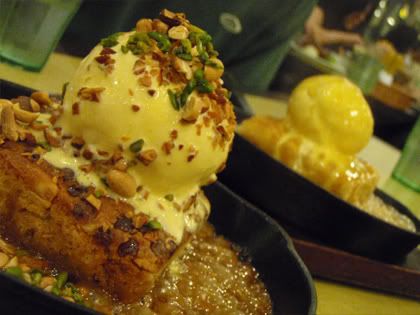 Chocolate Blondie and Apple something. The pan was sizzling. It was ice cream on top of a cake-like thing with caramel sugar poured all over it. Sweetening and fattening.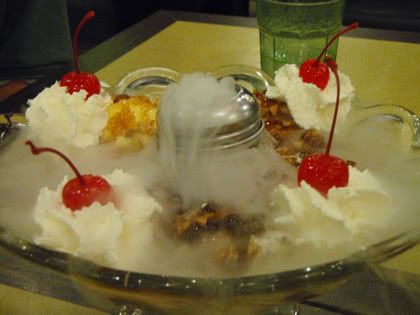 They call this Earthquake. It's a combination of 8 different flavours of ice cream with toppings.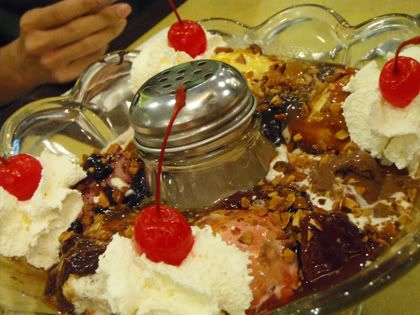 and we ate it the way we ate rojak. LOL!
and did I mention there are free dinners on every Thursday night and Tea Break on every Tuesday? Tempted to change your job now? Better get moving now! :P
signing off~
p/s: and I'll be running 25km on Penang Bridge in 24 hour time. Cheerlead for me on the bridge k? :)