Due to the unpredictable trouble that the sensitive issues in the previous post might cause, I've decided to take down the previous post, well, temporarily? lol
So I'll substitute this post instead.
Alright, I'm currently having my internship in a company in Bayan Lepas for a duration of 3 months. What company is that? I shouldn't be disclosing it. Haha.
At the moment, instead of staying in my Nibong Tebal home. I've rented a house in Bayan Lepas.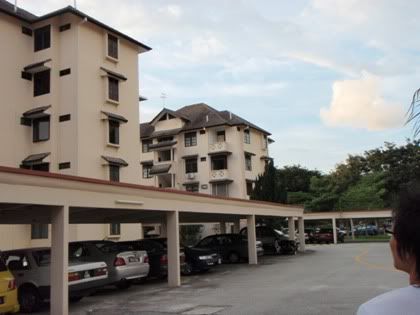 It's an apartment. Well, see one quarter of the guy's head at bottom the right hand corner? He'll be my room mate for 3 months. I shall not disclose his identity. After all, it's for u to figure it out. (but girls, he's owned. Sorry ya. :P lol)
One of the reasons that I love the house in Bayan Lepas is that, it has a basketball court and a huge padang nearby and
there are always some chio bus jogging around in the evening. lol
I can jog and play basketball there after work. :)
So far the first week, I have been jogging for 2 days and 1 day basketball. The other 2 days were raining. Let's just hope that it won't rain in the evening that often.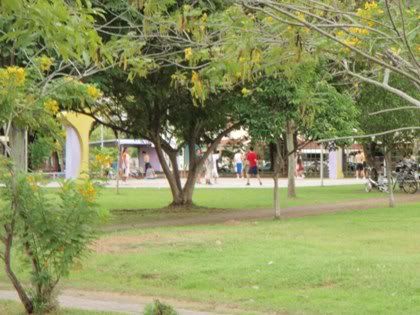 See the basketball court? Surrounded by trees and it's always full with high school students and college students like me. :P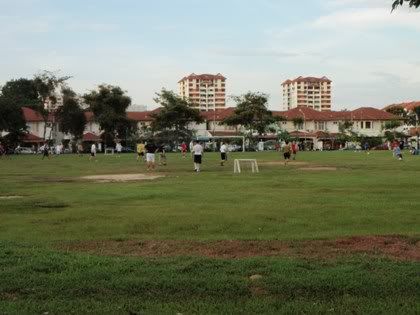 Too bad I'm such a kaki bangku that is totally not into soccer. :) The field got goal some more.
Well, life in Penang means I can eat all the long-lost food I have been craving. This week alone I have been driving around Penang to have my dinner. First some places nearby Bayan Lepas like Relau, Bayan Baru and then it extended to town area like
Sa Tiao Lor
and Macalister Road. Anyway, one of the nights I finally had my Domino's Pizza with the free voucher I got from
Trailblazer
.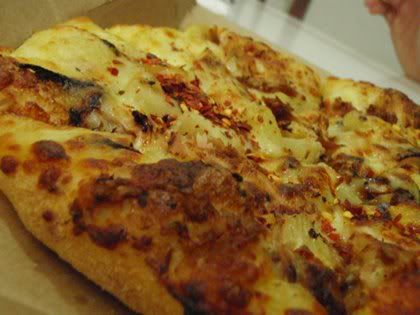 and yesterday, my colleagues decided to pamper themselves in Italiano, an Italian restaurant in Pulau Tikus and I had my chicken spaghetti in garlic sauce. It tasted good but the price was horrifying me.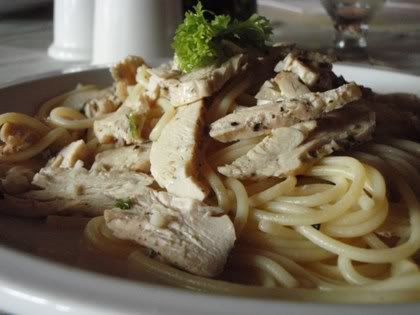 Anyway someone paid for me. Thousands and millions of thanks to him. :)
How come suddenly my post becomes so Italian-ish? lol
---
On the other hand, last Friday, before starting my internship I went
Pantai Keracut
, for the sixth time. lol No worries I'm not gonna blog about it. Anyway one of my friend who went there blogged about it, if u r interested,
click HERE
. Hehe it was the typical jumping and hopping around in the beach la. Haha. Anyway no turtle there this round.
On the way home, I talked about the big time Char Kuey Tiaw with duck egg in Bukit Mertajam that I never had the chance to eat it when I was in BM. I wasn't sure of the location either.
Well I guess u should know how the story ended - my friend happened to know the location and we headed for it and ate a stomachful of it. lol.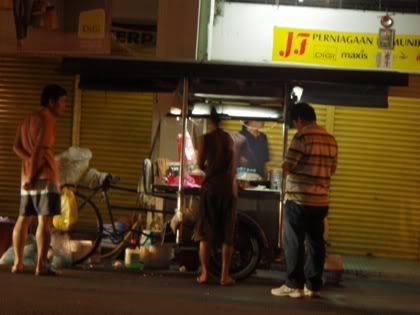 I tot the cook was a lady with long hair until I approached him. lol.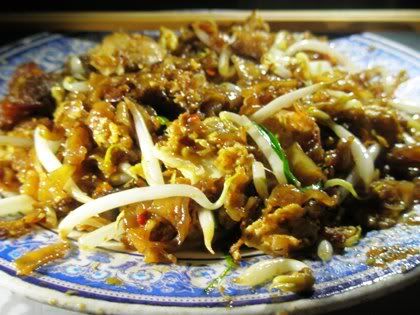 This photo localized my post a little bit more huh? :) Anyway it tasted awesome. It's a bit more salty compared to normal char kuey tiaw with chicken eggs.
The second topic about duck egg fried kuey tiaw was just to make sure u r indeed hungry after reading.
XD