I was thinking to title this post
Nibong Tebal
's
Calvin
Day initially and it sounded so wrong. lol.
Basically, Calvin paid me a visit when he was visiting his aunt in Penang, yesterday. Before going back to Taiping, he dropped by and
got fat
got himself some really nice food. :)
Well, I'm not gonna write much about it as u know la, my blogging style is that I don't usually go into the details. So if u guys r interested just go to
Calvin
's blog to read up more la. He'll be updating in the near future. (and yeah, he paid me to say all this. muahahaha)
Let's start off with the first thing he did in
Nibong Tebal
. Eat.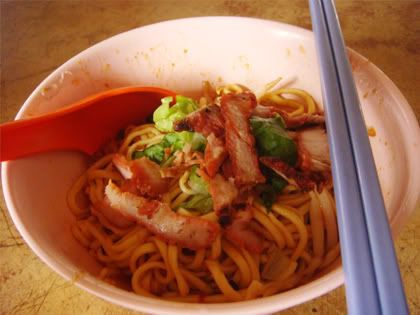 Hokkien Ta (Hokkien Dry)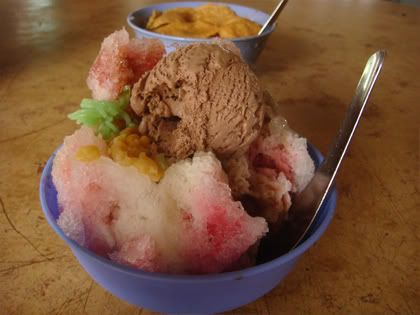 This is the treatie I promised him for decoding this "id!pnt5" correctly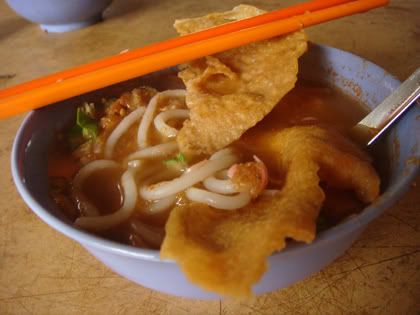 Nibong Tebal
laksa with cracker's.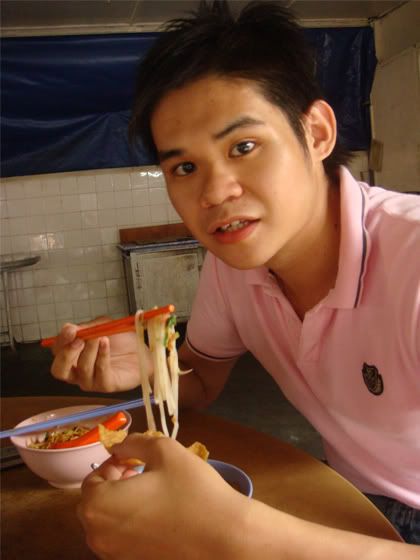 Indulging himself.
Next off, I took him to a haunted mansion known as 99-door to freak the food out of his ass so that he wouldn't too much calories. XD
This building was built as the administrative office of the Great Britain during their occupation. When the japanese invaded, they turned it into a place to lock up all the captives and communists and whoever that went against them. They had killed a lot a lot people here. It's known as 99-door because according to the urban legend, it has 99 doors. and some of it cannot be opened until now. They say it's to keep the Japanese war captive spirit inside. How true is that I don't know. But I know the indian family that lives there as a mansion protector has Astro installed. lol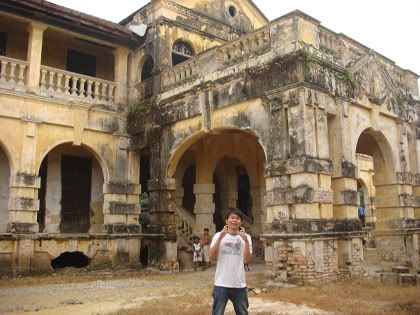 Scary lei?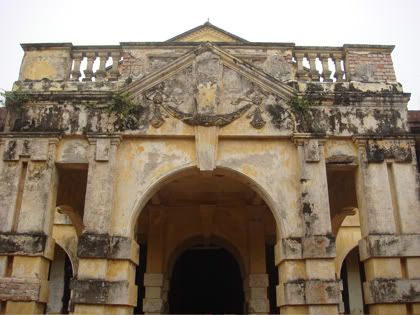 Frontal view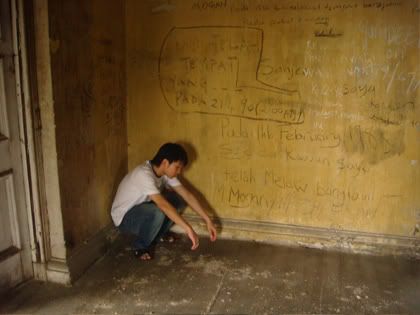 Angry and vengeful spirit squatting at the corner of the room. (Death cause: Constipation)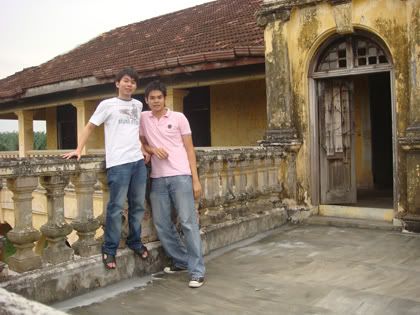 We got ourselves some sunbathing on the balcony. See I'm taller than him!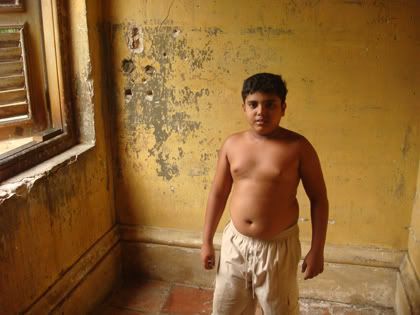 The little kid with big belly insisted to bring us to this Signal Room where according to him, the place where the British soldier received the signal from the chopper. 
Then I brought him to the
beach
muddy shore to look at Penang island. 
Then we went to Chang Kee, a very famous restaurant in Nibong Tebal to have our dinner. This is known as Tu Bo Seng. It's a kind of miniature octopus that doesn't grow up~ It's only found in Nibong Tebal. Ask any Penangites what Tu Bo Seng is? They'll tell u that it is mother pig's ice. lol.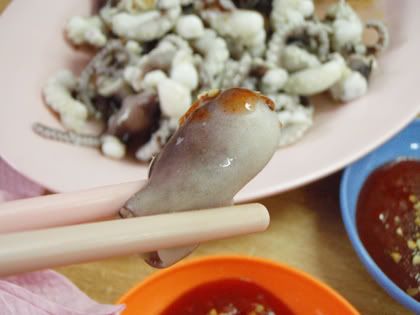 This is the octopus brain that will
make u smarter
slim u down
make u stop dreaming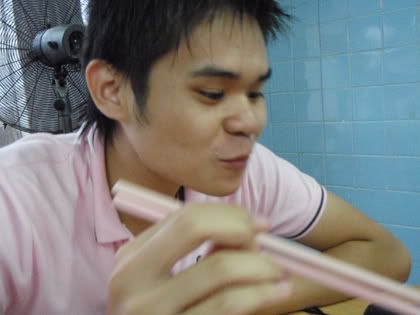 This is how he reacted after eating the brain. lol. Pinky and the Brain, pinky ate the brain. hahaha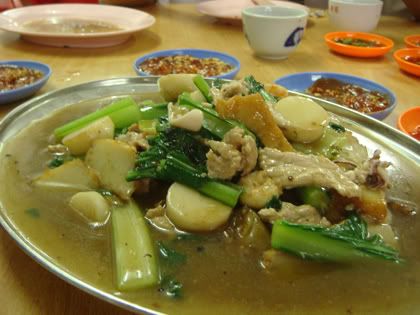 Char Tua Pan or Wat Tan Hor. Full of seafood. Yummy...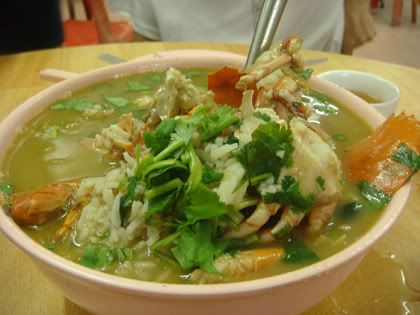 Last but not least, the superb famous crab porridge in this restaurant. It's a hakka dish but I donno how come it gains its name in this Teo Chew Town.  
Then we went for fireflies seeing. Personally, I have been to Kuala Selangor and Nibong Tebal and I would say that they are not much of a difference. It's rm12 per trip for the legal tour guide and rm8 for the boat driver without license. We took the cheaper one. Hehe. Afterall we remained dry after we got on shore XD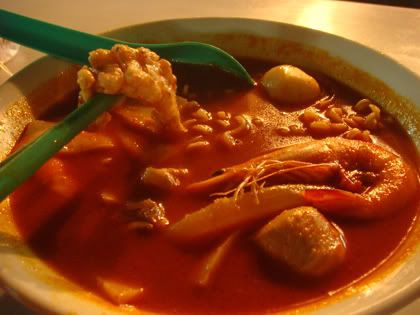 The spicy and sour Tom Yam mee in the coffee shop in line with Pasar Malam cooked together with shrimps, meat ball,mantis shrimps and cuttler fish.  Try it if u have a strong liking for hot and spicy and sour food :)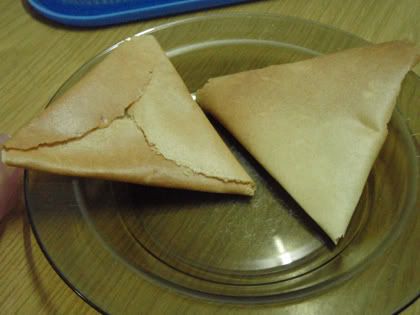 Well this has nothing to do with the post. I bought this in the pasar malam. When I was in primary school, they used to sell this in the canteen at 10sen per piece and the trick is, sometimes a 10 or 20 sen coin is embedded inside, which will give us a day of oh-i-m-lucky joy for the whole day if we got it. Well is this sort of brain wash that TOTO or Magnum try to implant since primary school? hahaha. The thing I wanted to know is, whether they did it like this only in my school, or in schools all around the country? Anyone with the same childhood memory? ;)
Apparently it's time to off now. I'll be driving up Cameron Highland tomoro. Gonna fill ur eyes with greenery in my next post~
ps->
Calvin
will head back to Taiping tomoro. Gonna have some great food for his breakfast anyway. Catch up his blog k? :p