One of my assignment this semester is propose ideas and calculations to cut the the electricity usage in one of the building in my university.
Basically we calculated all the electricity used in the building and then we proposed changes to save power and then we calculated the cost again and we presented it.
Well, today we did our presentation with some numbers and info and this crappy video. But it was a blast as no one presented with a video!
hehe. I did all this in one day. Broadcasting student please don't laugh at me k? I'm just an engineering student! :P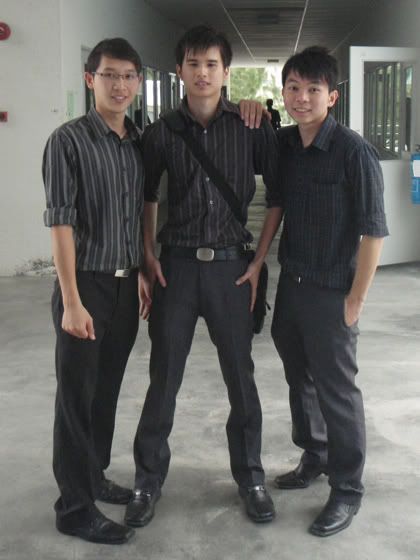 さんにん Sannin or the three stooges XD
From left: Zhi Chao, Sam, Me (just had my hair cut)
and the shirt color, it was unplanned. Yeah it so happened we wore the same tone of colour! XD
and my lecturer, he recognised the soundtrack was taken from which movie right after watching the video. What the??? Can u tell? I betcha! hahaha. If u can tell, here's the incentive: One bowl of laksa + Rojak+ Ice kacang from Penang!!! hahahah
Rules and Regulation
Contest is not opened to my coursemates.
Deadline will be one week from now, which is 2 September 2008.
All answers must be posted in the comment box of this post.
If more than one answers, finalise it and choose one!
No hints will be given XD
Terms and conditions applied! :P