Life is like a marathon - we keep running and have no idea how long we'll last.
On this cloudy Sunday, freak like me (there were 10 of us!) woke up in an i-don-wanna-wake-up weather when the sun hadn't even risen. We gathered at the carpark downstairs and we took off to the train station to get to dataran merdeka.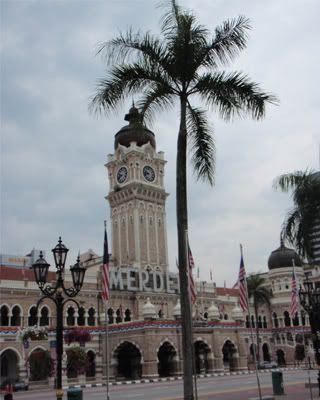 it was actually organized by McD and the only requirement to get a cert is to run 7km in 50min. The last time I completed a proper marathon was 5 years ago when I was 16 and I ran 10km without stopping for 1 hour in the Penang Bridge Run. Anyway, I constantly go swimming and jogging and basketball to keep myself in shape la k?
Apparently, we were aiming high but upon reaching Dataran merdeka, I think we all gave up. lol
So we had a group photo session in the midst of the runners.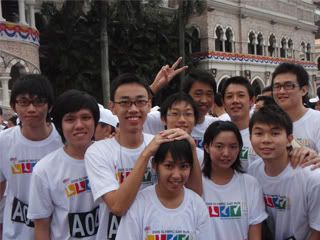 Front: Tzuan, Vic, Kae Vin
Back: Ming,
kL
, Denz, Siang, Ho, ZenC, Kyran.Right after this photo, we heard the gunshot and people started to run. Luckily I got my camera back fast enough. lol.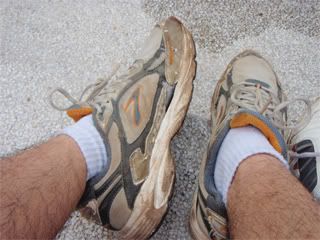 and I ran with the very same shoes that I wore to the
Mount Kota Kinabalu Trip
! and I never washed it since then lol! So I was running together with the soil and the germs and the smell of Mount KK. ;) Oh I'm so nostalgic. (Ahemm......)
By the way, I met 2 of the most impressive women in this marathon.
First,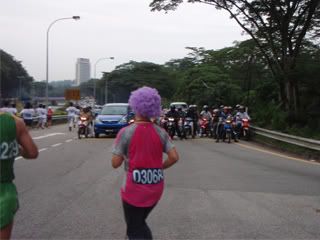 The punky lady with purple hair running on Jalan Mahameru. (Motorists: Walao eh!)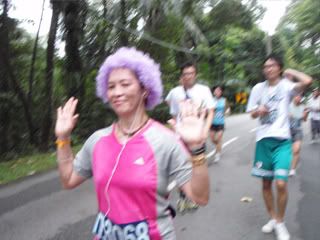 It's really a bad idea to take photo when u're running....but...I just cannot tahan la! Somemore Kyran and Ming were serving as the background! hahaha!
The second one would go to D3018! The barefoot lady running 7km! *Two-thumbs-up*
Since it's organized by McD, how could we miss the chance to camwhore together with Uncle McDonald?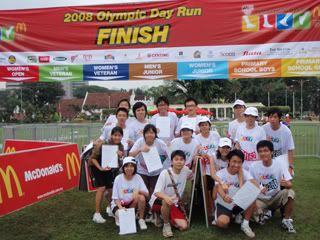 With another bunch of friends who were willing to wake up at 6am in the morning to run!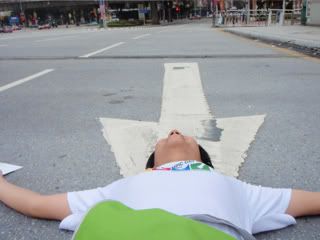 and we could literally sleep on the very main road in KL!

Finally, the rank of the 10 of us. Well, the names were as given in the photo before. I was thinking to make my blog a little bit more interactive so I've come up with this idea: I'll belanja Penang Laksa to whom ever match all the legs and the names correctly! ;) (Terms and conditions applied, no cheating, and those who joined the marathon are not eligible to take part in this contest! ;p)